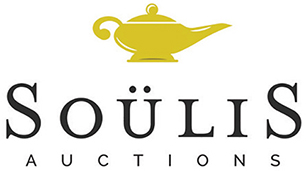 World's Greatest Shooting Gallery Target Auction
The Legendary Richard and Valerie Tucker Collection
Friday, September 25 at 11 am
Saturday, September 26 at 11 am
Held Alfresco Under Tent
529 West Lone Jack – Lee's Summit Road
Lone Jack, Missouri
Suburb of Kansas City.
A 19th century Iron and Bronze Tobacconist Figure
Colorful Rooster Shooting Gallery Target in Old Paint
Iron Cowboy Gallery Target, 54" x 28"
---
The Tucker Collection includes American furniture and accessories in old paint, exceptional Folk Art, Americana, and an unrivaled collection of figural iron shooting gallery targets from the early 20th century.
The book "Step Right Up" Classic American Target and Arcade Formspublished by Schiffer Publishing in 2014 is a compendium of the Tucker Collection with its many "one-of-a-kind" or "one-of-two-known" examples fresh to the market.
On-Site Attendance may be limited to 50 guests.
Mask Use and Social Distancing are Mandatory.
We Reserve The Right to Refuse Admittance to Anyone.
---
Kansas City/Lone Jack, Missouri
www.SoulisAuctions.com

816-697-3830