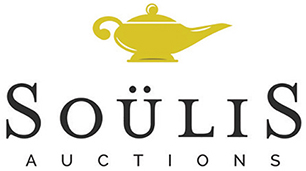 December Auctions of Fine, Decorative and Folk Arts
December 4, 5, 6, & 12
Paintings & Prints including Howard Chandler Christy (1872-1952).
Friday, December 4.
A Doulton Jardiniere for Tiffany & Co. signed Henry Mitchell measures 18 x 14 inches.
Saturday, December 5.
Important Antique Rugs, Bags and Carpets including this Exceptional Published Malayer Prayer Rug Circa 1860.
Saturday, December 5.
---
Friday, December 4 includes:
Native American Pottery.
Thomas Hart Benton (1889-1975) Ink Wash.
Saturday, December 5 includes:
A Very Fine Kuba Caucasian Rug dated 1849.
Never Before Seen Sculpture by Emmanuel Villanus (1858-1914).
Tiffany Studios Lamps and Desk Sets.
A Rare and Early Steiff Skittles Set.
A Very Rare 18th Century Northwest Persian Garden Carpet Fragment.
A Large Michel Haillard Taxidermy Sofa.
Continental Furniture from the 19th Century.
An Outstanding 19th Century Bordjalu Kazak.
Saturday, December 6 includes:
A Collection of More Than 100 Fine Clocks.
Saturday, December 12 includes:
A 19th Century Caucasian Prayer Rug Dated 1313 A.H.
Early 19th Century American Painted and Tiger Maple Furniture.
Caucasian Rugs and Bagfaces.
Good Hooked Rugs.
American Folk Art
---
Kansas City/Lone Jack, Missouri
www.SoulisAuctions.com

816-697-3830