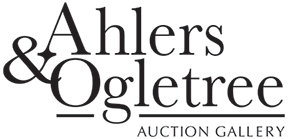 George Hitchcock,
"Windmill on the Dunes"
With his Ivy League law degree, you'd expect him to have made his name shedding light on the truth
to juries and judges. Instead, he became known for bathing his subjects in auras of light on canvases.
It's time you bask in his glow.

July Summer Estates & Collections Auction | July 18, 2021
Featuring gorgeous works from George Hitchcock,
Louis Comfort Tiffany, and more.
From left:
Louis Comfort Tiffany, "Hagia Sophia & Blue Mosque"
Rene Lalique, "Esterel" Vase
Thomas Hart Benton, "Sunset"
C.S. Hammond 18" Terrestrial Globe
Boehm "Golden Eagle"