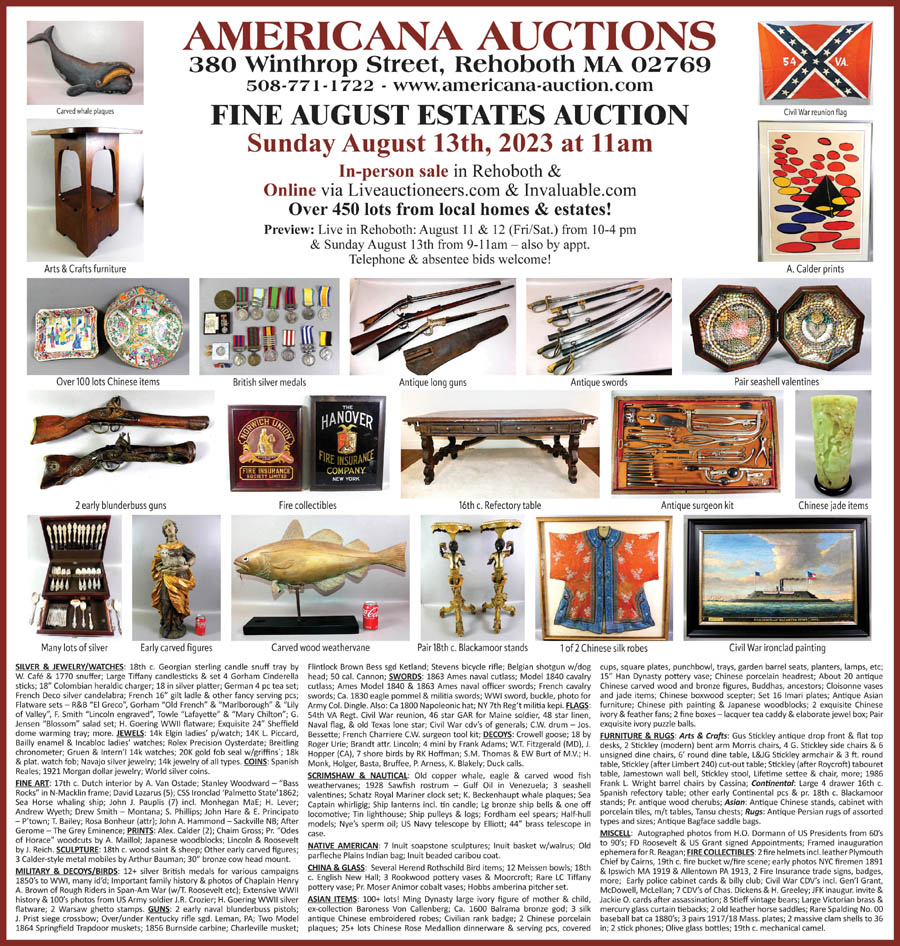 AMERICANA AUCTIONS
380 Winthrop Street, Rehoboth MA 02769
508-771-1722
SILVER & JEWELRY/WATCHES: 18th c. Georgian sterling candle snuff tray by W. Café & 1770 snuffer; Large Tiffany candlesticks & set 4 Gorham Cinderella sticks; 18" Colombian heraldic charger; 18 in silver platter; German 4 pc tea set; French Deco silver candelabra; French 16" gilt ladle & other fancy serving pcs; Flatware sets – R&B "El Greco," Gorham "Old French" & "Marlborough" & "Lily of Valley," F. Smith "Lincoln engraved," Towle "Lafayette" & "Mary Chilton"; G. Jensen "Blossom" salad set; H. Goering WWII flatware; Exquisite 24" Sheffield dome warming tray; more.
JEWELS: 14k Elgin ladies' p/watch; 14K L. Piccard, Bailly enamel & Incabloc ladies' watches; Rolex Precision Oysterdate; Breitling chronometer; Gruen & Intern'l 14k watches; 20K gold fob seal w/griffins; 18k & plat. watch fob; Navajo silver jewelry; 14k jewelry of all types.
COINS: Spanish Reales; 1921 Morgan dollar jewelry; World silver coins.
FINE ART: 17th c. Dutch interior by A. Van Ostade; Stanley Woodward – "Bass Rocks" in N-Macklin frame; David Lazarus (5); CSS Ironclad 'Palmetto State' 1862; Sea Horse whaling ship; John J. Pauplis (7) incl. Monhegan ME; H. Lever; Andrew Wyeth; Drew Smith – Montana; S. Phillips; John Hare & E. Principato – P'town; T. Bailey; Rosa Bonheur (attr); John A. Hammond – Sackville NB; After Gerome – The Grey Eminence;
PRINTS: Alex. Calder (2); Chaim Gross; Pr. "Odes of Horace" woodcuts by A. Maillol; Japanese woodblocks; Lincoln & Roosevelt by J. Reich.
SCULPTURE: 18th c. wood saint & sheep; Other early carved figures; 3 Calder-style metal mobiles by Arthur Bauman; 30" bronze cow head mount.
MILITARY & DECOYS/BIRDS: 12+ silver British medals for various campaigns 1850's to WWI, many id'd; Important family history & photos of Chaplain Henry A. Brown of Rough Riders in Span-Am War (w/ T. Roosevelt etc); Extensive WWII history & 100's photos from US Army soldier J.R. Crozier; H. Goering WWII silver flatware; 2 Warsaw ghetto stamps.
GUNS: 2 early naval blunderbuss pistols; J. Prist siege crossbow; Over/under Kentucky rifle sgd. Leman, PA; Two Model 1864 Springfield Trapdoor muskets; 1856 Burnside carbine; Charleville musket; Flintlock Brown Bess sgd Ketland; Stevens bicycle rifle; Belgian shotgun w/dog head; 50 cal. Cannon;
SWORDS: 1863 Ames naval cutlass; Model 1840 cavalry cutlass; Ames Model 1840 & 1863 Ames naval officer swords; French cavalry swords; Ca. 1830 eagle pommel & militia swords; WWI sword, buckle, photo for Army Col. Dingle. Also: Ca 1800 Napoleonic hat; NY 7th Reg't militia kepi.
FLAGS: 54th VA Regt. Civil War reunion, 46 star GAR for Maine soldier, 48 star linen, Naval flag, & old Texas lone star; Civil War CDV's of generals; C.W. drum – Jos. Bessette; French Charriere C.W. surgeon tool kit;
DECOYS: Crowell goose; 18 by Roger Urie; Brandt attr. Lincoln; 4 mini by Frank Adams; W.T. Fitzgerald (MD), J. Hopper (CA), 7 shore birds by RK Hoffman; S.M. Thomas & EW Burt of M.V.; H. Monk, Holger, Basta, Bruffee, P. Arness, K. Blakely; Duck calls.
SCRIMSHAW & NAUTICAL: Old copper whale, eagle & carved wood fish weathervanes; 1928 Sawfish rostrum – Gulf Oil in Venezuela; 3 seashell valentines; Schatz Royal Mariner clock set; K. Beckenhaupt whale plaques; Sea Captain whirligig; Ship lanterns incl. tin candle; Lg bronze ship bells & one off locomotive; Tin lighthouse; Ship pulleys & logs; Fordham eel spears; Half-hull models; Nye's sperm oil; US Navy telescope by Elliott; 44" brass telescope in case.
NATIVE AMERICAN: 7 Inuit soapstone sculptures; Inuit basket w/walrus; Old parfleche Plains Indian bag; Inuit beaded caribou coat.
CHINA & GLASS: Several Herend Rothschild Bird items; 12 Meissen bowls; 18th c. English New Hall; 3 Rookwood pottery vases & Moorcroft; Rare LC Tiffany pottery vase; Pr. Moser Animor cobalt vases; Hobbs amberina pitcher set.
ASIAN ITEMS: 100+ lots! Ming Dynasty large ivory figure of mother & child, ex-collection Baroness Von Callenberg; Ca. 1600 Balrama bronze god; 3 silk antique Chinese embroidered robes; Civilian rank badge; 2 Chinese porcelain plaques; 25+ lots Chinese Rose Medallion dinnerware & serving pcs, covered cups, square plates, punchbowl, trays, garden barrel seats, planters, lamps, etc; 15" Han Dynasty pottery vase; Chinese porcelain headrest; About 20 antique Chinese carved wood and bronze figures, Buddhas, ancestors; Cloisonne vases and jade items; Chinese boxwood scepter; Set 16 Imari plates; Antique Asian furniture; Chinese pith painting & Japanese woodblocks; 2 exquisite Chinese ivory & feather fans; 2 fine boxes – lacquer tea caddy & elaborate jewel box; Pair exquisite ivory puzzle balls.
FURNITURE & RUGS: Arts & Crafts: Gus Stickley antique drop front & flat top desks, 2 Stickley (modern) bent arm Morris chairs, 4 G. Stickley side chairs & 6 unsigned dine chairs, 6' round dine table, L&JG Stickley armchair & 3 ft. round table, Stickley (after Limbert 240) cut-out table; Stickley (after Roycroft) tabouret table, Jamestown wall bell, Stickley stool, Lifetime settee & chair, more; 1986 Frank L. Wright barrel chairs by Cassina; Continental: Large 4 drawer 16th c. Spanish refectory table; other early Continental pcs & pr. 18th c. Blackamoor stands; Pr. antique wood cherubs; Asian: Antique Chinese stands, cabinet with porcelain tiles, m/t tables, Tansu chests; Rugs: Antique Persian rugs of assorted types and sizes; Antique Bagface saddle bags.
MISCELL: Autographed photos from H.O. Dormann of US Presidents from 60's to 90's; FD Roosevelt & US Grant signed Appointments; Framed inauguration ephemera for R. Reagan; FIRE COLLECTIBLES: 2 fire helmets incl. leather Plymouth Chief by Cairns, 19th c. fire bucket w/fire scene; early photos NYC firemen 1891 & Ipswich MA 1919 & Allentown PA 1913, 2 Fire Insurance trade signs, badges, more; Early police cabinet cards & billy club; Civil War CDV's incl. Gen'l Grant, McDowell, McLellan; 7 CDV's of Chas. Dickens & H. Greeley; JFK inaugur. invite & Jackie O. cards after assassination; 8 Steiff vintage bears; Large Victorian brass & mercury glass curtain tiebacks; 2 old leather horse saddles; Rare Spalding No. 00 baseball bat ca 1880s; 3 pairs 1917-18 Mass. plates; 2 massive clam shells to 36 in; 2 stick phones; Olive glass bottles; 19th c. mechanical camel.