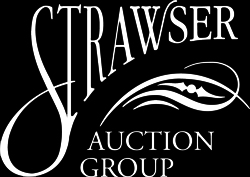 Four Day Antique Auction
Several Estates and Private Collections
May 24, 25, 26 & 27, 2023
Wednesday through Friday starting at 3:00 pm
Saturday starting at 9:00 am
Located at the Strawser Auctions/Dry Dock Storage Facility
106 E. Dutch Street, Wolcottville, Indiana
Wednesday, Thursday, Friday, and Saturday
DAY 1
Wednesday, May 24 at 3:00 pm
Furniture – Advertising – Lighting – Art – Copper - Antiques
Six cherry and walnut early corner cupboards; early cherry stepback cupboard; Mission oak bookcase; 5 lawyer's bookcases; marble top parlor tables; trunk; Only Oak No. 119 pot belly stove; blanket chest; chests of drawers; floor model and tabletop radios; oak stacking file cabinet; ADVERTISING: collection of 60+ English biscuit tins; liquor advertising displays; Coca-Cola pop cooler and tip trays; tin tip trays; beer trays; Kodak sign; Kleenkold oak salesman's sample ice box; LIGHTING: 75+ lamps – floor, table, GWTW, banquet including leaded glass, panel glass, wicker; several pairs of funeral parlor torchiere lamps; figural lamps; 100+/- early glass whale oil lamps; ART: E. A. Maes oil on canvas of chickens and rooster; Louis Reinhardt oil on canvas barn scene; Indiana artist – T.J. Koch and Steininger; Henry Salem Hubbell watercolor; large selection of early oil paintings of cows, horses and portraits; COPPER: 300+ pieces of early American copper pans, cookware, tea kettles and food molds, many are signed DH&M Co., Waldow, Mutual, Duparquet, Jos. Heinrichs, Bazar and many more as well as several iron graduated pot stands; ANTIQUES: cast iron mechanical banks – Dark Town Battery, Mule, Teddy and the Bear, Lion/Monkey; Speaking Dog; Bull Dog Bank, Jolly, Wise Owl and Eagle; 3 early wooden game boards; 2 Enterprise double wheel coffee grinders; 3 National Cash Registers (2 brass); 60+ pairs of early bookends including bronze, cast iron (Bradley & Hubbard, Hubley) and more; Oriental rugs; Japanese bronze incense burner; Japanese cast iron teapots; 100+ wood shaft golf clubs; 5 sets of sterling flatware and other sterling silver; child's sewing machines; crocks & jugs; butter churn; wall and shelf clocks;
DAY 2
Thursday, May 25 at 3:00 pm
Glass – Art Pottery – Cookie Jars – Porcelain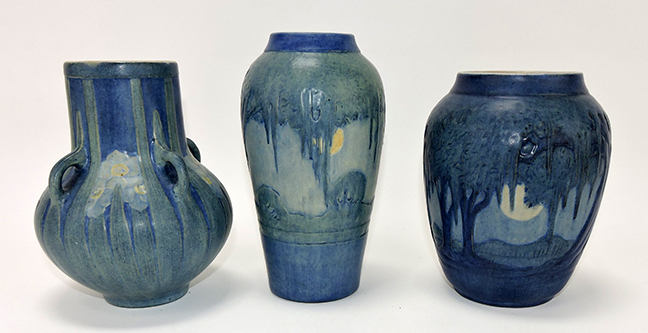 Fenton glass; carnival glass; candle lusters; paperweights – Caithness, Baccarat, Orient & Flume, St. Clair & others; Lalique; Quezal; cut glass; EAPG; cranberry glass; stemware; ART POTTERY: 3 Newcomb College art pottery vases; Roseville; 14 pairs Rookwood bookends – owls, lions, birds, elephants and more; Weller art pottery; Clewell; Muncie; Hull; 100+/- COOKIE JARS: Casper, Flintstones, Peek-a-boo, Popeye, Yogi Bear and many more; Red Riding Hood collection – cookie jars, teapots, popcorn and salt canisters, wall pocket, wall bank, match holder and more; Stangl bird collection; Dresden lady figures with lace dresses; assorted porcelain;
DAY 3
Friday, May 26 at 3:00 pm
Staffordshire – Historical China – Flow Blue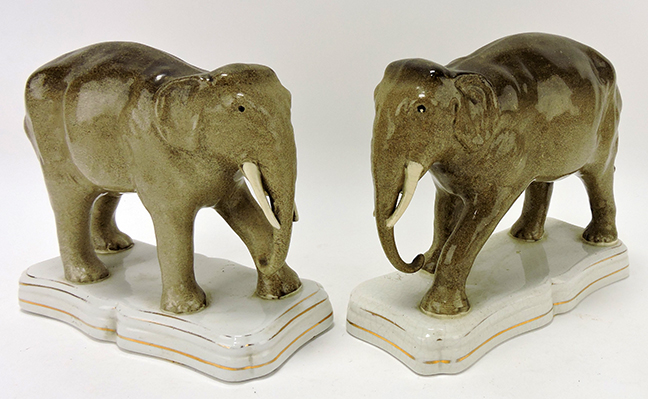 1000+/- STAFFORDSHIRE FIGURES: The 40+ year collection of Rick Hall and Mark Laskowski from New York State to include – dogs, cows, cow creamers, donkeys, roosters, sheep, goats, deer, lions, tigers, elephants, rabbits, religious, military, black, statesman, Royalty, pen holders and much more; large selection of Historical Staffordshire blue & white china – tureens, plates, platters and more; Flow Blue; 150+ pieces of Minton Lyre Flow Blue Gaudy ironstone china including tureens, plates, platters and much more; 100+ pieces of English Blue Willow;
DAY 4
Saturday, May 27 at 9:00 am
Majolica – Oyster Plates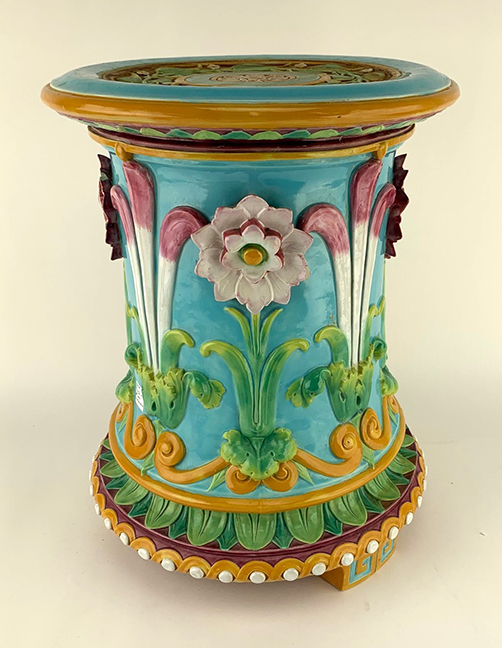 500+/- pieces including HUGO LONITZ owl figure; MINTON: jardinieres, pitchers, ewers, rabbits under cabbage table center, shell table center with mermaid, pair of fish/hand vases; candle holders, wine coolers GEORGE JONES: cheese keepers, strawberry servers, quail game dish, dove center piece, sardine boxes HOLDCROFT: pair of swan vases, pond lily cheese keeper ETRUSCAN: shell and seaweed and many other patterns; other majolica includes Palissy Ware, rare St. Clement rabbit pitcher, Sarreguemines face jugs, humidors, match strikers, animal pitcher, plates, platter, pitchers OYSTER PLATES: majolica oyster plates, by George Jones, Minton, Lear, Adams & Bromley and others; rare Haviland Presidential oyster plate and other Haviland, Limoges and porcelain oyster plates and more.
---
AUCTIONEER'S NOTE:Items from many estates and private collections. All items are fresh to the market. Don't miss this auction.
HOTEL ACCOMMODATIONS: Blue Gate Garden Inn 800-545-4725 (Shipshewana),
Holiday Inn Express 260-562-3660 (Howe, IN),
Best Western 260-562-2880 (Howe, IN) and Super 8 260-562-2828,
(Howe, IN), Best Western 260-347-5263 (Kendallville, IN)
TERMS: Cash, check, MC & VISA (3% credit card fee),
10% buyer's premium.
CATALOG – ONLINE BIDDING: Visit our website
www.strawserauctions.com for a catalog and online bidding
---
Auction Conducted By:
Strawser Auctions
AU002776-R, AU0011117-L, RY000126-L