Frank & Barbara Pollack
American Antiques & Art
We have available and wish to purchase American Primitive Paintings, Furniture, Textiles,
Folk Art, Bakelite Jewelry and Accessories of the 18th, 19th, and 20th Centuries.
1214 Green Bay Road
Highland Park, Illinois 60035
Tel: 847-433-2213
Cell: 847-922-5141
E-mail:

[email protected]
Barb Pollack


---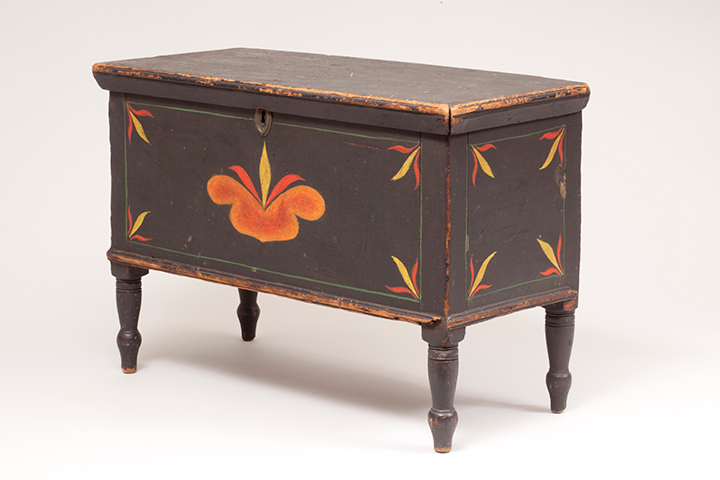 A Rare Miniature Blanket Chest
A Unique Miniature Paint-Decorated Blanket Chest
American, possibly Southern or New York State, pine, circa 1825. This little chest has exquisite form with its exceptionally tall and delicately turned legs. It is beautifully painted in shades of salmon, red, green, and mustard yellow on a dark green background. Variations of the central motif have been found on boxes attributed to New York. One of the known examples has a signature inscribed on the interior that reads, "Miss Emily Mont Blissen Scott Courtland County, New York, 1820."
H. 11¼ in. W. 16¾ in. D. 7½ in.
---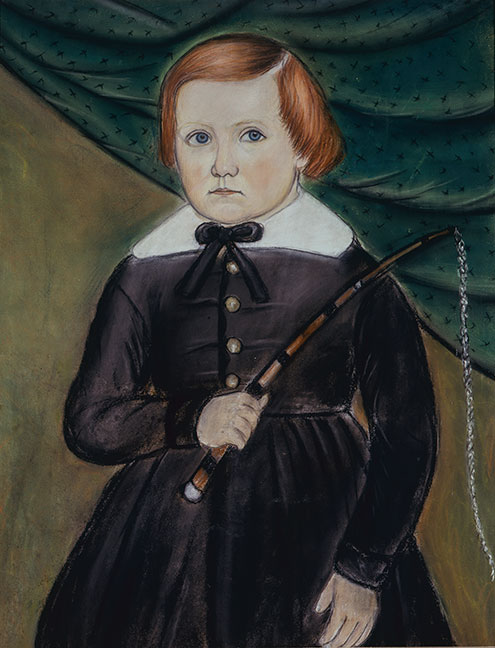 A Portrait of a Young Red-Haired Boy Holding a Whip

New England: Pastel on paper, circa 1840. Attributed to Jacob Bailey Moore of the Prior Hamblen School.
This large-scaled portrait depicts a young boy standing before a vividly colored green drapery. 27½ x 20½ (sight size), 33½ x 26½ (framed).

Provenance: Robert Laurent, a noted American artist, teacher, and collector of American Folk Art.
Literature: See: "By Good Hands: New Hampshire Folk Art by Robert Doty," a catalogue from the Currier Gallery of Art, p. 26, figs. 26 & 27,
for a pair of portraits painted by the same artist and attributed to Jacob Bailey Moore.

---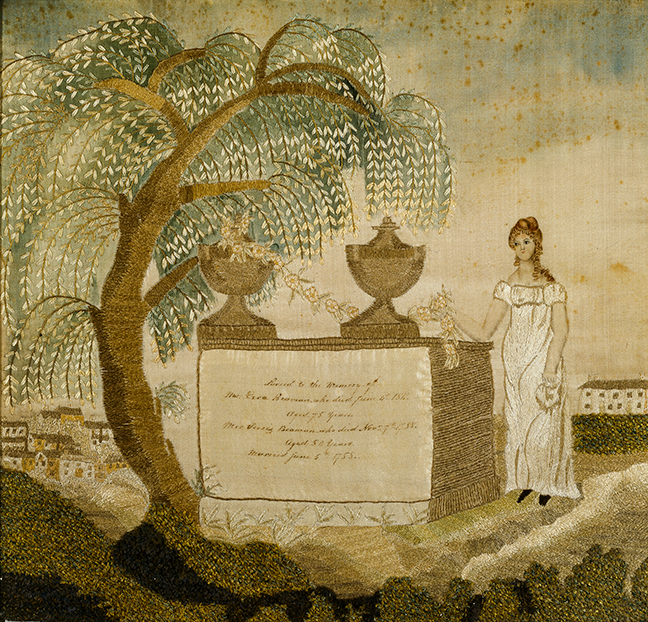 An Exceptional Silk Embroidered Mourning Picture
Dedicated to the Memory of
Ezra and Persis Beaman of West Boylston, Massachusetts

Silk, watercolor, and ink worked on silk; Massachusetts, circa 1811.
Ezra Beaman was responsible for incorporating what are now the Worcester, Bolton, and West Boylston areas of Massachusetts.
He was chosen selectman, treasurer, and state representative to the General Court. This needlework is in beautiful untouched
condition, is in its original frame, and retains the framer?s label, "Day and Western of Worcester, Mass." on the reverse.
An extensive historical overview of Ezra Beaman?s life accompanies the needlework. Inscribed on the tombstone: "Sacred to the
Memory of Mr. Ezra Beaman who died June 4th, 1811. Aged 75 years. Mrs. Persis Beaman who died Nov. 7th, 1788. Aged 50 years.
Married June 5th, 1758." 17 5/8" x 18 5/8" framed, 14½" x 15½" sight size.

---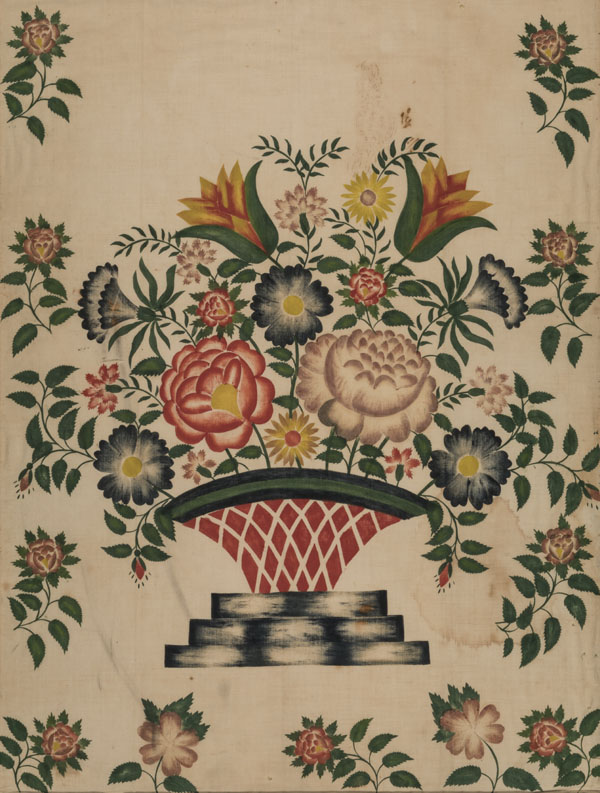 An Exceptional Stenciled Theorem Painting on Muslin
American, probably New England, watercolor on muslin, circa 1830. A beautiful example vibrantly painted in shades of
reds, blues, greens, and yellows, depicting a stylized basket filled with colorful garden flowers surrounded by sprays of damask roses. 25¼" x 19" ss, 29" x 23 1/4" fr.
Its mate is in the collection of the American Folk Art Museum, New York City.
Provenance: From the collection of Edgar William and Bernice Chrysler Garbisch.
Illustrated Sotheby's catalogue: May 8, 1974, lot #182, page 73.
---
An Extraordinary and Rare New Hampshire Schoolgirl Drawing
Signed "Hannah P. Badger 1811 & 12"
Watercolor and pencil on paper depicting an interior scene where Hannah Pearson Cogswell Badger (1791-1869) and her sister Julia are instructing a female class at The Atkinson Academy in Atkinson, New Hampshire. The Academy, one of the oldest surviving co-educational schools in the U.S., was founded in 1787 as a school for boys and began admitting females in 1791. Hannah and Julia are seated in Windsor chairs surrounded by their students, books and a globe in an elegant classroom beautifully appointed with floor-to-ceiling windows, billowy curtains, walls with moldings and a stenciled border and an amazing colorfully painted floor cloth. This is truly a masterwork of schoolgirl art giving us a glimpse into the teaching, schooling and importance of female education in America's history.
10 7/8 in. x 15 in. sight size, 16 in. x 19½ in. framed.
Exhibited: The Fenimore Art Museum, Cooperstown, New York. "The Instruction of Young Ladies: Arts from Private Girls' Schools and Academies in Early America," October 1-December 31, 2016
Published: "The Instruction of Young Ladies" by Robert Shaw and Jane Katcher, Pgs. 36 & 58
---
Bakelite
A grouping from a large selection of Bakelite jewelry.
American Folk Art of the 20th Century.

An Art Deco Bracelet
Onyx and chrysoprase set in sterling silver. The best Art Deco design. 6½" long, circa 1930's.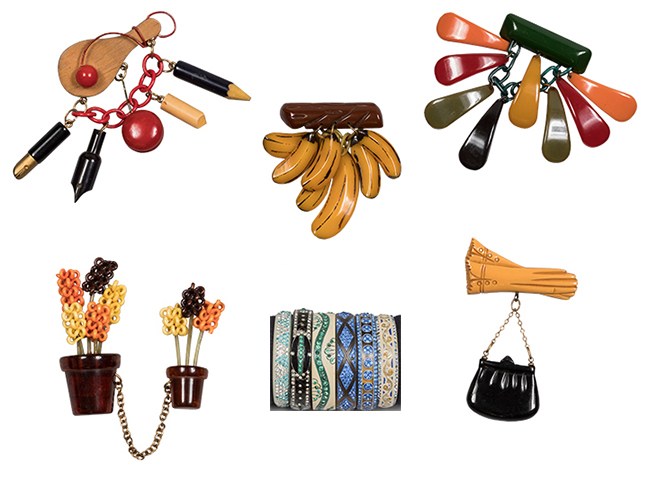 Bakelite
A grouping from a large selection of Bakelite jewelry.
American Folk Art of the 20th Century.
__________________________________________


An Exceptional Pair Of Carved and Painted Figures

The figures, circa 1860, have finely carved bodies with intricate details as depicted in their facial features, beautifully carved hair, hands, and clothing.
They have distinct personalities conveyed in their facial expressions and body language.
Provenance: Peter E. Lengel, Robesonia, PA
Height 17½" the taller figure.
---

An Exceptional Paint Decorated Tilt-Top Candlestand
Pennsylvania; pine, circa 1840-50.
Wonderfully shaped top decorated with an elaborate feather and circle design which tilts above a ring-turned shaft ending in scrolled legs
and all in reds, greens, and black on mustard yellow. Inscribed "Leonard M. Bennetch 1907.
Penja Dutch Tilt-top candle stand Old Bennetch Family Heirloom inherited by Emma Mary Bennetch b 1871 d 1968 from her ancestors."
Height: 31½", tilted 41¾", top 18¾" square.
---


A Dynamic Painted and Decorated Boot and Shoemaker's Trade Sign
Salem, Massachusetts: pine, circa 1880. Signed: "Manderbach."
This boldly and imaginatively painted sign, in its dry, original untouched condition, depicts the nature of Mr. F.J. Arnold's business and the goods he offered for sale.
The U.S. 1880's census lists Frank J. Arnold (b. 1861) as "working in a shoe shop in
Salem, Essex, Massachusetts." WD 54½", HT 19", DP 2".
---
A Monumental Slat Goose
Attributed to Joseph Whiting Lincoln (1859-1938), Accord (Hingham), Ma., circa 1910. Lincoln's slat geese or "loomers" were used to attract the attention of high-flying flocks. While the horizontal slats formed a crude body, the head was skillfully carved, giving this decoy an almost majestic quality. Provenance: originally purchased from Joe Lincoln by Colburn C. Wood Jr., Plymouth, Ma. Length 36¼", height 21", depth 15".
---
An Exceptional Painted and Decorated New Hampshire Tall-Case Clock
Attributed to Elisha Smith Jr. (1795-1847), Sanbornton, New Hampshire, maple, circa 1825. A beautifully painted and stenciled case with a brass eight-day weight-driven movement with strike and calendar and a rocking ship and moon phase in lunette. Distinctive to these clocks is the shape of the hood with its stylistic freestanding columns. 93½" high, 18½" wide, 12½" deep
Literature: See New Hampshire Clocks and Clockmakers by Charles S. Parsons, p. 113, for a similar example.
---
Portraits of Mr. C.C. Clark and Mr. H.R. Coffer's Prize Bulls and Cows
Signed and initialed: "From Life by J.F. Stephens, 1912, Savannah, Missouri."
Oil on academy board in original untouched condition and frames.
Described in a scroll on the paintings are the names, weights, and owners of each animal.
22¼ x 28 inches the largest.
---
An Elegant and Graceful Nine-Light Tin Chandelier
American, probably Connecticut River Valley, circa 1790.
Flowing from a turned wooden shaft are nine gracefully curved metal arms with small wooden balls and decoratively shaped metal work that support the candle cups and form the fixture's unusual chain.
Few utilitarian objects display the incredible beauty of this chandelier. For one made by the same artisan see "Colonial Lighting" by Arthur H. Hayward, pg. 191, plate 44. James R. Marsh, author of
"The Colonial Chandelier Supplement," states that there are examples of this work in the ballroom of the Frary House in Old Deerfield, Mass., The Wadsworth Atheneum and two in a church in Connecticut.
Diameter 43 inches.
__________________________________________
A Unique Painted Fan-Back Windsor Arm Chair

New York, circa 1770-1800. Mixed woods; oak, hickory, maple and poplar with 19th century black paint with yellow striping and decoration over original green. This rare and important braced-back armchair is a unique example of form displaying elements of chair-making found both in Philadelphia and New York. OH 43½ in., SH 17¼ in. Illustrated: "The Windsor Style in America, Vol. II" by Charles Santore, pg. 70, fig. 40.
---
A Hooked Rug Depicting a New England House Flanked by Stylized Trees
Found in Wilmot, New Hampshire, circa 1900. Most likely the rug maker was painting a portrait of their house using wool on burlap and hooked an imaginative border possibly imitating a picture frame. Height 34", width 80¾"
__________________________________________
Miniatures
A Rare and Charming Miniature Painted Tablet-Top Windsor Bench
American, probably Pennsylvania, circa 1820.
A fabulous form in original red paint and retaining its original pillows with printed images of General Lafayette surrounded by American eagles. See "Threads of History, Americana Recorded on Cloth" by Herbert Ridgeway Collins, pg. 191. 9½" x 5"

An Exceptional Miniature Carved Classical Sofa
American, possibly Philadelphia; circa 1825-30.
This graceful and delicate "little sofa" is exquisitely carved in mahogany with pine as the secondary wood and retains its original fabric and tacks.
Said to have descended in the family of Thomas Madden Adams (1836-1912) and retains an old label that reads "Parks M. Adams 1211 Stevenson Lane, Baltimore 4, Md."
Width 15¾" Height 7½" Depth 5¼"
__________________________________________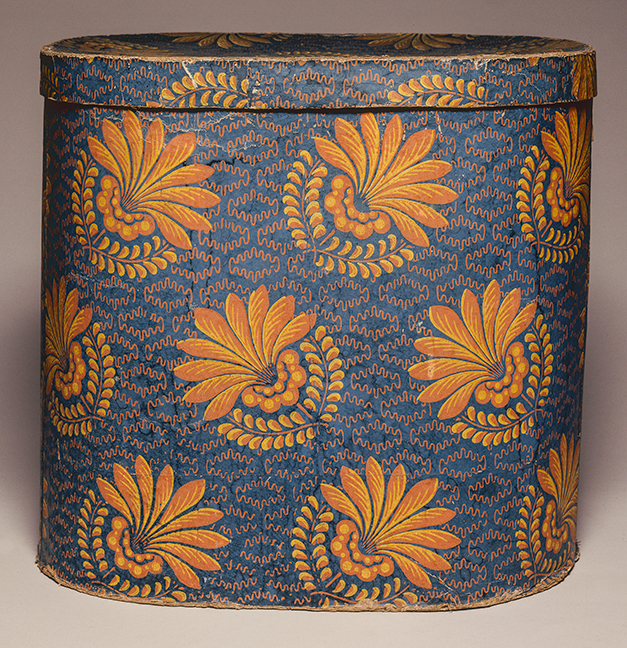 An Exceptional Pennsylvania Wallpaper Box
An extraordinary size box covered in a vibrant all-over block-printed wallpaper in shades of yellow and Indian Red on a dark blue field. "The Christian Advocate and Journal" and "The Zion Herald" newspapers were used to line this box and are dated "Friday February 14, 1832" and "Friday April 6,1832."
17 ½ in. high, 18 in. wide, 14 in. deep.

---

A Folk Art Carved and Painted Wedding Scene
American, maker unknown. Found in Massachusetts, circa 1900-20. The 17 carved and paint-decorated figures are wood adorned with fabric clothing. The altar with pots of straw flowers, the Bible on a stand and the six church pews are all carved natural wood. The artist has given each of his figures a distinct personality conveyed in the carving of their facial expressions and body language. 22" x 25" overall; tallest figures are 9" high.
__________________________________________


A Boldly Carved and Painted Wall Box and Spoon Rack
Pennsylvania, probably Bucks County; pine, circa 1820. Exceptional form in original red and mustard-yellow paint. A utilitarian household object that transcends into pure American sculpture. All original condition with a small piece missing on the right side of the spoon rack.
Provenance: Walter Himmelreich, Pennypacker Auction, June 7, 1976; and a private Pennsylvania collection. 24" h. x 18" w. x 7¾" d.
__________________________________________


An exceptional Carved Cane with a Man's Head atop a "Whimsy" Staff
Signed and carved on all four sides of the staff: "Abram Cook, Maker, 1906, Canisteo, New York." Wood in untouched original surface. The carved, small objects move freely within the staff. This cane is an example of form and function that transcends into a strong expression of folk art in wood. Height 36".
__________________________________________


A Scaup Hen in Flight
American, probably up-state New York, circa 1920-40. Maker unknown who was possibly influenced by Chauncey Wheeler of Alexandria Bay, New York. Wood and metal in original untouched painted surface, with minor wear to the metal wings consistent with age and outdoor use. Wingspan, 24 inches Ex-collection: Joanne Cadarette, Loudon, NH.
A Rare Pair of Half-Size Miniature Mallards Carved
and Painted by Charles H. Perdew, of Henry, Illinois
Perdew (1874-1963) is recognized as the premier carver of Illinois River decoys.
This pair of mallards, circa 1958, exhibit his finest work, i.e. detailed painting, raised carved wings, turned heads and the drake with an unusual carved curled tail. Width 9½ inches. Provenance: Purchased from Charles Perdew by a private Illinois collector.
Included is a signed letter written by Perdew dated May 9, 1958, discussing the collector's order.
For a similar example and an overview of the life and work of Charles Perdew, see "Perdew: An Illinois River Tradition," by Ann Tandy Lacy, pg. 200-245.
__________________________________________
A Portrait of a Lady in a Green Dress Wearing an Elaborate Bonnet
Oil on canvas, circa 1835. A beautiful portrait in wonderful, original untouched condition.
29½ in. x 24 in. sight size. 34¾ in. x 30 in. framed.
---
A Molecular Study of Collagen
A 20th century scientific object executed in red, black and orange Bakelite and metal.
A label affixed to the base reads: "Metaloglass, Inc. 400 Northampton St. Boston 18 Mass. USA COLLAGEN Magnification 200,000,000x"
Ht. 33½ in. Base 15 in. square
Also available, a fabulous selection of Bakelite Jewelry
---
A Dynamic Raised-Work Table Cover of Exceptional Intricacy and Sophistication
American, found in Maine; Third quarter of the 19th century.
A wool on wool embroidered and appliqued and raised and stuffed work table cover depicting bold and colorful baskets and bouquets of flowers. The artist has created a "painting on fabric" with imaginative techniques, design and choice of color. 54 inches square.


---
A Watercolor Portrait of a Father, James Sumner Carpenter,
and His Son Gilbert Saltonstall Carpenter
New York State or Ohio, ca. 1841. Watercolor and ink on paper.
Provenance: Dudley S. Carpenter, Don Ladd of Hampton, CT, and Don Walters of Goshen, IN
7½" x 5" sight size 11" x 9" framed.
In 1960 Don Ladd purchased the portrait from Dudley Saltonstall Carpenter, the son of Gilbert.
He in 1943 wrote on the reverse of the painting: "drawn by Ezra G. Carpenter, York State when father was about 5 years old. Drawn about 1841." Ezra was the younger brother of James. By the time of Gilbert's birth James had moved the family from New York to Ohio where he worked as a lawyer, later becoming a judge in the state. Ezra Greenwood Carpenter, born in Swansea, NH, gradually moved westward leaving Indiana in 1849 to join the gold rush in California. He died in Sacramento in 1881.

See: "American Folk Portraits Paintings & Drawings from the Abby Aldrich Rockefeller Folk Art Center" #212, Pg. 230 for a similarly drawn example of "Mr. Carpenter of Schodack, New York."
---
A Portrait of Harriet Newell Keyes (1816-32) of Vershire, VT
Probable attribution to Thomas Ware (1803-1826) of Pomfret, VT. Oil on canvas in untouched condition, circa 1820.
A paper label affixed to the back of the canvas identifies Harriet as the sitter. Her father, Henry Wilder Keyes, and brother, Henry, served
as governor and senators of New Hampshire.
Provenance: Descended in the family of the sitter. 24" x 22" ss. 27¾" x 25" fr.
---

An Imaginative and Dynamic Painted and Decorated Game Board
American; Wood, paint and glass, circa 1875.
An artful and unique composition painted in red, white and blue. Encircled are four leaf-like designs and nine raised wooden knobs; eight are in small circles and the ninth is centered in a large bull's-eye. The protruding knobs as well as being decorative may have been created to allow the player to use that side of the board as a table for playing the game of checkers that appears on the reverse.
Boldly executed on the reverse is a decorative reverse-painted on glass game of checkers in red, white and blue.
All in original untouched condition with a few minor areas of paint loss on the reverse side.
18 in x 18 in.
---

A Group of Three Miniature Watercolor Portraits
New England, probably New Hampshire, circa 1840. Watercolor, ink and pencil on paper.
Inscribed on verso, "Asa Brown, Aunt Amanda wife of Asa Brown and Aunt Betsy."
In addition to the delicately drawn faces, the artist took delight in painting costumes, hair, and details,
as seen in the colorful and patterned neck scarf and hair bow and the jewelry and tortoiseshell hair combs.
Originally found in a carte-de-visite family album, now in a period gilt frame. 3½" x 2½" each; 10¾" x 9½" framed.
---
A Pair of Painted and Decorated Bow-Back Windsor Side Chairs
Attributed to Samuel Wing (1774-1854) of Sandwich, MA. Pine, maple and ash, circa 1800.
Wonderful form with beautifully shaped seats and bulbous turned legs. Early 19th century red and black graining with mustard yellow striping and freehand decoration over an old putty green. 36¾ in. OH, 17½ in. SH.
Samuel Wing of Sandwich, MA, constructed "green chars" [sic] around 1800. "A seven-spindle, bow-back Windsor probably is representative of Wing's earliest production.... The bamboo elements above and below the seat show careful shaping, which effectively contrasts hollows and swells." Wing's account books end in 1809.
See: "American Windsor Chairs" by Nancy Goyne Evans pgs. 375, 485 and 486 for this documentation and examples of his work.
---
New England or New York State
Pine, circa 1815. Original surface painted in salmon, blue and white on black. Minor old repairs to the crest.
15 3/8" H. 5½" W. 4½" D.
---
An Extraordinary Pair of Full-length Miniature Portraits
Attributed to Justus Da Lee (1793-1878). Watercolor and pencil on paper, circa 1840. Inscribed on the reverse: "Lucia Caroline aged 2 years 6 months and Charles Augustus aged 4 years 4 months, 1840 Feb Albany." Da Lee took great pride in painting details and in his use of color as seen in Lucia's red dress and black apron. Their delicately drawn faces, hair, and objects they hold are characteristic of his refined stylized work. Sight size 4 1/2" x 2 7/8 ", 14" x 12" framed. Illustrated: The Magazine Antiques, July/August 2011, "Side Portrait Painters: Differentiating the Da Lee Family Artists" by Joan R. Brownstein and Elle Shushan, p. 155, fig. 3.
---
A Circular Shirred Rug With a Stylized Urn of Flowers
American, found in New England, circa 1840. Wool stitched on to linen.
A small urn filled with colorful flowers is used as a focal point of a vibrant aura of multi-colored concentric circles. This rug represents a rare example of the shirring technique used within a circular format and is truly an extraordinary example of rug-making and folk art. 43½ in. x 41 in. Illustrated: "American Hooked and Sewn Rugs: Folk Art Underfoot" by Joel & Kate Kopp. pg. 33, fig. 32. "The Needle Arts" Time Life Books, A Social History of American Needlework, pg. 116.


---
A Large Molded and Sheet Copper Rooster Weathervane
Found on a home in Manchester, New Hampshire. Sheet copper and cast zinc, circa 1880-1900. The beauty of the rooster's sculptural form is enhanced by its untouched original weathered verdigris surface. Retains three bullet holes and one "farmer's repair" at the top of its head.
Height 30", width 24".
---
"A Token of Love"
An Extraordinary Painted and Carved Mirror
American; pine, last quarter of the 19th century.
Adorned with symbols of love—hearts, flowers and lovebirds—this unusual
piece was most likely made as a marriage gift. It is intricately carved and
beautifully painted in reds, greens, blues and silver.
A sophisticated example of folk at its finest.
Height 16½" x Width 17".
Illustrated: A Legacy in Tramp Art by Clifford A. Wallach, p. 98.
"Garfield Park Chicago"
Oil on canvas, circa 1875, depicting families enjoying an outing in the park. Inscribed on the bridge, Garfield Park Chicago. 24" x 29¾", 28" x 34¼" framed.
For a similar example see: American Folk Paintings from
The Abby Aldrich Rockefeller Folk Art Center, pgs. 68 & 69, fig. 41.
---
Maine At Its Very Best
An Exuberantly Painted and Decorated Maine Box Attributed to Salmon Brewster (1802-1887), Curtis Corner, Leeds, Maine. White pine and basswood with square nailed construction, circa 1830. This very graphic box simulates in painted decoration a paneled trunk with nine panels on each face outlined in black and red on a yellow background, complete with a faux painted bail handle on the lid. A true master-work from Maine in untouched original condition. 24 in. wide, 9¼ in. high, and 11½ in. deep.
__________________________________________________________


An Exceptional Theorem Painting in a Painted Architectural Frame
New England, watercolor on paper, circa 1835. 13¾" x 16¼" framed.
A beautiful example of a still life vibrantly painted in reds, greens, blues, and yellows, depicting a folky yellow basket filled with fruits and framed in an amazing black, green, and gilt painted architectural frame that is of the period but not original to the piece.
---
An Unusual and Dynamic Oval Hooked Rug
New England, circa 1930. Centered, as the focal point, is a red and black ship at sea surrounded by a border of bold and colorful concentric bands in shades of rust, yellow, green, and black. A creative and striking composition in wool. 106½" x 69½".
---
A Maine Decorative Pieced and Appliquéd Wool Table Rug
Made by Abigail Voter, born 1820, New Vineyard, Maine, circa 1840. A dynamic textile expressed by the artist's imaginative composition and use of color. The center is divided into fifteen squares with bursts of flowers and leaves in shades of red, blue, green and tan on a dark brown background. The border has berries, flowers, and leaves and is surrounded by a scalloped outer border. 58½" x 86" mounted.
---
A Unique 18th Century Brass and Iron Sewing Box With Twin Pin Cushions
The double arch decorations, drawer pulls, turned feet, escutcheon plates and supports are crafted in the same style turnings as seen on furniture of the William and Mary period. A hinged lid with a hand forged catch opens to reveal a holder for another pin cushion. Two side drawers open to reveal riveted construction. A true little gem skillfully made for holding needles and thread.
7 in. high, 5½ in. wide, 4 in. deep
---
A Rare and Unusually Artful Wool Work Picture
English, signed "A Rice," circa 1850-75. Wool stitched to linen. A dynamic scene depicting a house, stylized fruit trees, and unusual lawn ornaments which appear to be cannons and hay wagons. A wonderful picture in wool with an unusual composition and bold use of color. 17½" x 16" framed 14¼" x 13¼" sight size.
---
An Unusual Pair of Paint-Decorated and Stenciled Stools
American, probably Connecticut; cherry, circa 1825-40. Most unusual size and form with very stylish rolled edges to the tops and splay to the legs. 14¼" high, 14¼" wide, 11" deep.
---
A Unique Pair of Exceptionally Tall Queen Anne Side Chairs in Original Red Paint
Connecticut, probably New London County or Stratford. Maple and ash, circa 1790-1800. The chairs in their untouched original paint and condition are pure sculpture with their remarkably tall and elongated shaped splats and posts. Their exceptional form shows the hand of a craftsman taking a standard form and elevating it to a superior quality.
Height 46" | Seat Height 18¼" | Width 20"
---
A Charming Pair of Portrait Miniatures of Ella and Elliott Baker, Springfield, Mass.
Attributed to James Sanford Ellsworth (1802-1873). Watercolor on embossed valentine envelopes, circa 1853. These wonderful portraits are superior examples of Ellsworth's work and illustrate his use of vivid colors seen in the children's dresses with yellow and black polka dots, the fanicful blue-green and yellow chairs, and the cloverleaf clouds that frame the sitters' faces. Rarely seen are the children's names stamped in blue ink under each portrait. 3-3/16" x 2" sight size each, 5¼" x 6¼" framed. Exhibited: The Abby Aldrich Rockefeller Folk Art Museum, Oct. 13–Dec. 1, 1974.
Illustrated: James S. Ellsworth, Portrait Painter by Lucy B. Mitchell, p. 53, figs. A5 and A6; Art in America, October 1954