Nancy Druckman Leaves Sotheby's
Lita Solis-Cohen | May 13th, 2016
Nancy Druckman, who had worked at Sotheby's for 43 years as an expert in American folk art, has left to form her own art advisory service. In 2015 she retired as senior vice president for American folk art but stayed on as a consultant for the January 2016 sales of the Schorsch and Levin collections. She said she could not conclude a deal to stay any longer, so, as have others who left their posts as auction house experts, she will focus on private sales.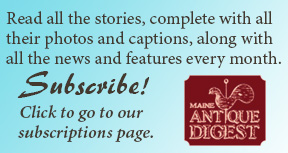 Druckman began cataloging American folk art for the sale of the Edith Gregor Halpert collection in November 1973. Her next big assignment was to catalog fraktur, embroidered needlework, theorem paintings, cutwork pictures, and American folk art watercolors from the collection of Colonel Edgar William and Bernice Chrysler Garbisch, which was sold in three catalogs in January, May, and November 1974. Her name does not appear in those catalogs.
In 1979 she was listed as "expert in charge" of the landmark auction of Stewart E. Gregory's collection, the first sale at Sotheby Parke Bernet with a buyer's premium.
In 1980 she worked on the Garbisch house sale at Pokety on Maryland's Eastern Shore and the Helen Janssen Wetzel house sale in Reading, Pennsylvania. Later in the 1980s, she masterminded the sale of samplers from the estate of Theodore Kapnek and the sale of Barbara Johnson's whaling collection.
The sales of folk art and painted furniture from the collection of Don and Faye Walters (1986) and of the folk art collection of Jill and Austin Fine (1987) made auction history. The 1990s included the sale of folk art for the estate of Bernard Barenholtz, two sales with hardbound catalogs for the collection of Bertram and Nina Fletcher Little, and the sale of needlework from the estate of Joan Stephens. Druckman was named a senior vice president in the 1990s. Sales of the Betty Ring collection of needlework in 2012 and of folk art from the Ralph Esmerian collection in 2014 were landmarks. Over the years she had done a good deal of bidding on behalf of Ralph Esmerian, a very good Sotheby's customer.
Druckman was known at Sotheby's for forging good relationships with clients and for tenaciousness in getting property consigned. "There was no one better in landing a sale than Nancy Druckman," said William Stahl, who headed decorative arts at Sotheby's until the end of 2009. As head of Americana since 1975, he had worked closely with Druckman over the years.
Druckman said her new venture will give her a chance to continue working with the same collectors who have been part of her life. She can be reached via e-mail at <[email protected]> or by calling (347) 804-7378.
---
Originally published in the May 2016 issue of Maine Antique Digest. © 2016 Maine Antique Digest