Fewer Participants, Still Top-Quality Merchandise at ADA Show
October 11th, 2014
The 14½" high early 19th-century sheet-iron door handle backplate in the form of a fiddler is a Connecticut piece, said Greg Kramer of Robesonia, Pennsylvania, who priced the unusual find at $2250.
The Colonial Revival spinning wheel settee, offered by A Bird in Hand Antiques, Florham Park, New Jersey, was found in Pennsylvania. The settee was priced at $1950.
Thomas Schwenke of Woodbury, Connecticut, showed a beautifully built George III figured mahogany linen press of 1770-75, 72" high, with upper case width of 46". On the inside of the doors are runners on which the clothing trays can slide and be supported. The doors of the upper case open only to the amount seen here, thus they too support the trays. Great quality and a fine example of ingenuity in furniture design for $7800.
Mad River Antiques, North Granby, Connecticut, was a new exhibitor this year. They showed the oil on canvas Nantucket harbor scene depicting two steamboats. Frame size was 16" x 35", and the price was $15,000.
Hollis Brodrick of Portsmouth, New Hampshire, offered the early New England iron kettle-tilting mechanism for $325 and the kettle for $295.
ADA/ Historic Deerfield Antiques Show, Deerfield, Massachusetts
"We only had a fair show this year," said veteran dealer Pam Boynton, "but we had a stupendous show last year. We bought well, though; that counts too. Actually, we had some after-show business too; that makes up somewhat for what didn't happen in Deerfield. We had a customer who flew in from California looking for furniture and needed to think about something he saw then. That helps."
Pam Boynton wasn't at Saturday's opening of the 2014 ADA / Historic Deerfield Antiques Show. She was in the hospital attending to a medical problem, but she was out by Sunday. Daughter Martha Boynton handled the booth while we were there. The dealers from Groton, Massachusetts, have been mainstays of the Antiques Dealers' Association of America show for many years.
This year's show, like so many in the past, took place in Deerfield, Massachusetts, on Columbus Day weekend, which was October 11 and 12 this year. There were fewer exhibitors this year than last. In 2013 there were 48 exhibitors; this year there were 38, and three of those did not participate in 2013.
Some exhibitors felt that the reduced number had an effect on visitors' inclination to make purchases. "You can't have a successful antiques show with only thirty-five [sic] exhibitors," Pam Boynton declared.
Joan R. Brownstein of Newbury, Massachusetts, said she and her husband, Peter Eaton, did "OK" this year. She sold a particularly good painting, an inscribed portrait of a boy by Justus Da Lee, and Peter Eaton moved several pieces of early furniture. Eaton sold a Spanish-footed chest-on-frame, a japanned mirror, and a tavern table and had other sales that Brownstein couldn't recall at the moment. He also sold a North Shore Massachusetts oxbow-front birch desk to another exhibitor.
Some of the dealers who did well included Arthur Liverant, Elliott and Grace Snyder, Jewett- Berdan, David Good, Hilary and Paulette Nolan, and the Hubers, according to Brownstein.
Karen Olson of Newburgh, New York, said that although it hadn't been a great show this year, they'd had "good enough" sales. Their sales included a very good banister-back Boston side chair among others but no case furniture. "For some reason, chairs seemed to be moving this year," she said. "We sold some smalls too, and they do tend to add up," she noted. "Good enough means you can pay your bills and go on to do the next show."
Karen DiSaia, who manages the ADA show and other top-ranked antiques shows, acknowledged that there were fewer exhibitors this year than in the past. "Yes, it was smaller, but there were still some very good pieces on the floor, and the quality was as high as it's always been," she said. "For me, it was rewarding to see that so many dealers were able to come up with fresh pieces of great quality for this show. And there was a lot of business going on, on both days," she added.
"The gate was about the same as last year," DiSaia said. She also noted that the number of complimentary ("comp") admissions was down by half from last year. "That means we drew a lot of new buyers, because dealers give those comp tickets to their past customers. A drop like that means those paying to get in are new and serious about antiques.
"There was business going on right up to the time the doors were closed at 5:15, a quarter hour after the announced closing."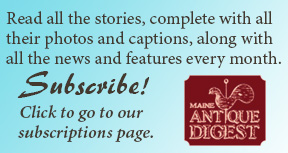 Among those exhibitors doing very well at the 2014 show was Karen DiSaia herself. "We sold nine carpets, our best year ever," she revealed.
For more information, see the Web site (www.adadealers.com).
This was the view looking into the booth of Karen and Ralph DiSaia Oriental Rugs, Old Lyme, Connecticut. She is also the show promoter, and he's her designated beast of burden. Karen takes care of exhibitors' problems first; the booth comes second. They sold a record nine carpets from that booth this year.
Hilary and Paulette Nolan showed the 1920-30 folky ship hooked rug from Rhode Island, priced at $2800. The Falmouth, Massachusetts, couple also did all the harvest decorations throughout the hall and outside. "They're unbelievably talented at this. They could make a living at decorating," said Karen DiSaia.
The circa 1840 child's portrait, attributed to William Matthew Prior, shows the child in a salmon-colored dress, holding a pink cup. It is 14¾" x 10¼" (sight size). Elliott and Grace Snyder of South Egremont, Massachusetts, asked $18,500 for it.
---
Originally published in the December 2014 issue of Maine Antique Digest. © 2014 Maine Antique Digest