A View of Old Newburyport
M.A.D. staff | May 8th, 2017
A rare daguerreotype from the collection of the Museum of Old Newbury in Newburyport, Massachusetts, is featured in East of the Mississippi: Nineteenth-Century American Landscape Photography, an exhibition at the National Gallery of Art in Washington, D.C., through July 16. The exhibition will be at the New Orleans Museum of Art from October 5 through January 7, 2018.
Henry Coit Perkins, View of Newburyport Looking Northward from Harris Street Church, circa 1839, daguerreotype. Museum of Old Newbury collection.
The museum's daguerreotype was made by Dr. Henry Coit Perkins (1804-1873) of Newburyport in October 1839. As a scientist and as a medical doctor, Perkins experimented extensively with Daguerre's new photographic processes and had materials readily available to him. Keeping notes on his experiments, he meticulously recorded time of day, length of aperture, and the success or failure of his efforts. He did meet with success creating sharp images with remarkable detail. The Museum of Old Newbury has five of these early daguerreotypes with their accompanying documentation in its collections.
Some of Perkins's views were taken from high vantage points. Diane Waggoner, curator of 19th-century photography and curator of the exhibition, notes: "Perkins was among the first to adapt the bird's-eye perspective to the daguerreotype. Correlating to the kind of compositions found in topographical prints, his photographic town view was likely the first to be made in the United States."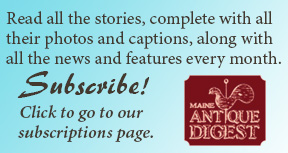 The daguerreotype on loan to the National Gallery was taken from the steeple of the Harris Street church and shows a northward view of Newburyport with the river and Amesbury beyond.
A notice regarding Perkins's daguerreotypes or "solar painting" appeared in the November 8, 1839, edition of the Newburyport paper called the Watch Tower. The Newburyport Herald also recorded an account of a lecture by Perkins on his daguerreotypes at the Newburyport Lyceum on February 14, 1840.
For more information on the museum's photographic collections and archives, visit the website (www.newburyhistory.org) or call (978) 462-2681.
---
Originally published in the May 2017 issue of Maine Antique Digest. © 2017 Maine Antique Digest