After Three Insurance Companies Deny Claim, Collector Sues His Broker
M.A.D. staff | May 3rd, 2017
A consignment gone wrong and the refusal of three different insurance companies to cover a loss has led to a lawsuit filed in California. Entertainment mogul and collector Peter Guber—who has a net worth of $400 million, according to some reports—filed suit against Abacus Insurance Brokers of Santa Monica, California, his longtime insurance broker, for giving him bad advice.
Guber consigned a "multi-million dollar" Roman bronze antiquity—the head of Lucius Aelius Verus as Caesar—to Freeman & Sear, a now-defunct antiquities and coin dealer in Santa Monica, California. When the bronze head went missing, he got caught in an insurance void, largely due to negligence by Abacus, he claims.
The nightmare started with 84 coins. According to court papers, between 2008 and 2010, Guber, through his family trust, acquired 84 ancient Greek coins. He asked Abacus to see that they were adequately insured. Abacus and Guber have a history of doing business together going back to the 1980s.
Abacus scheduled the coins in the collection—at an insured value of more than $2.8 million—on Guber's personal "collections" policies issued by the insurance firm Allianz.
In 2009 and 2010, Guber consigned the coins to Freeman & Sear. Guber claims he advised Abacus of the coin consignments, and the firm continued to schedule the coins under Guber's personal "collections" policies. By early 2012, Guber had sold 38 of the 84 coins. The other 46 remained on consignment to Freeman & Sear. In April 2012, Guber met with Robert Freeman of Freeman & Sear, who allegedly told him that "the coin market had softened" and suggested that Guber trade 42 of the 46 remaining coins for the bronze Roman head, which would be "much more marketable and easier to sell." Guber agreed.
On August 2 and 3, 2012, Shelly Riney, Guber's employee, sent Abacus e-mails asking the firm to remove the 42 coins from coverage under the Allianz policy as of May 15, 2012, the date the trade took place. She also advised that Freeman & Sear would be insuring the bronze head and adding the Guber Family Trust as an "additional insured" on the policy. She noted that once she received an insurance certificate for the bronze Roman head, she would send it to Abacus for review.
On August 24, 2012, Freeman & Sear provided a one-page "Change Endorsement," which Riney forwarded to Abacus. The one-page endorsement pertained to a Travelers Insurance Co. policy that was effective from August 6 to December 1, 2012.
The way the change endorsement listed the Guber Family Trust would prove crucial. The trust was not "additional insured." Instead, the page stated that the Guber Family Trust was a "loss payee."
The suit claims that Darren Lewin of Abacus e-mailed back, "Please clarify for me so I can advise correctly. The coins are being exchanged for the bronze head?" Riney confirmed that the coins had already been traded, and Lewin allegedly responded that the "certificate correctly lists [the Guber Family Trust] so it appears fine."
Guber's suit claims that Riney's e-mail was a request for advice from Abacus as "to the sufficiency of the coverage provided by the Travelers Policy."
The lawsuit alleges that "Even though Abacus had only reviewed a one-page 'Change Endorsement' and had no way of knowing all the terms and conditions of coverage, Abacus expressed no reservations regarding the sufficiency of the coverage provided by the Travelers Policy. Abacus never told Mr. Guber that the Travelers Policy might not adequately protect his investment and interest in the Bronze Roman Head, nor did Abacus ever recommend that Mr. Guber explore coverage alternatives or schedule the Bronze Roman Head on his personal 'collections' policy."
The suit says that based on the advice provided by Abacus, Guber believed the Travelers Policy was sufficient to protect his interest in the bronze and did not explore other coverage options, and he did not seek to schedule the bronze for coverage on his personal collections policy in place at the time.
Freeman told Guber the bronze was being shown to prospective buyers and auction houses. In late 2012, Freeman represented that, upon expiration of the Travelers Policy, he had renewed coverage on the same terms through the end of 2013. Guber still believed the renewal policy was sufficient, and he did not explore alternatives.
Then trouble started. According to the suit, in late 2013, Freeman's updates started to become less frequent, and he often went days or weeks without responding to Guber. Freeman continued, however, to maintain that the sale of the bronze head was imminent, and he confirmed that insurance coverage would remain in place through the sale.
In early March 2014, Guber demanded that the head and coins be returned. Freeman agreed and arranged a March 11, 2014, meeting to deliver the items. Freeman failed to attend. Then Guber's attorneys demanded the return of Gruber's property.
Freeman had bigger legal problems; he was embroiled in a lawsuit, Guber learned. It was filed in 2013 by Ira & Larry Goldberg Coins & Collectibles, Inc. against Freeman, his wife, and Freeman & Sear. The Goldbergs alleged that in 2012, Goldberg Coins entered into a series of contracts with the Freemans and Freeman & Sear, which consigned antique coins to Goldberg Coins as collateral for a $1,000,000 loan.
Goldberg Coins had entered into another agreement with Freeman & Sear, which consigned the bronze Roman head and 166 rare coins to Goldberg Coins as additional collateral in exchange for another loan.
In early 2013, Freeman told Goldberg Coins that he had a buyer for the bronze head and was allowed to retake possession of it.
Freeman failed to repay the loans or return the bronze, Guber's suit claims. With the head now gone, Abacus agreed to assist Guber in making claims for his losses. In March 2014, Guber contacted Darren Lewin of Abacus to begin the process of making a claim. That's when Guber ran into an insurance nightmare.
For the four coins, Lewin advised Guber to submit a claim for coverage to Allianz, the insurer that had issued a series of personal collections policies to Guber. Lewin noted that each of the four ancient coins at issue was expressly scheduled under these collections policies at specific insured values, the sum of which totaled $823,550.
In March 2014, Guber tried to make a claim for coverage of the bronze head under the Travelers policy. Travelers, however, refused the claim. Travelers' agents, court papers say, advised that because Guber was a "loss payee" under the Travelers policy, the company would not entertain a direct claim from him because he was not an insured under the policy. Because he was a "loss payee" and not an insured, Guber's rights to coverage were tied to Freeman & Sear's rights. Travelers took the position that unless Freeman & Sear had suffered a loss for the bronze, Guber was unable to pursue coverage for his claimed loss.
Because Travelers had rebuffed Guber's claim, Abacus included the bronze head in Guber's claim for coverage from Allianz. Although the bronze head was not on the collections policies issued by Allianz, the policies provided limited coverage for unscheduled items. The policy noted, "If during the policy period you acquire additional property of a type already covered by this form, we will cover such property for up to 90 days, but not beyond the end of the policy period. The most we will pay for loss or damage is 25% of the total Limit of Insurance that applies to that type of property." Furthermore, with respect to losses taking place more than 90 days after acquisition, the Allianz policies provided up to $5000 in coverage for unscheduled personal property.
In November 2014, Allianz acknowledged coverage for the coins and agreed to indemnify Guber for the coins at their full scheduled value of $823,550. The company said it was "still analyzing the bronze head claim." In December 2014, Guber got bad news. Allianz advised that it was "unable to find coverage" for the bronze head. The head was not scheduled for coverage under its policy coverage under the "Additional Acquired Property," which extends coverage to unscheduled property for 90 days following its acquisition. Allianz concluded that the bronze head was acquired on May 15, 2012, and based on the allegations in the Goldberg lawsuit, any loss had occurred more than 90 days after its acquisition.
Allianz stood firm but eventually entered into a confidential settlement with Guber in September 2015.
On October 10, 2015, Guber demanded that Abacus make amends for its breaches. The letter from his attorney stated that "Abacus's failure to provide sound advice regarding the Travelers Policy created a significant gap in the Gubers' coverage, forced the Gubers to attempt to avail themselves of the Allianz Policy's narrow coverage for newly acquired items, led to a year-long coverage dispute with Allianz, and, ultimately, compelled the Gubers to substantially compromise their insurance claim." The letter demanded that Abacus compensate Guber for the shortfall in coverage, the attorneys' fees and costs, and interest on the shortfall in coverage and legal fees and costs incurred.
With Travelers and Allianz refusing coverage, Abacus suggested another option to Guber—his AIG homeowner's insurance policy. On December 28, 2015, Abacus transmitted a letter to AIG concerning loss under a series of homeowner's policies.
AIG looked into it for a long time but ultimately refused to cover the bronze. In January 2017, AIG sent a letter stating that "[b]ased upon a review of all of the available facts, circumstances and information developed during the investigation to date, [AIG has] determined that no coverage exists for the claim."
AIG took issue with the timing of Guber's claim. AIG argued that the delay in providing notice to AIG compromised its right to seek subrogation from third parties responsible for Guber's losses and violated a policy provision requiring that the insured "do nothing after loss to impair such rights of recovery." AIG also relied on the policy's one-year suit limitations clause, which stated that the insured must "bring any action against [AIG] within one year after a loss occurs...."
AIG asserted that because Guber discovered his loss in March 2014 and did not provide notice until December 2015, he was barred from pursuing his claim for coverage.
In February 2017, Guber and AIG resolved their coverage dispute through a confidential settlement.
Guber claims that at no time in March or April 2014—or, for that matter, at any point in the ensuing 19 months—did Abacus recommend that Guber provide notice to AIG under the homeowner's insurance policies, nor did Abacus advise that the AIG homeowner's policies might provide coverage for the loss of the bronze head.
Guber alleges that he was unaware that the AIG homeowner's insurance policies procured by Abacus might provide coverage for Guber's loss with respect to the bronze Roman head.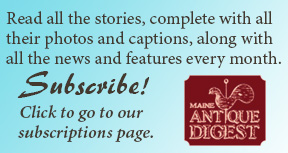 The suit claims that "As a result of Abacus's negligence, misrepresentations, and concealment, Mr. Guber has been forced to spend approximately $150,000 pursuing coverage from Travelers, Allianz, and AIG. Mr. Guber also has been deprived of coverage he would have received for his losses had Abacus adequately and properly performed its duties."
Guber is claiming professional negligence, negligent misrepresentation, intentional misrepresentation, and concealment. He claims that he's been damaged in the amount of $1,875,000 plus an additional $150,000 in "attorneys' fees, costs, and expenses."
Guber's consignment has been in courts previously. Guber sued Robert Freeman and Tory Freeman, partners in Freeman & Sear, in 2014 over the consignment, but that suit was eventually dropped.
---
Originally published in the May 2017 issue of Maine Antique Digest. © 2017 Maine Antique Digest