Henrietta, New York
There were no "fools" and no "fooling around" at the Greater Rochester Spring Antique Show, produced April 1 by the Genesee Country Antique Dealers Association (GCADA). The collectors and dealers who came and the exhibitors who exhibited were savvy, serious, and smart. At 10 a.m. the huge overhead door of Minett Hall at the Rochester Dome Arena was lifted, and the buyers hurried in.
Sixty-six exhibitors awaited them with a wide variety of items for sale. The dealers were inspired by a preshow pep talk from association members who organize events: president Jackie Spiegel of Lyons, New York; show chairperson Christina Champion of Red Creek, New York; the overall shows chairperson, Gene Pratt of Victor, New York; and one special speaker/exhibitor, Steve White of Skaneateles, New York, who has become a western New York antiques dealer icon with his wife, Beverly.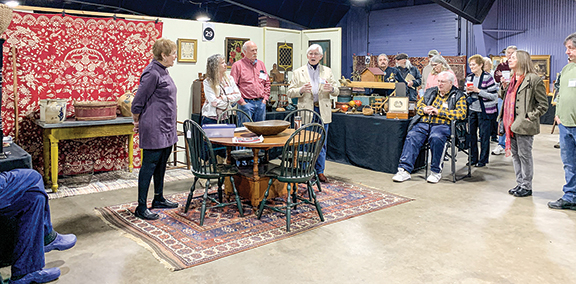 Just before the show opened, exhibitor Steve White (center, in the white jacket) talked about his life and career with his wife, Bev, in the antiques field. Next to Steve were dealers Gene Pratt, Christina Champion, and Jackie Spiegel.
White and White have had a charming shop in Skaneateles, New York, for 35 years, but Steve has been a full-time dealer for 53 years. In Steve's unrehearsed words—he said he did not expect to be called on at all—he spoke of his love for the business, but he said he would be backing away soon for health reasons. The Whites are leaving us with much knowledge and many great buys. Bev's passion is decorating, from textiles to wallpapers. Steve's passion is doing antiques shows, talking to patrons and other exhibitors, and finding great merchandise. After the show Steve told us it was his last, and in the near future all of his and Bev's inventory will be sold at auction.
At this show White complimented not only the show organizers but also the porters and one in particular, Nancy, who not only helped him unpack and repack, but also helped with the booth arrangement and even with the selling—her idea. Steve said she stayed in his booth all day and was a tremendous help.
Steve also spoke about the GCADA and said it is one of the best, with great dealers and great merchandise, and it runs top-notch shows with a show committee that pitches in as needed.
This one-day show, which ended at 4 p.m., was in a large venue where dealers can drive inside and unload, and then park adjacent to the venue, and then reenter to load out at the end of the show. Patrons can park in the front parking lot.
We visited the show the day before it opened, near the end of setup time. In each booth there was a sign with the booth number that would be up for the show, plus the show program and a survey sheet to be filled out after the show by the exhibitors. The survey had eight aspects of the show to be rated from 1 to 5, including the overall show quality and success.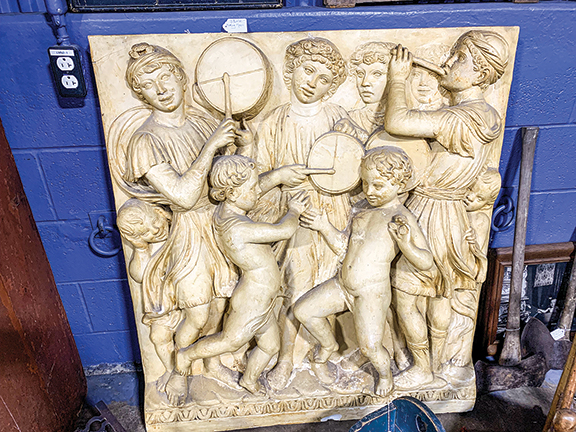 Christina's Antiques, Red Creek, New York, offered this very unusual plaster frieze of musicians. She told us that "the original, The Cantoria, was sculpted 1431 to 1438 by Luca della Robbia and is on display in Florence, Italy, at the Duomo museum." Her piece is a copy of one of the ten original panels that made up the sculpture, and it was priced at $650.
A week later, Christina Champion, owner of Christina's Antiques, summarized the results of the surveys: "Great quality and variety," "great venue," "easy in and out for the dealers," and "great attendance."
Over half of the exhibitors who responded chose "5," the top rating, for overall show quality. The short show drew almost 900 patrons. And they bought. "Stoneware, jewelry, a banjo, advertising and political items, rugs, toys, sterling, coins, china, folk art, and primitives," Champion said. "And gold and silver jewelry," added Steve White.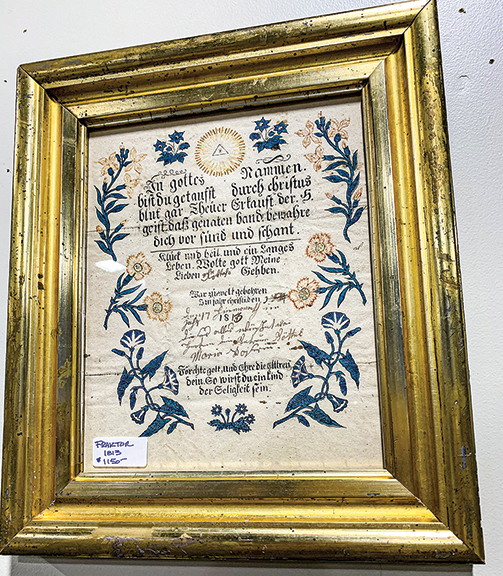 This circa 1813 framed fraktur was priced at $1150 by Gene and Nancy Pratt of Victor, New York. They told M.A.D. they did very well at the show and sold items in multiple categories, including furniture, artwork, stoneware, redware, and textiles.
Gene and Nancy Pratt, longtime dealers from Victor, New York, commented on the show and GCADA. They felt the show offerings were affordable for seasoned collectors and for first-time buyers. Gene added, "Since the show has become one of the few remaining shows in western New York, we attract vendors from greater distances and consequently offer a different type of merchandise than what is typically available locally." He added that the GCADA is focused on ensuring the quality of offerings.
One of the best comments I have ever been given for an antiques show review is this one from Gene: "It's great to deal with local collectors whom we know, as well as developing new collector relationships."
On the back of the show program was this history: "GCADA is proud to celebrate 75 years as an association. In 1948 a small group of Rochester antique dealers formed Genesee Country Antique Dealers Association. Our nonprofit association has grown to 81 members that encompass several areas of the United States."
I asked about the designation of nonprofit and got these details from Champion: "Each year, the Genesee Country Antique Dealers Association makes grant money available to one of 6 counties surrounding the Rochester area on a rotating basis. Projects involving the preservation of historically significant objects, balanced with the public's ability to interact with these artifacts, are given consideration. For 2023, in celebration of our 75th anniversary as an organization, we are going to gift $500 to each of the 6 counties. Starting in 2024, we are going to expand the number of counties to 12 and offer grants to 2 counties each year. We at GCADA are very pleased that we are able to give back to those historical societies in the Genesee Valley, the area of New York that our organization was named for."
Some of the GCADA's previous beneficiaries include the Gorham Historical Society, the LeRoy Historical Society (did you know that LeRoy was where Jell-O was invented?), and the Williamson-Pultneyville Historical Society
So when you go to the GCADA's shows or exhibit at them, you are giving back to area historic preservation efforts. And you might find a treasure.
For more information, check the website (www.antiquesrochester.com). The association's next show is June 17 in Canandaigua, New York. A fall show will be held October 21, back in the Rochester area at Minett Hall.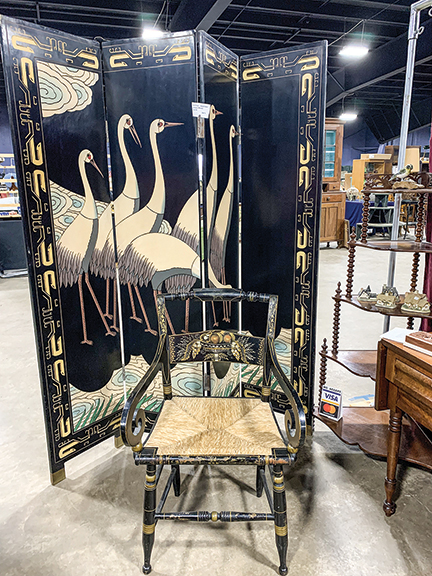 Recollections Antiques, Canandaigua, New York, offered this Japanese screen for $475. In front of it is one of a set of eight Hitchcock chairs with rush seats, priced at $2000 for the set. No need to worry about the durability of these rush seats, as Paula and Chris Sophoclides have another career besides selling antiques—replacing chair seats of rush and cane, etc. They said business is booming, especially in Florida, where they spend some time each winter.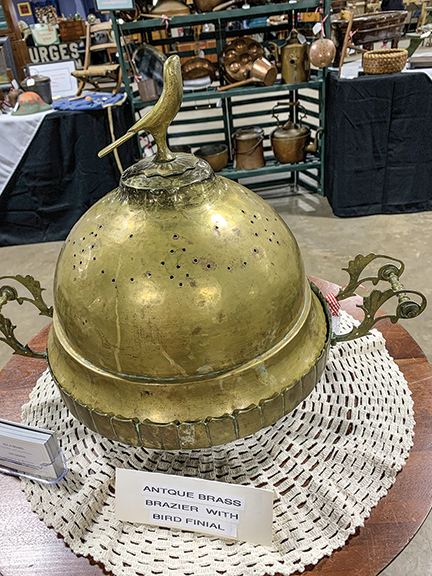 Antique brass brazier with a bird finial, $300 from All-A-Board, Palmyra, New York.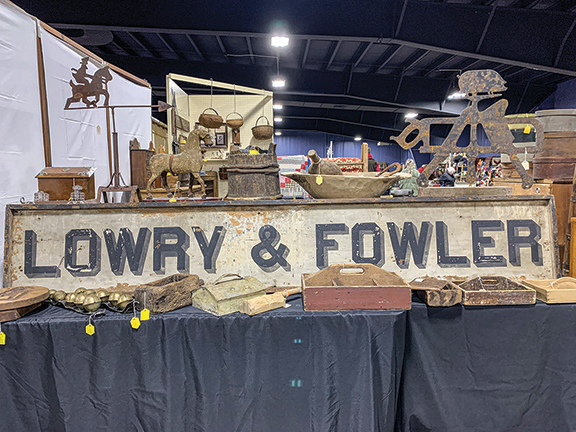 Signs are popular at every show we attend. This 8'6" long "Lowry & Fowler" example from Cheri and Bob Charbonneau of Honeoye Falls, New York, was $795. They said it came from Brockport, New York, and the seller recalled that it was for her grandfather's general store. It had been in her house after the store closed. A one-board sign with square nails and original paint is what collectors want.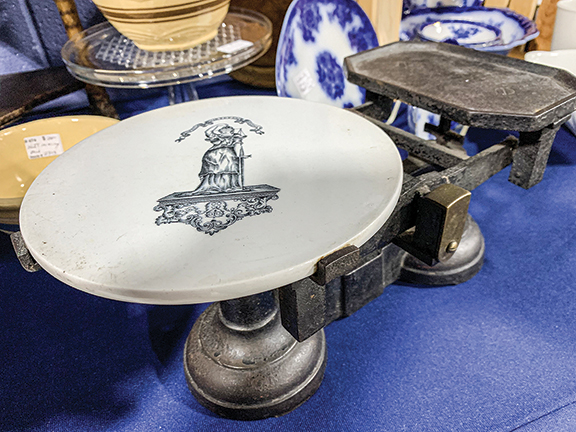 We have all seen scales, but one with a picture on the white surface is rare. It was $250 from Cavern View Antiques, Howes Cave, New York.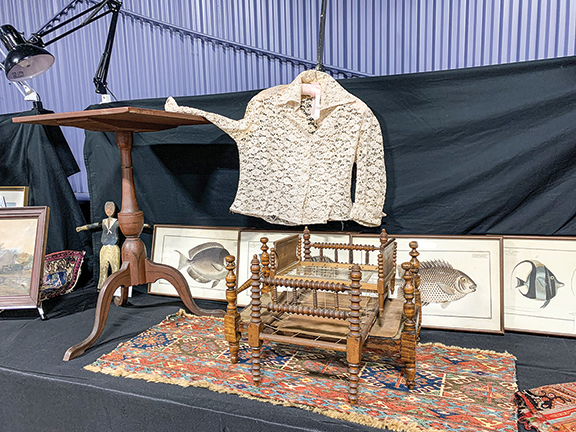 This arrangement of a candlestand with a clothing article partially draped on it said "come look at me," and we did. We inspected the late 18th-century fish pictures, four for $1400, and the sailor whirligig, $550, all from Michael Haskins of Palmyra, New York.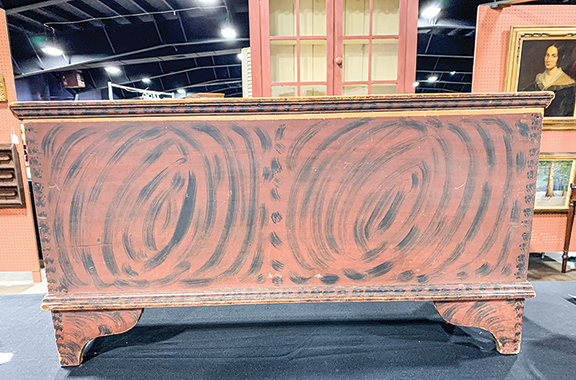 Now that's what we call a classic country piece—a painted blanket chest in vivid colors. It was yours for $1450 from Jeff Larson Antiques, Webster, New York.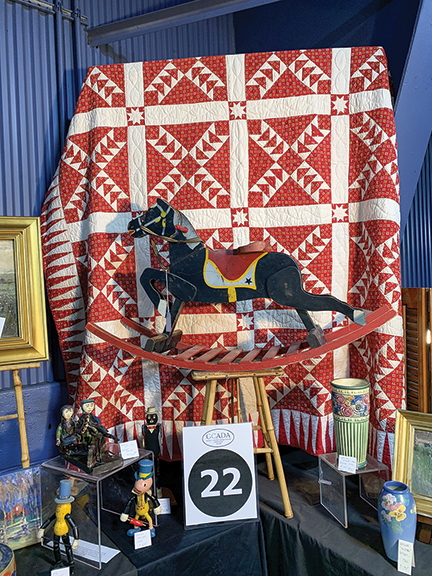 Jane Langol of Medina, Ohio, knows how to catch attention. The 70" x 86" Flying Geese quilt was $520, and the rocking horse, $325. What makes this rocking horse special is that it has actual reins so the rider can pull the horse's head back and forth, just like on a real horse.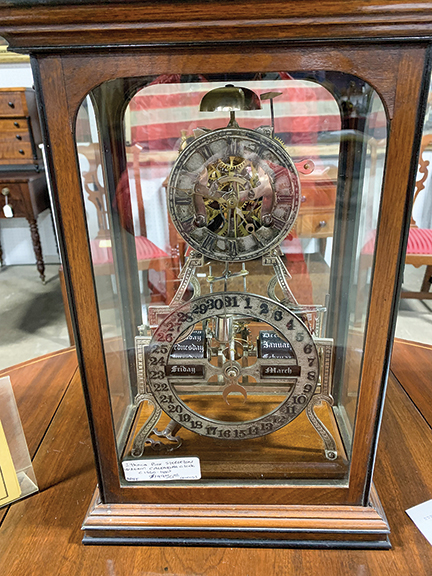 This very rare and pricey piece is an 1880s Ithaca box skeleton walnut clock offered by Ponzi's Antiques, Trumansburg, New York. Paul Polce told us he had seen only a few others over the years. It was priced at $19,950 and was a real eye-catcher. Polce said he bought it from a clock collector at a private sale. It sold a few days after the show to a couple who walked into his shop. If you want one, he still has two others.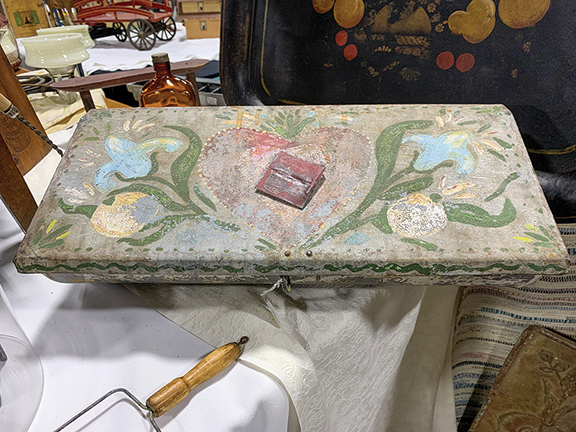 Look closely—this is a Pennsylvania Dutch mailbox. Hand painted, it was only $145 from Jan Comstock of Penn Yan, New York.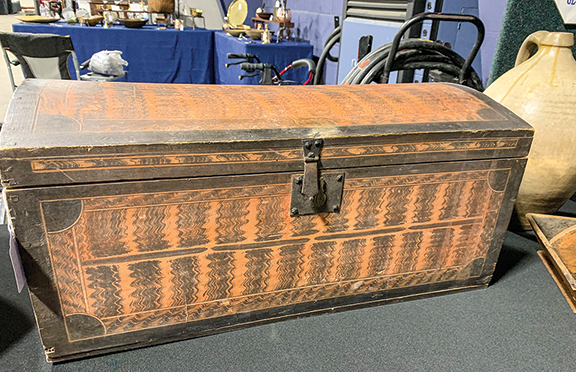 All original, this 1820-40 folk-art dome-top trunk from Maine was $975 from Dan Freeburg of Wilcox, Pennsylvania.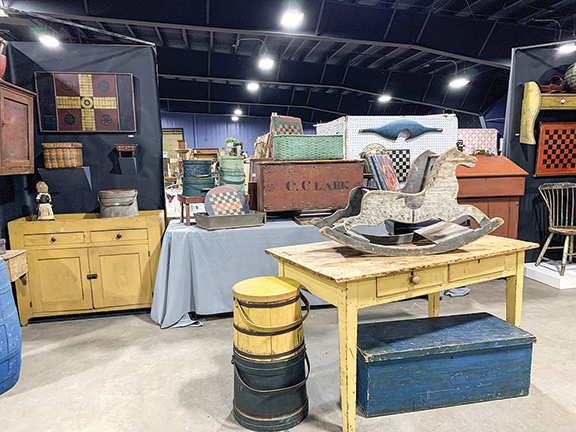 The booth of Tim and Charline Chambers of Missouri Plain Folk, Sikeston, Missouri, who are the antithesis of plain, is always colorful and inviting. With a lot of yellow and blue, there's color on almost everything.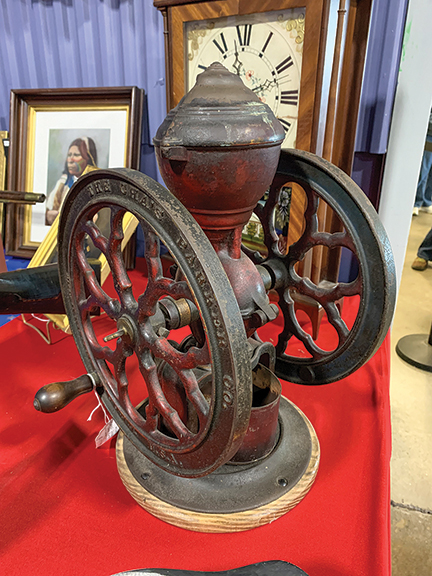 Coffee grinder, $1395 from Adamson's Country Store, Geneseo, New York. The grinder was made by Charles Parker, who also made guns. In 1934 the gun business was sold to Remington. Also in this booth was a "tiny treasure." After the show, we found out that the trilobite (not shown), about 2½" to 3", had been sold. What is a trilobite? It is a fossil of an extinct arthropod that lived in water millions of years ago, and the Rochester, New York, area shale is known for an abundance of them. Geneseo is about an hour south of Rochester and Lake Ontario and on the banks of the Genesee River. Craig Adamson called the trilobite "the oldest antique in the room."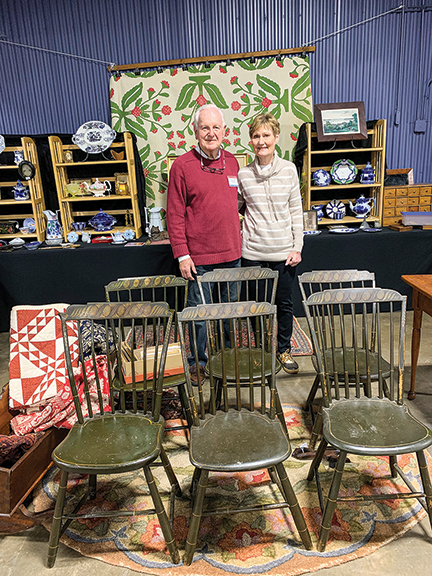 Dave and Mari Crumb of Hilton, New York, posed in their booth, which featured a set of six plank-seat stenciled chairs, $500, and an appliquéd quilt, $395. There were bargains at this show.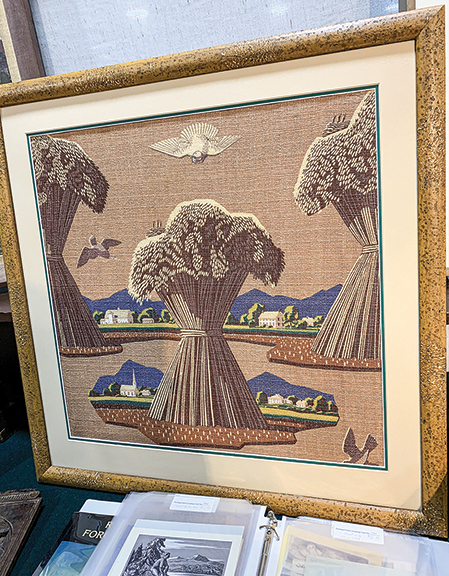 Scott Ferris of Boonville, New York, is an extraordinarily intellectual dealer, just as his parents were. Scott's parents, Jan and Richard Ferris, opened a small antiques shop in the early 1970s and did shows as well. Whatever Scott sells, he researches, and because he is an expert on artist Rockwell Kent (1882-1971), he features Kent's works, books, and designs. This framed fabric in mint condition was $650. The design, Harvest Time, is by Kent. The fabrics came out in the 1950s as drapery patterns in an arrangement between Kent and a New York City company. Patterns included Harvest Time, Waves of Grain, Deer Season, and Pine Tree.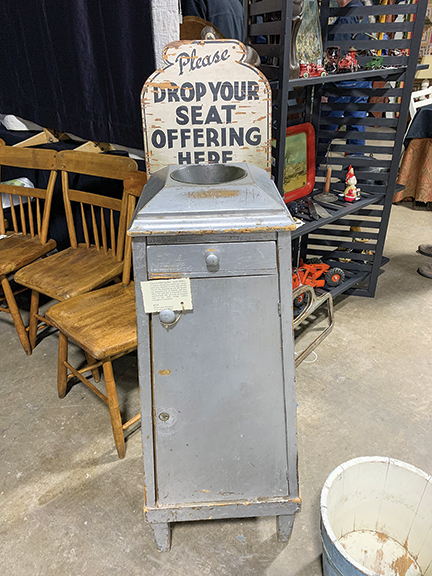 "Please Drop Your Seat Offering Here" reads the sign on this church offering box, circa 1900, that was priced at only $375 by Wilori Lane Antiques, Rochester, New York.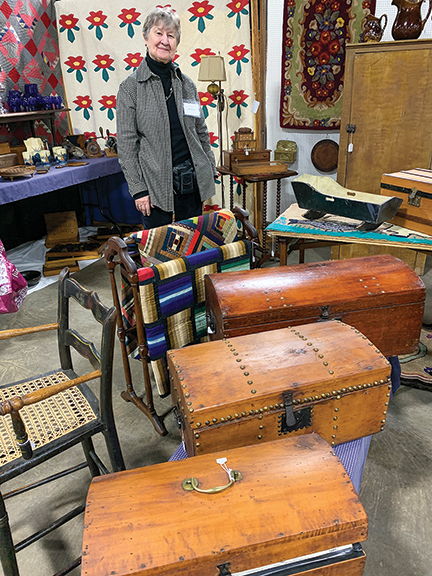 Dome-top chests with exhibitor Lynn Hazelton of Fairport, New York, in front of a $425 quilt.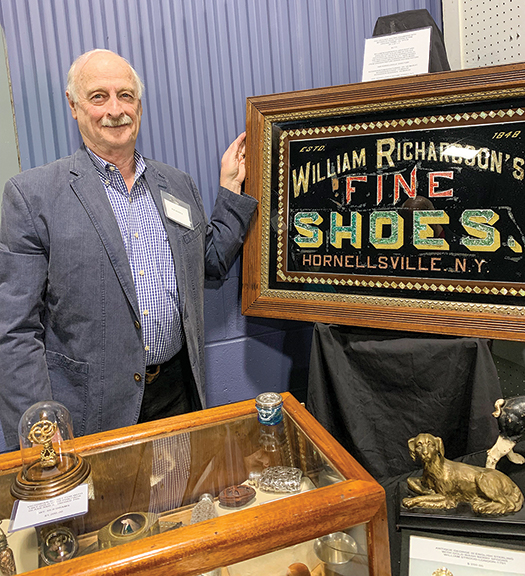 This foil-on-glass sign, 1870-88, with its original frame, was ticketed $4775 by dealer Robert Shomper of Pittsford, New York. ---
Originally published in the June 2023 issue of Maine Antique Digest. © 2023 Maine Antique Digest