New Haven Auctions, Branford, Connecticut
Photos courtesy New Haven Auctions
New Haven Auctions gathered desirable antiques for its two-day sale June 25 and 26 in the Branford, Connecticut, gallery where over 800 lots found new owners. New Haven principal Fred Giampietro told M.A.D. that the auction drew 40 or 50 live bidders each day, countless phone bidders, and 9000 registered Internet buyers. Kathy Giampietro called the sale, spelled by Fred.
Day one featured the collection of Luis F. Arroyo along with additions from other collections and estates. Arroyo's collection included fine folk portraits by such early artists as Ammi Phillips, Sheldon Peck, Erastus Salisbury Field, and Ruth Henshaw Bascom that bidders bid on eagerly.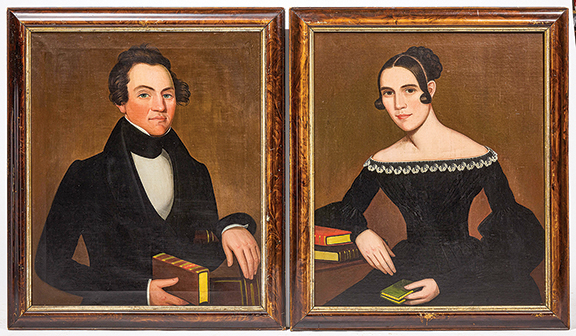 Around 1830 Ammi Phillips (1788-1865) painted this pair of 33 3/8" x 28" (sight size) oil on canvas portraits of a man and a woman, each with several books. The sitters wear black, but the books have color. With an estimate of $10,000/15,000, the pair brought $13,640. They had been acquired at Sotheby's October 11, 2001, for $30,650.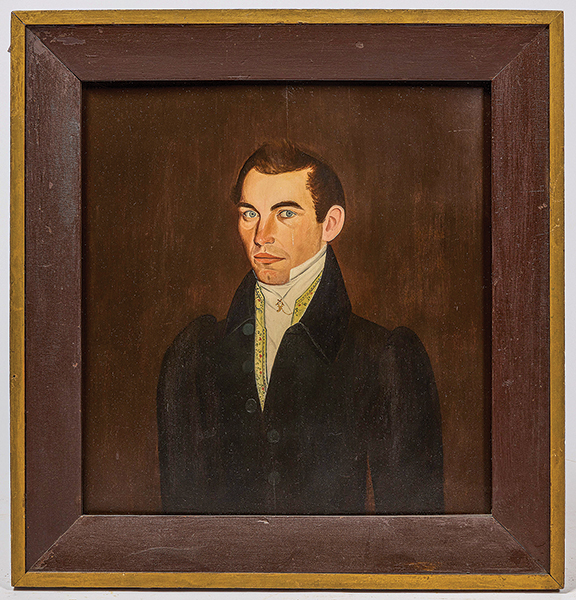 This portrait by Sheldon Peck (1797-1868) of a young gentleman from Port Henry, New York, in a colorful vest sold for $18,600 (est. $8000/15,000). The 24" x 23" (sight size) oil on wood panel, circa 1830, has a distinguished provenance. It sold in August 2005 at Northeast Auctions' sale of the collection of Horton Foote for $40,600. Before that it was part of the collection of Herbert Waide Hemphill, and even earlier it was in the collection of Barry Cohen. It was on view at Heritage Plantation of Sandwich and the Museum of American Folk Art in 1974; the Hudson River Museum, the Whitney Museum of American Art, and the Abby Aldrich Rockefeller Folk Art Center at Colonial Williamsburg in 1975; the Munson-Williams-Proctor Arts Institute in 1975-76; and the Flint Institute of Arts and the Illinois State Museum in 1976.
A pair of Phillips portraits made $13,640 (with buyer's premium), while a Peck portrait of a young man that had been in the collection of Horton Foote and had a long exhibition history brought $18,600.
Day two featured work from various estates and collections. New Haven Auctions is careful in its lot descriptions. If an object is described as in fine condition, it's safe to say it is. On both days, the variety and scope of early objects in original paint and in excellent condition rewarded bidders.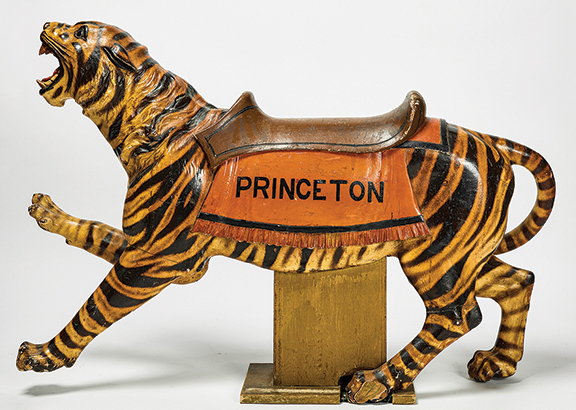 "Princeton," a rare carousel tiger attributed to the Philadelphia Toboggan Co., circa 1910, is in original condition and sold for $21,080 (est. $10,000/20,000).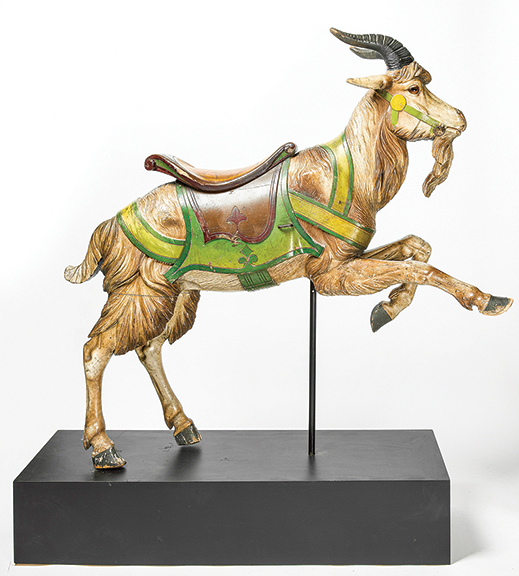 The Gustav Dentzel (1846-1909) carousel goat is attributed to the noted Philadelphia master menagerie carver Salvatore Cernigliaro (1880-1974). In original condition, the goat fetched $23,560 (est. $15,000/25,000).
The two highest prices were for carved and painted carousel figures. One was a tiger wearing a saddle blanket that read "Princeton." It was made by the Philadelphia Toboggan Co. around 1910 and brought $21,080. A goat carved by Salvatore Cernigliaro for the Dentzel company brought a bit more at $23,560.
For more information, visit the website (www.newhavenauctions.com) or call (475) 234-5120.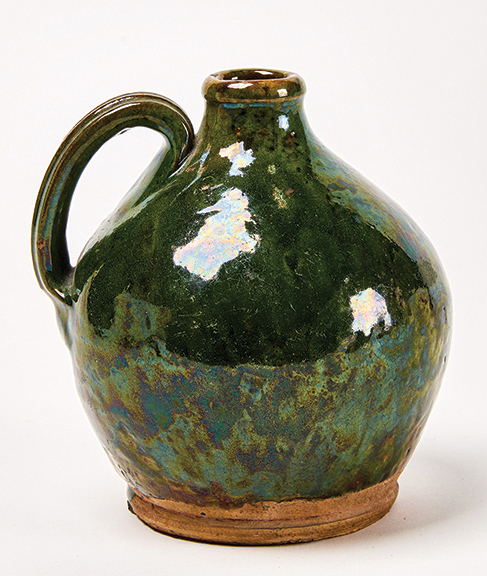 The highlight of a selection of redware was this 6" x 5½" jug in a deep green glaze that was made near New Bedford, Massachusetts, and sold for $4960 (est. $1000/2000). It bears the numbers 26898 in pencil on the bottom.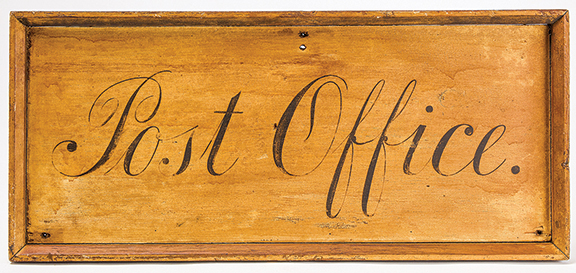 The mid-19th-century post office sign, 14 5/8" x 33 3/8", with graphically appealing script lettering is in fine original condition and sold for $2604 (est. $400/800).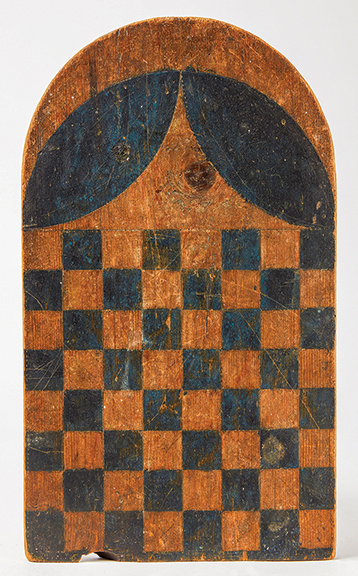 From a tavern, the early 19th-century checkerboard, 18¾" x 10¾", in the original blue paint, realized $4030 (est. $300/600). The single pine board was made in New England and was acquired from Robert T. Foley. Although the Foley collection was sold at New Haven Auctions in April 2021, this checkerboard was not part of that auction.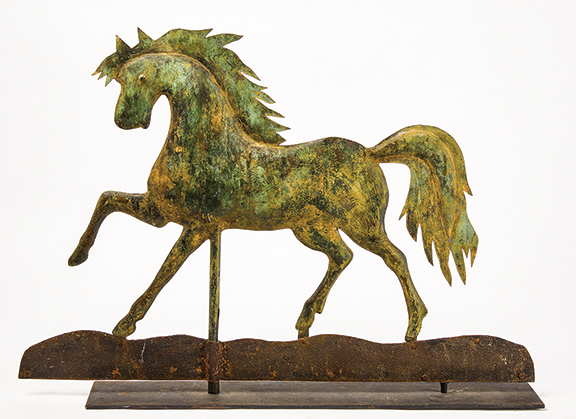 This prancing horse, a 30½" long molded and sheet copper weathervane by A.L. Jewell, Waltham, Massachusetts, brought $6820 (est. $2500/4500). Dated to around 1875, the vane has had some restoration. The Jewell company was one of the first makers to produce made-to-order vanes in various animal forms.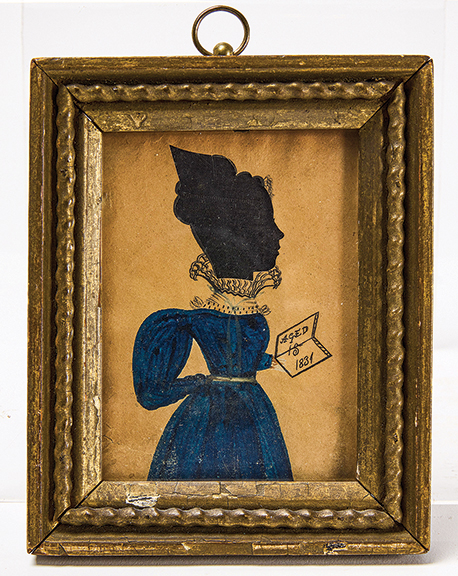 Attributed to the Puffy Sleeve Artist, this miniature silhouette of a young woman holding a paper inscribed "Aged 15 1831" hangs in a period frame thought to be the original. Estimated at $2000/4000, the 3 5/8" x 2¾" (sight size) portrait brought $6200. An inscription on the back reads "Adelia Miller Sherman / to be given to [illegible]."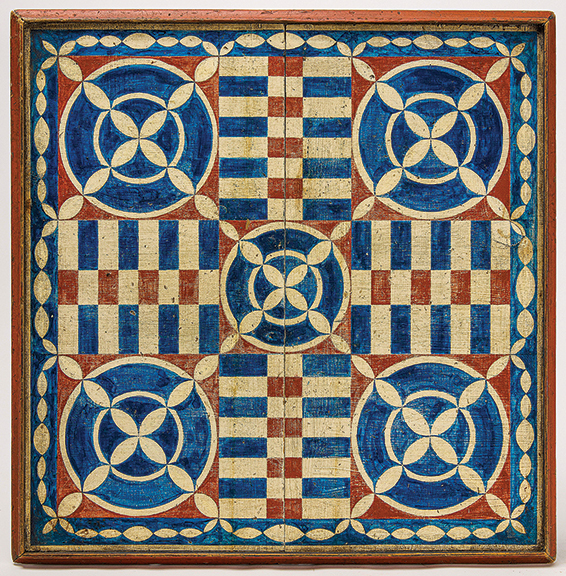 The 19th-century Parcheesi game board in original paint in an inventive design is painted on both sides, although the secondary side, not shown, may have had overpaint. Estimated at $1500/2500, the 23¾" x 24¼" game board brought $13,640.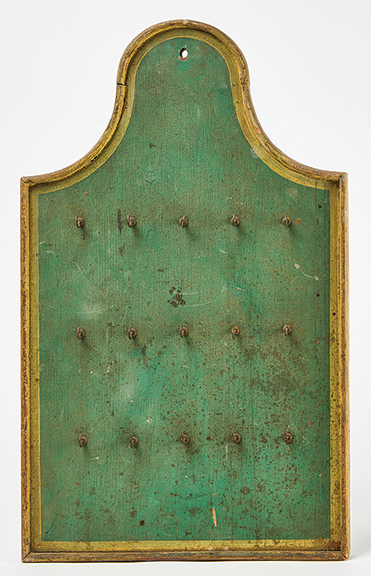 From a hotel, this 25" x 15 1/8" tombstone-shaped key board, circa 1865, sold for $5890 (est. $250/500). In original condition, the board retains the original apple-green paint with mustard trim.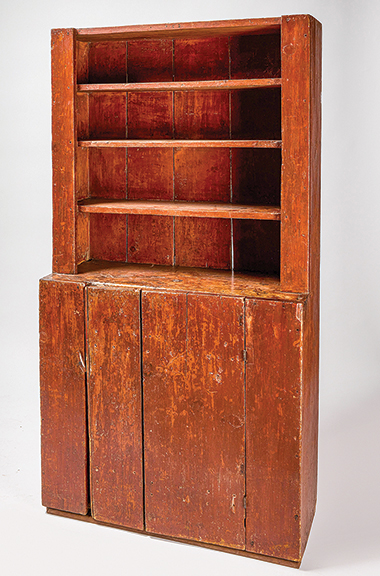 This New England stepback cupboard in early red paint with square-nail construction, circa 1820, sold for $1860 (est. $400/800).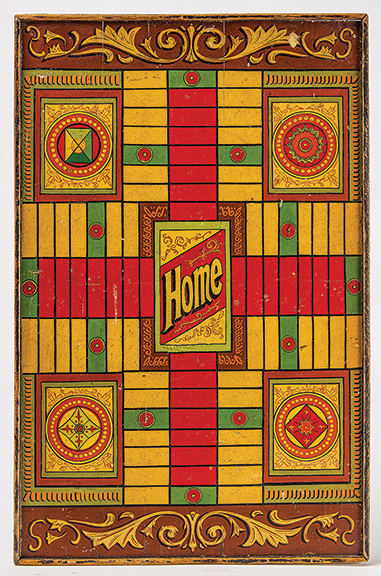 This 19th-century game board, 28 5/8" x 18 5/8", with Parcheesi on one side (shown) and checkers on the back, in exceptional and vivid paint brought $9920 (est. $2000/4000).
This molded copper weathervane in the form of an equestrienne riding sidesaddle, 26" x 28¼", circa 1900, sold for $14,880 (est. $8000/12,000). Its surface was given a restored gold surface later in the century.

Bidders really liked the large sign, 17¾" x 102½", from the renowned Downy Flake Doughnut Shop, now in its 87th year on Nantucket, and pushed it to $6200 (est. $1000/2000). It came from a Nantucket collection.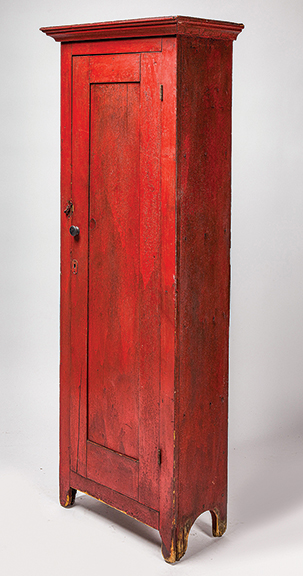 The chimney cupboard in unusual and original cherry-red paint was made somewhere in the Northeast United States between 1830 and 1840. Diminutive at 67" x 22" x 11½" and made with square-nail construction, it sold for $7440 (est. $800/1500).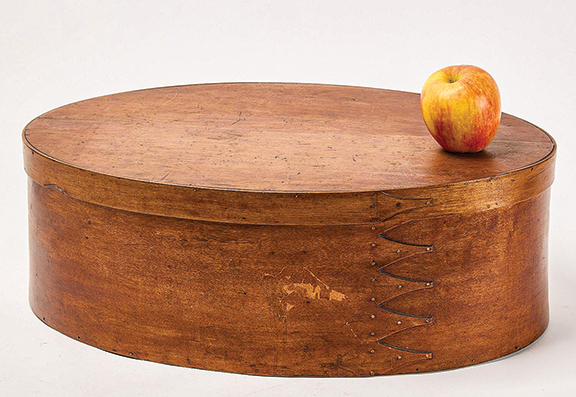 This Shaker box is unusually large at 7½" x 22¾" x 14½" and realized $2604 (est. $250/500).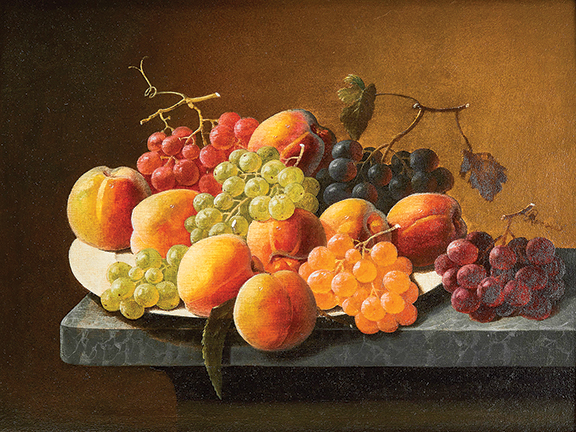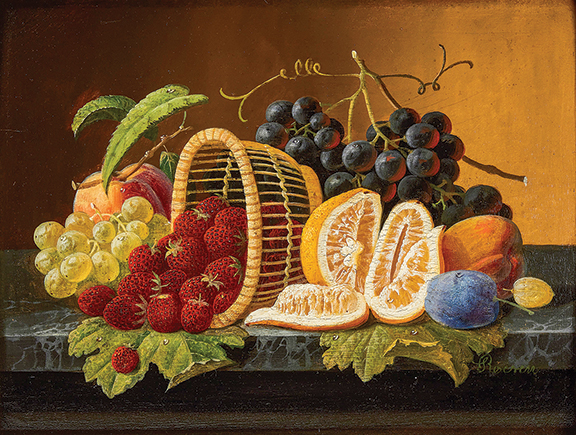 Two lush oil on panel still lifes with fruit by Prussian/American artist Severin Roesen (1815-1872) came to market. The 12" x 16" painting showing abundant grapes and peaches, with no restoration, brought $18,600 (est. $8000/12,000). The other, with a basket of strawberries, a plum, peaches, and grapes, 11 7/8" x 15¾", with the same estimate, realized $14,880. The paintings came from the same Virginia estate but went to separate buyers.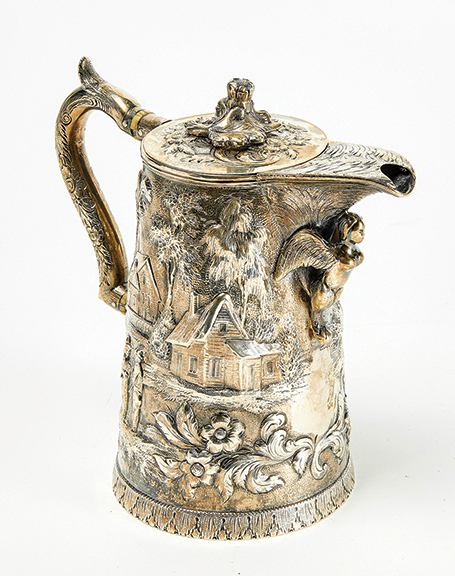 One of the last lots of the two-day auction was a coin silver syrup pitcher by S. Kirk & Son that brought $4030 (est. $200/300). Standing 7" high with a 4" diameter base, it is decorated profusely with a village scene with domestic animals, floral elements, an angel below the spout, and two people. Its total weight is 18.335 troy ounces.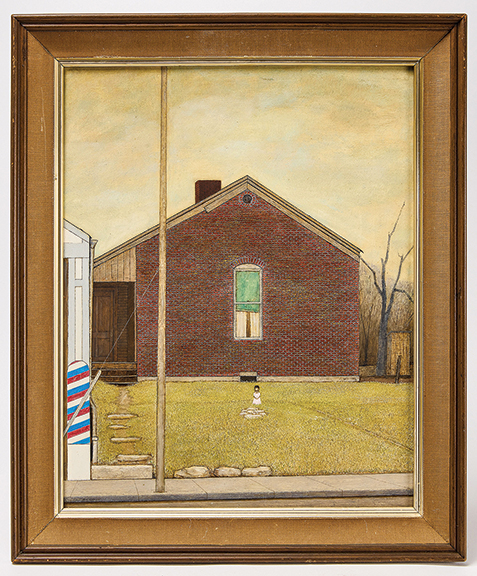 Pantry House by self-taught Tennessee artist Bill Sawyer (1936-2020), showing a young girl in front of a house, brought $13,640 (est. $2000/4000). The precision of the 19 3/8" x 15 3/8" (sight size) oil on masonite is evidence of the influence of Sawyer's service in France with the U.S. Army Corps of Engineers. Sawyer began exhibiting his work in the early 1950s but stopped painting in the 1980s.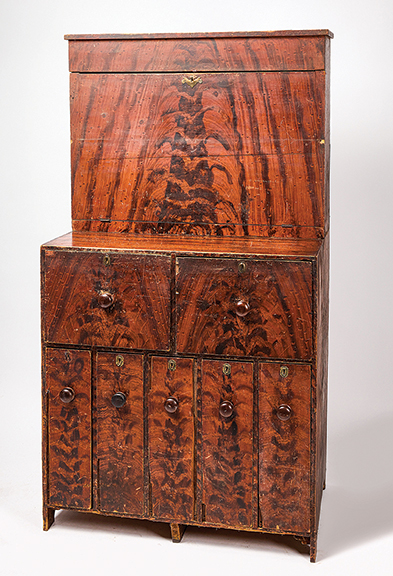 The two-part storekeeper's desk in original paint decoration, circa 1840, came from Maine. The upper part drops open to shelves above a writing surface, and the bottom is a bank of five locking drawers. Estimated at $500/1000, the 76" x 41" desk sold for $1860. ---
Originally published in the October 2022 issue of Maine Antique Digest. © 2022 Maine Antique Digest