An aborted deal with a French buyer has David Benrimon Fine Art LLC of New York City asking a federal court to rule that any legal battle should be fought on U.S. soil rather than in France.
On February 21 Benrimon agreed to sell Josef Albers's 1962 Study for Homage to the Square: Soft Pulse, 18" x 18", to Raphael Durazzo, chairperson of Torrelione, SAS, for $347,500.
The sale had a quick expiration date. The transaction would be canceled if Durazzo failed to pay Benrimon before March 1, which was the start of the Art Dealers of America (ADAA) Art Show in New York City. Benrimon bargained for this term, the suit alleges, to ensure that if Durazzo failed to make prompt payment, Benrimon could find another buyer at the show. Durazzo did not pay before March 1.
On March 5 Durazzo asked for an extension, explaining that the funds would be in his account within one or two days and that he would immediately wire the money to Benrimon. Benrimon claims that it tried to work with Durazzo. On March 7 at 8:55 a.m., Durazzo represented to Benrimon that the money had been wired to Benrimon's account, but the money had not arrived by the end of the morning on March 7.
Benrimon canceled the deal. Durazzo did wire the money on March 8, but Benrimon returned it and claimed the deal was off.
Benrimon alleges that Durazzo has interfered with Benrimon's subsequent effort to sell the Albers artwork, claiming that it had an opportunity to sell the artwork through another New York art gallery in the summer. Durazzo learned about this opportunity and falsely informed the other art gallery that he owned the Albers, Benrimon charges. As a result of Durazzo's interference, the art gallery refused to acquire the Albers from Benrimon.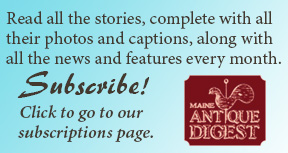 On July 3 Benrimon received a writ of summons to appear before the Paris Commercial Court. Durazzo had filed suit in the Paris Commercial Court alleging breach of contract and seeking damages. Benrimon is seeking a declaration from the U.S. court that it did not breach the contract, an injunction stopping Durazzo from litigating in Paris, and damages.
Benrimon's lawyer notes that all aspects of the transaction occurred in New York and that Benrimon has no contacts in Paris, no business presence there, is not a French resident, and does not own property there.
"The dispute should be resolved in New York," court papers argue.
---
Originally published in the October 2017 issue of Maine Antique Digest. © 2017 Maine Antique Digest