Artworks from DuPont Collections Go to Local Museums
M.A.D. staff | May 1st, 2017
When the Hotel du Pont in Wilmington, Delaware, was sold to the Buccini/Pollin Group in January, those who are frequent guests at the hotel wondered what would become of the art on the walls. The 103-year-old 217-room hotel will continue to operate under the Hotel du Pont name with all its amenities, including the Green Room restaurant and the Gold Ballroom, but some of the artwork will go to three local museums, and 400 lesser works will be sold at auction for the benefit of the United Way of Delaware. The museums collaboratively selected paintings relevant to their collections.
The DuPont Company began to collect art for the Hotel du Pont in the 1940s and over the years bought works by three generations of Wyeths, Frank Schoonover, and Edward Loper, among others.
Among the works donated to the Brandywine River Museum are N.C. Wyeth's Island Funeral, Andrew Wyeth's The Big Chimney,and Jamie Wyeth's White House.
"The work of the Wyeth family of artists is an important part of the collection of American art we present, and we are delighted with this gift," said Thomas Padon, director of the Brandywine River Museum of Art. "N.C. Wyeth's Island Funeral is without a doubt one of the artist's masterpieces—painted in his studio that is now a National Historic Landmark and part of the Brandywine Museum. We're deeply grateful to DuPont for this remarkable donation, which is emblematic of DuPont's decades-long commitment to the rich artistic heritage of the area."
Delaware Art Museum director and CEO Sam Sweet said, "We are thrilled to receive this donation of works from the Hotel du Pont; these works add to our strength in representing the artists of Wilmington and the Brandywine Valley, including Edward Loper, Frank Schoonover, and members of the Wyeth family." The gifts to the Delaware Art Museum include a major illustration by N.C. Wyeth and watercolors by Andrew Wyeth. Sweet said some artworks will be part of the permanent collection gallery and others will be shown in upcoming exhibitions, such as the spring 2018 exhibition of nature studies by Andrew Wyeth and John Ruskin.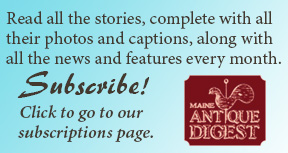 Other works will go to the Hagley Museum and Library. "As the birthplace of DuPont, the presence of this artwork will continue the strong connection between Hagley and the company," said Hagley executive director David Cole.
The site and date of the auction of oil paintings, watercolors, and prints, once displayed at various DuPont sites, to benefit United Way have not been announced.
In December 2015 DuPont announced plans to merge with Dow Chemical Company; the combined company will be known as DowDuPont and will then be split into three separate public companies.
---
Originally published in the May 2017 issue of Maine Antique Digest. © 2017 Maine Antique Digest