Bonnie and David Ferriss, Lake Luzerne, New York
Frank Donegan | May 1st, 2017
In the Trade
In this feature, we've reported on all sorts of strategies that dealers have used to cope with the changing antiques market. But longtime dealers Bonnie and David Ferris haven't felt any great need to devise new coping mechanisms. Today, they do pretty much what they've done since they set up at their first flea market in 1975: they exhibit at about 25 shows a year; they display some inventory at a few antiques centers; and they sell from their home in Lake Luzerne, New York, just south of the Adirondacks.
David and Bonnie Ferriss.
It seems that things are working pretty much as they always have. "We hold our own; we make some money," Bonnie said.
Rather than trying to outsmart the market, the Ferrisses are content to accept it as it is. In fact, they kind of like the state of today's market. "It's really nice now," Bonnie said. "People are not thinking about it as an investment. They are buying out of pleasure and not worrying about what it's worth in five years."
The collapse of prices in so many segments of the antiques market encourages that attitude. As David said, "Now a North Shore card table that used to be four thousand dollars is four hundred dollars." No longer does every transaction have to be a big deal.
Large, 46" x 50", black and white sign, $2500. "I think it's from Massachusetts," Bonnie said. "Signs are very good. And it doesn't have to be all that special. It can just be 'Ripe tomatoes.'" (Note: since 80% to 90% of their sales are to dealers, the prices quoted in this article are "to the trade," not retail.)
Mickey Mouse on a breadboard, $500.
It's not unlike the market of decades ago. Bonnie said, "When we started out, you didn't really need any money. If you made a mistake, you weren't out much."
The couple's relaxed attitude toward the business is clearly reflected in their attitude toward life in general. They live in the same cozy gambrel-roofed cape that they built themselves when they were first married. Inside, it feels like a period 19th-century farmhouse. Wood supplies their heat and hot water. They don't buy new cars. Their kids (they have three, a son and two daughters) graduated from state colleges with no debt. Bonnie said, "You'd just do a Brimfield and it would pay for a semester. We're thrifty."
They sell country stuff, usually in paint, and various early smalls, along with some funky things and garden material. And they buy art from just about any era. "We'll pick up mid-century paintings if they catch our eye," Bonnie said. Dave is cautious when it comes to other mid-century material. He said that market can be tricky for nonspecialists. "Mid-century modern has to be the right piece."
Bradley & Hubbard lawn sprinkler in the form of a toad, $1000. Bonnie said, "It's unsigned, but we have another that is signed."
Yellow and green lawn sprinkler from the 1920s or 1930s, $600. Bonnie said, "We found our first lawn sprinkler at a paper show in Allentown, Pennsylvania." She recalled walking around the floor of the show, desperate to find something that wasn't paper. Now, "We have tons of them. They put a smile on your face, and a lot of men like them." She also said, "You don't see many anymore because there are lots of hoarders like us."
The Ferrisses represent a type of dealer that used to exist in large numbers but whom you don't run across so much anymore—dealers who would do most of the shows in their local area and would branch out to the occasional regional show and some weekend markets such as Russell Carrell's flea markets. Bonnie remembers the simplicity of setting up at Carrell's Antiques in a Cow Pasture market at his home in Salisbury. "You didn't have to do anything fancy," she said. "We used to take two ladder-back chairs and put a board from one to the other and set up smalls on the board."
David and Bonnie, for example, did or still do many of the shows in upstate New York—Schoharie, Cooperstown, Blue Mountain Lake, Madison/Bouckville, Rhinebeck. "We used to like [the defunct shows] Chatham and Kinderhook," Bonnie said. Beyond New York, they always do a show during Antiques Week in Vermont. "This year it will be Stratton; it used to be Bromley. We also did Nan Gurley's Concord [New Hampshire] show. It was great," she added.
In Connecticut they do the Quiet Corner show in Danielson and the Trade Secrets show in Sharon. "We used to do Wilton," Bonnie said. Their most distant show is in Damariscotta, Maine. And of course, they do Brimfield.
Livery sign from the Oneonta area in New York, in white with light yellow lettering, $1100.
In earlier days when the market was more freewheeling, they ventured to Nashville and New York City. Bonnie recalled, "We started with Judith McHugh in New York City; then we did Stella's Piers and then the Americana Pier, but we stopped after nine-eleven."
David said the problem with the New York City shows was always the cost—even though they stayed at the budget Leo House hostelry. "You'd have to sell five or six pieces just to pay for your booth."
The couple likes to buy at shows as well as exhibit at them. "You find nice things on the floor at shows," Bonnie said. And they're also active between shows. Dave said, "If we have a month or two between shows, we usually have a good show because we've located twenty new things since our last show. There's nothing worse than looking at a booth and saying to yourself, 'This guy has had the same booth for the last three shows.'"
Oil on zinc scene of kittens and a cat, 22" square, $650.
Stale inventory is, of course, often a consequence of refusing to admit that you paid more for things than the market is now willing to pay. Bonnie said, "There are things you have to suck it up on and take a loss because of what you paid. I have a corner cupboard of soft paste that I'm going to have to reduce to nothing."
But Dave said, "People who are active and out there getting new things are doing OK." Nevertheless, he noted, "I think it's very difficult to make a living at this business. There are too many people looking for things."
And what new things are the Ferrisses looking for? "Large 'POPPY' things," Bonnie said. "Yup, 'ZIPPY,'" Dave added.
For a decade, the couple also had a joint shop, Antiques at 30B, in Cambridge, New York, with Robert and Janet Sherwood. They closed the shop in 2014. The two couples still do some shows together, as they have in the past. But they decided to close the shop, Bonnie said, when it was time to renew their lease. "There were some funny things about insurance on the lease, and we figured ten years was enough."
They continue to maintain spaces in a few group shops. "We've been in Stone House [Antique Center] in Chester, Vermont, for eight years," Bonnie said. "There's lots of activity. We'd shop it once a week and finally figured, 'Why don't we take a space?' They're very, very friendly."
The Ferrisses also are in the Showcase Antiques Center in Little Falls and have a small space at the Tannersville Antique and Artisan Center in the Catskills. The latter venue may not be the busiest, but it was a deal too good to turn down. Bonnie said, "They asked us if we'd like to be in the shop for free for a year. After that it's just fifteen percent of sales with no monthly rent."
During the 1980s and '90s, the couple took space nearer home, first in the Davis Street antiques center in Glens Falls and then at the Glenwood Manor group shop in Queensbury. They were also in the Middlebury (Vermont) Antiques Center for ten years.
A significant benefit of group shops is that not everything you put in them has to be ZIPPY or POPPY. "You can put ordinary things there," Bonnie said. "We pick up a lot of garden stuff. We buy whatever catches our eye."
One beneficial result of the market's downturn has been that dealers exhibit more flexibility than ever before, Dave said. "There's a lot of pre-selling. Dealers are very good about letting you take pictures." So you don't have to pay until you're pretty sure you have a customer lined up.
Panoramic carnival crowd scene by Adams Wirt Garrett (1908-2000), who was born in Texas and died in Plainfield, New Jersey. "He went to New York City and did WPA stuff," Bonnie said. "He taught art at Columbia. We have about thirty of them and are going to look at more tomorrow." This example is 24" x 42" and is priced at $3000.
Another important development in the "country" segment of the market, Bonnie observed, is the rise of the "simple living" dealers in primitives. (Some in the trade refer to them, not entirely inaccurately, as "the brown people," because of their love for humble, everyday objects, which tend to be monochromatically brown rather than for the flashiest, rarest, most colorful examples of country material.) She said, "I had a piece that I apologized for because I hadn't cleaned it, but that's the way they wanted it." She added that unlike the more traditional country dealers of the past 30 or 40 years, these dealers seem better able to control their emotions when buying. "If I love a piece, I'll pay too much. They only pay so much. They may love a piece, but they can leave it. They'll pay sixty dollars for a nice breadboard, but not sixty-five."
Bonnie and Dave recently celebrated their 48th wedding anniversary. They met at New Milford High School in Connecticut. "Dave was graduating, and I was two years behind. We played miniature golf where Elephant's Trunk [flea market] is," Bonnie said. She recalled her introduction to the world of secondhand goods shortly after the couple got together. "Dave took me to a tag sale on the end of the New Milford green. I thought it was so weird."
Their relationship was taking place against the backdrop of the Vietnam War. Dave was drafted, but a Navy recruiter contacted him. Dave said, "He said, 'Come down a day early before draft day, and we'll sign you up.'" That's what Dave did. He spent the war at sea away from the battlefield and learned electrical work, a trade he would pursue for much of his career as a union electrician.
The couple married while Dave was in the Navy. Bonnie's father worked for International Paper. Conveniently, Dave said, "There was a job waiting for me there when I got out of the Navy."
That job at the International Paper mill in Ticonderoga brought them to upstate New York. And they've been in the region ever since. "We love it up here," Bonnie said.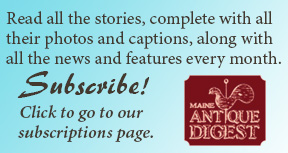 In the mid-1970s the couple became antiques dealers when they set up at their first flea market in Rock City Falls, about ten miles west of Saratoga. "We sold two Windsors for eighty-five dollars. It cost us like fifteen dollars to set up. We were hooked," Bonnie said.
Dave also worked for a time as an ironworker helping to build the futuristic South Mall in Albany, which, many people don't know, houses one of the great collections of 1960s and '70s American painting. It's free and is housed in the long underground concourse between the Capitol and the State Museum.
He also spent a year working for a home builder. That gave him the confidence to build their current house although, as he said, "When we moved in, we had no toilet, no sink, no heat." Bonnie pointed out that life in their new home was not as rugged as her husband makes it sound. Everything got hooked up shortly after the move.
Dave retired early, at age 52, from his electrician work. "At the time," Bonnie said, "We were making more in antiques."
As is the case with so many observers of the current market, Bonnie and Dave worry about the aging dealer pool. Dave said, "We know the majority of really active dealers within three hundred miles of here, and they're almost all in their seventies. We are the young ones."
For information, contact Bonnie and David Ferriss at (518) 744-5858, by appointment, and at shows.
---
Originally published in the May 2017 issue of Maine Antique Digest. © 2017 Maine Antique Digest