Books Received, May 2017
M.A.D. staff | May 3rd, 2017
These are brief reviews of books recently sent to us. We have included ordering information for publishers that accept mail, phone, or online orders. For other publishers, your local bookstore or a mail-order house is the place to look.
---
The Hidden Art: 20th- & 21st-Century Self-Taught Artists from the Audrey B. Heckler Collection by Dr. Valerie Rousseau, with Jane Kallir, Anne-Imelda Radice, and other contributors (The American Folk Art Museum and Skira Rizzoli, 2017, 272 pp., hardbound, $50).
Art by self-taught people can be powerful. Audrey Heckler became a major collector of such works because of their immediacy and pure intent. She developed a good eye for genuine works and said she loves living with her "friends" on view in her New York City apartment. Her intention in sharing the works in this thick book is to introduce them to a new audience.
The many writers who contributed to the book offer their trained insights into these fascinating works. The verbal descriptions and historical analyses are designed to intrigue a new audience, perhaps an audience not accustomed to understanding directly through the visual language. If someone were to look only at the arresting images and not read the captions, the illustrations can offer direct connections, since they are so nicely presented and seem to be true to the colors of the original works. The many contributors have included background material into the lives of the artists, which will be helpful for future reference. The breadth of the collection impresses, and the works by international artists intrigue me most. Two examples come from Japan.
First the art of Hiroyuki Doi caught my eye. His subtle work must look fabulous in person—ink on washi (strong handmade paper usually from one of three shrubby plants). The closeup reveals thousands of tiny circles that make up the overall unified composition. Here is some of the description by author Edward M. Gomez:
"To create his abstract images,…Doi [b. 1946] builds up agglomerations of minuscule circles into sprawling, rhythmic compositions that feel at once dynamic and soothingly serene. The artist has said that he allows his drawn forms to emerge organically, with little or no planning, and that he routinely spends many hours at a time working on a drawing, as if suspended in a creative trance. Sometimes the forms Doi creates resemble those that are found in nature, like the big ball that is trailed by a conical, tornado-like tail in the work shown here."
The second Japanese self-taught artist who attracted my attention was M'onma, who, according to author Randall Morris, "…was born in 1951 on the island of Hokkaido, Japan, an island with many temples and the pilgrimages they attract....He had a fairly mundane childhood until an important event took place." The remaining historical synopsis of his wandering life and dedication to drawing images that come to his hand unbidden but with compelling force is as riveting as seeing the illustrations. Again, it would be wonderful to see these complex and layered works in person and spend a lot of time looking deeply.
The book has five major sections—Masters; Art Brut and Self-Taught Artists in Europe; American Classics; Southern Self-Taught Favorites; and 21st-Century Self-Taught Art Worldwide—and it begins with an interview with Heckler and essays about this topic.
A.C.V.
---
Junk Type: Typography - Lettering - Badges - Logos by Bill Rose (Universe Publishing, 2017, 192 pp., hardbound, $35).
This quirky little book is full of words, but they themselves are not important. What is important, however, is how the words have been shaped and arranged in logos, badges, and signs. Bill Rose, the photographer who collected the images and also goes by the name Recapturist, reminds us in the book's introduction that "All of these designs are from an era that predates computers and the specialized software used by modern-day graphic designers."
Mike Essl, a graphic design professor at Cooper Union, contributed an introductory chapter in which he admits to being "guilty of having nostalgia for an era when type was more visceral and made with materials like metal, wood, and plastic." Essl calls the book "an archive of small ideas for you to lift and use in your work."
Even if you are not a graphic artist looking for ideas, you may find it entertaining to see the tremendous variety of treatments of type. Be warned, though, you may find it frustrating that there is no obvious system for how the photos have been grouped and arranged. There is also no information with any of the images to explain where they were taken, what object they appeared on, or how old they are, and there is no index or table of contents. But if what you want is visual inspiration, you will find plenty of it here.
---
ABC: A Winterthur Book for Children by Lois Stoehr (Winterthur Museum, Garden, and Library, 2016, 32 pp., hardbound, $18.95 plus S/H from Winterthur Museum, [www.winterthurstore.com] or [800] 448-3383 ext. 4792).
In 2007 Lois Stoehr, Winterthur's associate curator of education, organized an exhibit called K Is for Kids. Now she has created a charming little alphabet book based on the exhibit. Twenty-six objects from the Winterthur collection are illustrated in full color, and each is accompanied by a four-line poem. Some of the poems offer mini history lessons ("Would you believe that boys once wore / A dress until age four or more? / Then they donned a grown-up suit / And learned to act with good repute."), while others are just for fun ("These teapots are a funny pair / Who sit in chairs with clothes to wear / Let them pour you one more cup / Then go ahead and drink it up."). You and the children in your life might enjoy this lighthearted look at some very special items from Henry du Pont's collection.
---
A Guide Book of the United States Mint: Colonial, State, Private, Territorial, and Federal Coining Facilities by Q. David Bowers (Whitman Publishing, LLC, 2016, 448 pp., softbound, $24.95 from Whitman Publishing, LLC, [www.whitman.com] or [800] 546-2995).
This book offers a thorough historical overview of the U.S. Mint. It begins with the history of coins and commerce in the pre-Colonial settlement days and mints in Colonial times, covers the first federal coins, offers overviews of each federal mint, and includes other coinage mints in the Americas and "Mints that Never Were." It has many historical illustrations as well as images of coins (the book boasts at least 1300 illustrations total), plus much information on the history of the mints, what coins each mint produced, profiles of mint directors, administrators, and artists, a section on medals, and much more. Coin collectors and those with an interest in the history behind coins and their production will enjoy perusing this guidebook.
---
Around the World in Search of Whales: A Journal of the Lucy Ann Voyage, 1841-1844 by John F. Martin, edited by Kenneth R. Martin (New Bedford Whaling Museum, 2016, 236 pp., hardbound, $39.95 plus S/H from the New Bedford Whaling Museum, [www.whalingmuseum.org] or [508] 997-0046).
Having journeyed a long way with its author on the whaleboat Lucy Ann and passed through private and museum hands, this journal kept by a seasoned whaleman in the 1840s has now been published in full with annotations by researcher, author, and collector Kenneth Martin (no relation to John, apparently). John Martin (d. 1876) joined the crew of the Lucy Ann in 1841 when whalemen for its upcoming trip were in short supply. He had recently completed a voyage aboard another whaling ship that had been fairly successful.
The journal details life at sea, from the mundane, such as wind and weather, the crew's tasks, and meals, to other details about life aboard the ship, such as punishments, pranks, and entertainment, and, of course, whales or sea creatures sighted and/or taken. Along with his written entries, Martin illustrated the journal with watercolors of islands, whales, and whaling scenes.
This book is well designed. Each entry is headed with its date, there is plenty of white space around the text, and the watercolors are reprinted either alongside or under entries or on a full page. Appendixes include a list of each crew member's lay, as gleaned from the journal and entries in the whaling company's records, an original poem by Martin, and the other watercolors and writings that Martin made in the personal journal of the Lucy Ann's captain, Henry King.
Not only will this publication put Martin's journal more readily into researchers' hands, but it should delight and mesmerize those who dream about going to sea or life on a whale vessel. The editor has included many notes and resources used in researching the journal and in writing the introductory and closing essays. In the index readers can find specifics mentioned in the journal, such as sea creatures, places, people, ships, etc. Kenneth Martin calls the journal a "rollicking" narrative of life aboard a well-known whaling vessel, and we are pleased to recommend it.
---
The Persian Carpet by A. Cecil Edwards (Duckworth Overlook, 2016, 404 pp., hardbound, $75).
Reprinted for the first time in over 60 years, A. Cecil Edwards's "Survey of the carpet-weaving industry of Persia" was written twice, according to the artist's biography on the back flap. Having lost his first manuscript to fire, Edwards rewrote it in the late 1940s. The book was first published in 1953, shortly after his death.
With 50 years of experience in the business, 13 of which he spent in Persia (what we now know as Iran), Edwards is called the "foremost expert" on Persian rugs and textiles. After retiring, Edwards and his wife returned to Persia to revisit "those remote, exotic but friendly towns and villages where Persian carpets are produced; and recording, day by day, my observations of the weaver's craft."
In the text Edwards discusses the origins of carpet making in each region, tells how it blossomed in the 16th century and then went into a decline for two centuries, and recounts the industry's resurgence and challenges. No values or prices are given, but he describes distinguishing qualities of carpets from each region. The illustrations number more than 400 and are listed in the beginning. Although not of the highest quality, according to today's standards, and all in black and white, they nonetheless show good detail of the many varied designs and patterns.
The press release announcing the book's publication mentions that with the lifting of sanctions in Iran, carpet sales saw a big increase in 2016. Therefore, the reprinting of this invaluable resource is timely for a new era of buying, selling, and collecting beautiful Persian carpets for a new generation of dealers and collectors.
---
A Field Guide to Identifying Woods in American Antiques & Collectibles by R. Bruce Hoadley (The Taunton Press, 2016, 246 pp., softbound, $29.95 plus S/H from Taunton Press, [www.tauntonstore.com] or [866] 325-2495).
This book is a simplified field guide for identifying 37 of the most commonly found wood types used in American antiques and collectibles. The author, R. Bruce Hoadley, is a professor emeritus and wood identification expert who has written two other important books on the subject, has conducted many wood identification workshops, and has assisted Gerald W.R. Ward and the Yale Furniture Study and other museums with identifying woods found in antique furniture and other antiques. Hoadley describes how to do this with only a 10x hand lens and a razor blade after discussing the names and identifying features of the woods. For those interested in the deeper scientific methods, he has included an "Introduction to Microscopic Methods" in the appendix.
In part two, the heart of the book, the 37 woods are grouped according to their common visual characteristics, and then each is described fully, along with photos of an end-grain view, a longitudinal view of the wood from a board or an object, and closeup and full views of selected objects made of the wood. Large images of magnified cutaway views are available in the back for quick reference. The book also has a glossary, reading list, index, metric conversion chart, and photo credits.
Many items pictured are from the Historic Deerfield collection. In the foreword Gerald W.R. Ward comments that this book is "well illustrated, succinct, and easy to use" and "will become an invaluable part of the essential tool kit of all curators, collectors, dealers, students, and woodworkers."
---
U.S. Military Arms Inspector Marks by Anthony C. Daum and Charles W. Pate (Mowbray Publishing, 2016, 240 pp., hardbound, $49.99 plus S/H from Mowbray Publishing, [www.gunandswordcollector.com] or [800] 999-4697).
This index of U.S. firearms inspector marks from 1795 to 1953 is the culmination of research by the two authors, Anthony C. Daum, who died in 2013 before the work was finished, and Charles W. Pate, who included his own research and reworked and edited all the material provided by Daum. The combination foreword/preface describes the authors' relationship to each other and the material and explains how the information is organized. An introduction discusses the work of inspectors and sub-inspectors and the inspection process.
The simplicity of the book is evident in the table of contents, which includes the 23 letters of the alphabet that correspond to where that section of the alphabetized list of inspector marks begins. The simple layout belies the complexity and time invested in the research and editing, and Pate's foreword includes a short disclaimer that asks for corrections to be submitted to the publisher. What follows is a lot of reading material. The only illustrations are drawings of the marks, which Daum drew. Each entry includes biographical information, if known, and the arms on which the inspector's mark appears. A very long bibliography is included and an index, but footnotes are not, as not all references were cited in the original research done by Daum. Pate explains this in the foreword, and he indicates where he added or slightly changed the text with information gleaned from his own original research.
---
Blue Book of Antique American Firearms & Values by S.P. Fjestad and John B. Allen (Blue Book Publications, Inc., 2016, 400 pp., softbound, $39.95 plus S/H from Blue Book Publications, Inc., [www.bluebookofgunvalues.com] or [800] 877-4867).
This reference book guides collectors in understanding the condition and value of antique firearms. In "How to Use This Book" the authors explain that the values given, average retail figures, are not what a seller can necessarily expect when offering a gun for resale. The listings of firearms and their values are organized by company alphabetically and then by type. Values are given for good, fine, very fine/extra fine, and excellent conditions, which are explained. The authors include an explanation of the Blue Book condition factor descriptions, the NRA antique condition descriptions, and a color guide called the Photo Percentage Grading SystemTM that shows and describes typical antique gun condition factors.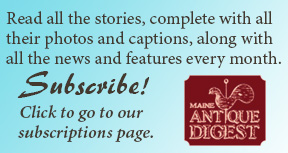 In addition to 1500 color images and more than 7500 values, the book includes three indexes to help readers put a finger on the right information quickly. The anatomy of several types of firearms is illustrated. There is a serialization list of popular models to identify year of manufacture. A guide to museums with firearm collections gives an overview and contact information for each. There is also a long list of collector organizations and periodicals covering firearms and auction listings and Internet sellers. A bibliography, a glossary, and an explanation of abbreviations are included. There are a few blank areas for notes, along with a plug for Blue Book Publications services available to answer questions or provide appraisals. There are also ads on the inside covers. One is for an auctioneer who provided photos and assistance to the writers and editors (the other contributors to the book are listed under credits and throughout the book). The other ad is for two other publications by Blue Book. A little extra is a die-cut paper Colt revolver bookmark with contact information for Blue Book Publications, Inc. on the back.
---
Originally published in the May 2017 issue of Maine Antique Digest. © 2017 Maine Antique Digest