Brandy Culp, New Curator of American Decorative Arts at Wadsworth Atheneum Museum of Art
M.A.D. staff | March 8th, 2017
Brandy S. Culp has been appointed to the position of Richard Koopman Curator of American Decorative Arts at the Wadsworth Atheneum Museum of Art in Hartford, Connecticut. She will begin work at the museum in late February.
"Joining the team at America's oldest continuously operating art museum is an opportunity one dreams about as a curator," said Culp. "The atheneum's collection of native decorative arts is wildly charismatic, telling the story of New England and America like no other museum can do. With myriad objects ranging from Colonial cabinetry by Eliphalet Chapin to modern metal jewelry by none other than Alexander Calder, I am eager to delve into the holdings to renew the museum visitor's interest in this treasure-trove of unique pieces."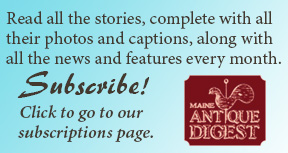 Before this appointment, Culp served as curator of Historic Charleston Foundation, Charleston, South Carolina. Before that, Culp served as the Andrew W. Mellon Curatorial Fellow in the department of American art at the Art Institute of Chicago. She has also held curatorial positions at the Bard Graduate Center and the Metropolitan Museum of Art, New York City. Culp graduated summa cum laude from Hollins University and received her M.A. degree with an emphasis in American decorative arts from the Bard Graduate Center. There she completed her thesis on the 18th-century Charleston silversmith Alexander Petrie and the Carolina silver trade. The topic of metalwork remains one of her greatest interests.
For more information, call (860) 278-2670 or check the website (www.thewadsworth.org).
---
Originally published in the March 2017 issue of Maine Antique Digest. © 2017 Maine Antique Digest