Ceramics in America
Lita Solis-Cohen | April 27th, 2017
A Book Review
Ceramics in America 2016
Edited by Robert Hunter
The Chipstone Foundation, distributed by University Press of New England, 2016, 276 pages, hardbound, $65 plus S/H from University Press of New England, (800) 421-1561 or (www.upne.com).
---
Who would think that a journal devoted to ceramic history, archaeological research, technology, social history, studio pottery, and collecting would be a cure for depression brought on by daily headlines? It is.
Start Ceramics in America 2016, and you will have trouble putting it down. It is not just because ceramics tell the story of political, social, and military history of the world as accurately as written text; it's because editor Robert Hunter knows how to make the statistical evaluation of analytical data for 18th-century porcelains relevant as he tells the story of the dispersion of trade secrets to early porcelain manufacturers in Great Britain and in the North American colonies.
J. Victor Owen, a professor of geology at St. Mary's University in Halifax, Nova Scotia, who has an interest in the geochemistry of archaeological ceramics and glass (what he calls "artificial rocks"), provided the compositional data for what is now known as the "Philadelphia Bowl," an archaeological find that has changed the story of porcelain manufacture in America. The small, white, undecorated, thinly potted, and very thinly glazed punch bowl found in a tavern's privy on Second Street in Philadelphia provided Hunter with a Eureka moment last fall when he visited the laboratory of the Commonwealth Heritage Group, Inc., which was in charge of the archaeology on the site of the new Revolutionary War Museum in Philadelphia.
Reconstructed from fragments and 90% complete, the small punch bowl was originally cataloged as a salt-glazed stoneware slop bowl, until Hunter suggested that it could be the only piece of true hard-paste American porcelain, an experimental example of once-fired porcelain produced in America. (Soft-paste porcelain requires two firings, one for the biscuit and another for the lead glaze.)
After Owen and his team provided the analysis from a sample sent to him, Hunter and his colleague Juliette Gerhardt decided that it could be an artifact from a short period of experimentation conducted at the American China Manufactory of Bonnin and Morris, most likely made during the trials announced on August 3, 1772.
Moreover, Hunter believes that "…the bowl carries elements of Andrew Duché's invisible hand, given his role in the discovery of the Cherokee clay [in North Carolina] and his experiments with porcelain manufacture both in his Savannah pottery and in one or more English porcelain works." Because Duché returned to Philadelphia at just this time, Hunter believes that Duché may have been directly involved with the creation of the bowl within the Bonnin and Morris setting. At any rate, he is confident that the bowl is the first physical proof of an American effort to produced hard-paste porcelain in the 18th century. It also gives more confidence to the belief that Duché did succeed in making porcelain much earlier in his factory in Savannah in the 1740s. Hunter wonders whether the bowl is a relic from Duché's earlier experiments that traveled to Philadelphia with Duché when he returned to his hometown.
Andrew Duché claimed that he made true porcelain from the Cherokee clay (unaker), an American kaolin he found in North Carolina, and made porcelains in 1737 and 1738 in Georgia, but his claim has not been substantiated. Most of the information comes from the writings of William Stephens, secretary to the Georgia colony's trustees, who wrote that Duché made some "useful cups" whose "present Appearance differs very little (if any Thing) from some of our finest Earthen-Ware made in England."
Stephens also noted that Duché had said that glazing and coloring was to be done by other hands, showing that Duché was not making decorated porcelain. Hunter suggests that the Philadelphia Bowl fits this description—the archaeologists who found it in 2014 cataloged it as salt-glazed stoneware—and Hunter thinks it just may be something that Duché brought to Philadelphia to show his colleagues Gousse Bonnin and George Anthony Morris at the American China Manufactory.
Hunter begins his Eureka story of finding the bowl on a shelf in a lab in Philadelphia last fall and then gives a summary of Andrew Duché's role in the pursuit of hard-paste porcelain. Andrew's father, Anthony Duché, a Huguenot émigré to Philadelphia, began making lead-glazed earthenware and utilitarian salt-glazed stoneware in Philadelphia in the 1720s—known only through archaeological shards. His son Andrew, wanting to expand the family business southward, moved to Charleston, South Carolina.
Bradford Rauschenberg at the Museum of Early Southern Decorative Arts wrote about Duché's Charleston kiln where he made "butter pots, milk pans, and other sorts of earthenware." About this time, the letters written by Jesuit missionary Père François Xavier d'Entrecolles (1664-1741), who had observed porcelain works in China from 1710 to 1722, were published first in France and then in England and told the world that true Chinese porcelain was made from petuntse (china stone) and kaolin. China stone was available as feldspar, but kaolin was unknown until Duché moved to New Windsor, Georgia, in the center of the Cherokee Indian trade, and became aware of Cherokee clay, called unaker, which was used by the Native Americans to make white clay pipes and to whitewash their wattle-and-daub houses.
James Oglethorpe, Georgia's proprietor, enticed Duché to move to Savannah and set up a pottery there to produce earthenware and stoneware, but according to Stephens, Duché wanted to make fine porcelain and showed Stephens a translucent undecorated tea cup he had made.
Without having success in Georgia, Duché went to England in 1743 to sell Cherokee clay. He probably shared his porcelain- making experiments with anyone ready to listen. By 1744, a British patent for porcelain was filed by two potters, one from Bow (Middlesex) and one from West Ham (Essex), and in May 1745 William Cookworthy wrote that he had been visited by "the person who hath discovered the china-earth" and who "had examples of the china-ware of their making with him, which were, I think, equal of the Asiatic." Cookworthy in time found his own source of kaolin in Cornwall and his own method of making England's first successful hard-paste porcelain.
Duché returned to Charleston by 1745, but he eventually left the Carolinas about 1748 and moved to Norfolk, Virginia, and continued as a merchant. Others picked up the business of shipping Cherokee clay to England. Hunter says this shows that clays mined in the Carolinas were an important catalyst in the development of successful porcelain formulas for the earliest English porcelains. Josiah Wedgwood bought some Cherokee clay and later incorporated it in his jasperware, but he soon switched to an English source in Cornwall.
In 1765, while Cherokee clays were being sent to England, the master Staffordshire potter John Bartlam arrived in Cain Hoy, South Carolina, and started producing creamware and his version of phosphatic soft-paste porcelain in Cain Hoy and later in Charleston—now considered the earliest American porcelain. Just before Bartlam arrived, Andrew Duché went back to England. While Duché was there, William Cookworthy received his patent for porcelain manufacture on March 17, 1768; it became the basis for the establishment of the Plymouth and then Bristol porcelain factories that produced the first true porcelain in England.
Duché went back to Norfolk and in 1769 announced that he was leaving to go back to his hometown, Philadelphia. That move coincided with the opening of the Bonnin and Morris factory, which made phosphatic and glassy frit porcelain. Initially, Bonnin and Morris advertised for cattle and beef bones and hired workers from the Bow factory in London, which used a similar soft-paste formula. Only an openwork basket at Colonial Williamsburg with the inscription "23 April 1773" provides evidence of the Philadelphia factory's change in formula to produce a glassy, lead-bearing, non-phosphatic paste, which was confirmed by Owen's testing.
There is evidence that in 1771 Henry Laurens, a South Carolina merchant, shipped Cherokee clay to Philadelphia. Hunter believes that the arrival of the Cherokee clay, the presence of Andrew Duché, and the desire of the proprietors of the American China Manufactory to produce china superior to any brought from East India placed all the ingredients necessary for porcelain manufacturing in Philadelphia, and the Philadelphia Bowl may be proof that they succeeded.
If you think this search for pure, true-white, translucent porcelain is not relevant to the contemporary art world, then turn to the very back of Ceramics in America and read Letitia Roberts's brilliant review of Edmund de Waal's The White Road: Journey into an Obsession. De Waal chronicles his obsessive search to learn all he can about the history of true porcelain by visiting all the sites where it was first made.
He needed to know how the letters of Père François Xavier d'Entrecolles, the French missionary who described porcelain making in Jingdezhen, traveled to potters near Paris and then to Plymouth and Bristol in England, while in Dresden the secret of the porcelain recipe was discovered through scientific experimentation and luck. De Waal went to Jingdezhen, then Dresden, then Plymouth and Bristol, and then took his young son on a road trip to South Carolina to find the grave of the Quaker Richard Champion, who struggled to keep the Bristol factory in production but escaped the humiliation of bankruptcy by immigrating to South Carolina. Roberts writes that de Waal found Champion's grave, on a seam of kaolin, and then went on to find the unaker, Cherokee clay, thus conquering his fourth "white hill" in South Carolina.
The last part of de Waal's journey was to a porcelain factory that produced primarily white figures of extraordinary virtuosity for Hitler and Himmler, first in the town of Allach, near Munich, then in the Dachau concentration camp. Roberts writes, "It is a tragic reminder of the fragility of life and of porcelain. It is a moment of darkness in this journey of white obsession."
Then, sitting at his potter's wheel, de Waal made 2455 small porcelain vessels glazed in whites for his 2010 exhibition in New York City. Roberts writes that The White Road isn't just de Waal's obsession, or just a journey to the white hills of kaolin and the origin of true porcelain, or just an answer to Melville's question, "What is this thing of whiteness?" For de Waal, "It is a journey of self-discovery and of the ultimate revelation that the white road is the road home."
Although this review has spilled the beans about the most significant parts of the 2016 Ceramics in America, the rest of the volume is not without what Hunter calls Eureka moments and is well worth reading. Historian Martha McCartney, while scanning through a roll of gray microfilm, found the inventory of George Thorpe, an investor in the Virginia Company and a victim of an Indian uprising in Virginia in 1622, and realized that it is the earliest known Virginia household inventory. She includes a photo essay of "Ceramics in Early Virginia," matching shards with intact examples of Chinese porcelain; Portuguese, English, and Dutch tin-glazed earthenware; English and German lead-glazed earthenware; sgraffito slipware; and German stoneware that George Thorpe and his contemporaries in Virginia might have owned.
Richard Miller explores the original meanings on slip-script pottery made in Norwalk, Connecticut, providing a glimpse into the relationship between these New England potters and consumers. We know their favorite names and favorite foods, some moral lessons, and get a sense of their patriotism.
Twentieth-century ceramics are covered in Tom Folk's illustrated essay of the allegory of Europa in the work of Cleveland ceramic artist Russell Aitken, whose Wyoming Europa is on the cover of this year's Ceramics in America, and of Europa as portrayed in clay by Waylande Gregory and Valerie Wieselthier—all three active in the 1930s.
Ezra Shales writes about three women potters, Edith Heath, Karen Karnes, and Toshiko Takaezu, pioneers who transformed studio pottery into art without abandoning the wheel.
The articles on repair, alterations, and outright fakes are enlightening. Ellen Archie, Ronald Fuchs II, Jennifer Mass, and Erich Uffelman write about the fake Society of the Cincinnati emblems on China trade porcelain. A nude figure of Fame floats over an eagle with a shield inspired by the Great Seal of the United States on a tea bowl and saucer and a tea caddy. A nude angel would not have been acceptable in the late 18th or early 19th century, a time when nudity in art was frowned upon. These fakes, first written about by Homer Eaton Keyes in The Magazine Antiques in 1933, show ghosts of scratched-off borders and medallions and coats of arms. X-ray fluorescence spectroscopy revealed that the chemical composition of the enamels dates the emblems to the early 20th century, when Chinese export porcelain with fake arms of the state of New York were made, and when Chinese export porcelain objects decorated with a scene of the signing of the Declaration of Independence, made in the 1920s and 1930s, were offered as antiques.
Rivets were used to repair china in America in 1773. In her article "Simply Riveting: Broken and Mended Ceramics," Angelika Kuettner cites the notice of a robbery in Boston with a $10 reward to anyone who could help recover lost property, including "a pint blue and white China mug that was crack'd and riveted." In fact, she writes that fragments excavated in the Middle East show evidence of rivet repairs in 11th-century Islamic world contexts. Kuettner also gives early home recipes for glues. As early as 1725, American newspapers advertised the skills of china menders. Silversmiths and goldsmiths replaced spouts and rimmed punch bowls, and tinsmiths replaced handles. Not all were men; a woman tailor in Philadelphia advertised that she repaired broken dishes. The Japanese art of kintsugi, repairing china with lacquer dusted with powdered gold, has been practiced for centuries and raises a humble, damaged tea bowl to a work of art. However, Kuettner did not write about collectors of make-dos who have been buying repaired ceramics and glass as folk art for at least a generation.
A second paper on repairs is an archaeological case study of home-repaired ceramics found at the Fredericksburg, Virginia, Ferry Farm of George Washington's mother, Mary Ball Washington. This study of 18th-century glues presented by Mara Kaktins, Melanie Marquis, Ruth Ann Armitage, and Daniel Fraser explores the 18th-century glue recipes that might have been available to that household.
A flea market find of a Chinese porcelain saucer with a rivet repair and bearing the label of Harry A. Eberhardt led George L. Miller and Emily Brown to write about the Philadelphia china repair firm patronized by Henry F. du Pont. Eberhardt used a riveting technique to repair china, a practice that was abandoned about 60 years ago. There were Eberhardts in the china repair business from 1865 until 2015. Correspondence in the Winterthur archives, the bulk of it dated between 1925 and 1940, reveals that much of Henry du Pont's repair bills were for the china he used.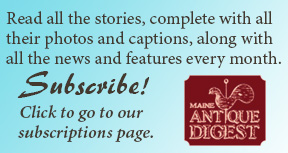 When Oliver Mueller-Heubach and Robert Hunter began their search for "Capt. G.W. Russell," the name painted in gold on the pair of water pitchers decorated with a paddle-wheeler on one side and a sailing ship on the other, up popped a local newspaper account of the presentation of "beautiful and costly pitchers," down to the day, hour, and location, plus the names of the presenting parties, all members of the All Be Club, which are inscribed in gold around the foot of each pitcher. This notice, which appeared in the Baltimore Sun on December 8, 1859, tells that Captain Russell was the commander of the paddle-wheeler Louisiana, but it does not explain his relationship to the sailing brig James B. George.
Through research, the authors learned that Russell was the owner or a co-owner of the James B. George, and that all the members of the All Be Club were in the glass or crockery business. They believe that Russell probably shipped their wares. The unsigned pitchers are "of European manufacture, most likely from a factory in Limoges, France," but they do not yet know who painted them.
Some colleagues suggested that the decorator was Rudolf Lux of New Orleans, a German immigrant who established a china shop there in 1857 and advertised that he used both German and French blanks. Hunter and Mueller-Heubach note Anthony Peluso's September 2015 Maine Antique Digest article on Lux, who is well known for the portraits of Civil War generals and steamboats that he painted on china between 1862 and 1868. The fact that all published examples have a Lux signature somewhere in the composition and that the painting of the Louisiana lacks the delicacy of a Lux convinced them to reject him as the artist. They did, however, discover the identities of the members of the All Be Club and found an account of the Convention of Earthenware Dealers held in Philadelphia in 1857, attended by more than 150 merchants from major American cities, indicating the extent of the American ceramic trade network.
In the 2014 Ceramics in America, Ivor Noël Hume (d. 2017) wrote about a pearlware puzzle jug made for a shipmaster named John Bloome and depicting the ship Hopewell. He thought then that the name Wells and what seemed to be a pierced heart that appeared under the Hopewell involved a love story, but he had a hard time explaining why the ship's figurehead was a hastily drawn head of a jackass. After the article's publication, Hume learned a lot more about his puzzle jug.
Wells was the name of the Norfolk town where John Bloome lived, not an amorous Mr. Wells in love with a Miss X, and the puzzle jug was not made in the 1780s but in the late 1790s, probably at Leeds. The Hopewell was a trading vessel that carried Yorkshire goods from Hull to Wells and on to Holland and Germany.
The discovery of a pitcher at the 2016 New York Ceramics Fair with a painting of a ship by the same hand, but with a hastily drawn profile of a man instead of a jackass figurehead, offered more compelling evidence. The inscription on the pitcher, "Duncan's Glory / Octo 11th 1797," refers to the date of Admiral Adam Duncan's victory over the Dutch at the Battle of Camperdown and dates the pitcher, and, Hume wrote, dates the puzzle jug. Hume came to believe that after interest in Duncan's victory had faded, the decorator used other stock images of a ship for John Bloome's Hopewell on his puzzle jug. The accident of its survival and Hume's curiosity illuminates the career of Bloome, an earthenware trader. Hume suggests, "The message on Duncan's jug reminds us that in the twenty-first century glory is as fleeting as the sight of a jackass on a puzzle jug."
Included among the other books reviewed in the 2016 journal are British Ceramics, 1675-1825: The Mint Museum; A Potted History: Henry Willett's Ceramic Chronicle of Britain; Art for the People: Decorated Stoneware from the Weitsman Collection; "The Endless Possibilities": American Arts and Crafts Tiles from the Two Red Roses Foundation; and Texas Clay: Nineteenth-Century Stoneware Pottery from the Bayou Bend Collection. The quality of the reviews makes you want to order every one of them, including de Waal's The White Road: Journey into an Obsession.
---
Originally published in the May 2017 issue of Maine Antique Digest. © 2017 Maine Antique Digest