Christie's Scales Back in a Shrinking Market
Lita Solis-Cohen | May 6th, 2017
Citing a shrinking market and an untenable business plan, Christie's announced that it will close its secondary South Kensington salesroom in London at the end of this year and scale back its operations in Amsterdam to two contemporary art sales a year. "The current proposal is to offer a single destination to collectors in London creating a vibrant hub at the flagship King Street headquarters to offer a fuller, broader range of sales at a wider range of price levels," an announcement from the London press office read.
The London press reported that after a company-wide review, Christie's will also lay off around 250 employees, about 12% of the total work force. Most of the layoffs will be in Britain and Europe, according to the New York Times. The fact that Christie's South Kensington, where auctions of lesser-value collectibles have been sold since 1975, will be closed reflects the fact that last year, in a diminishing market, there were only 56 sales at South Kensington, compared to 125 sales four years ago.
New York City has also felt the cutbacks. Andrew Holter, who had been in the Americana department at Christie's since 2008 and most recently had been head of the department, learned in early March that he is no longer on the Christie's payroll.
"This is not how I would have written the last act," said Holter in a phone interview. What will he do? "I am having cards printed, and I will assist people wanting to buy and to sell," he said. "I will still work with Christie's and sell privately and help people consign to the right auctions."
"Andrew will continue to work with Christie's but in a different way, and on his schedule," said John Hays, deputy chairman at Christie's and head of American furniture before Holter. "I will continue to work closely with him. My loyalty to him is undiminished. He has great integrity and great passion and knowledge," Hays continued. "We will adopt a model more like Sotheby's—employ consultants when we need them. Martha Willoughby is still a consultant. We have a strong staff in house, and when we need an expert to come in part time, we will hire them."
Hays would not say who else was leaving the New York City staff but said that decorative arts was hit hard, though mainly in Britain, and some staff will stay on until the year's end when South Kensington will close. The Americana department in New York City will be run day to day by the current staff—Emily Shwajlyk, furniture cataloger; Cara Zimmerman, Outsider art specialist; and Jill Waddell, head of silver, hired last summer from Sotheby's to take Jeanne Sloane's place when she retired after 35 years as head of the silver department. Waddell also covers English and Continental silver. The ceramics department remains intact, with Jody Wilkie as head, Carleigh Queenth, Vice President, Specialist Head of Ceramics, and China trade specialist Becky MacGuire.
All auction houses have seen their bottom line retreat as prices have dipped across the board. Christie's said the layoffs reflect the shift of the auction market to Asia. Last year 35% of Christie's new buyers came from Asia and 39% of its new buyers came from America. Christie's opened offices and exhibition space in Shanghai in 2013 and in Beijing in 2016. Its new office and gallery space in Los Angeles will have its grand opening April 20-28.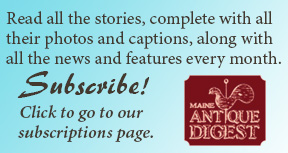 Christie's has also expanded its online-only sales for lower-value items. It held 118 sales in 14 categories in 2016 and saw a 109% sales increase. A third of Christie's new clients are coming to Christie's through the online channel, even though they represent just 1% of Christie's total sales. Online sales offer handbags, watches, single-owner collections, Picasso ceramics, prints, photographs, Asian art, and wine, among other items.
"Christie's is recalibrating its format, but we do not yet know how it will be," volunteered Hays. "We are still dedicated to collectors and collections, and we will produce quality catalogs."
When asked about private sales, Hays said, "Private sales have grown dramatically in the last several years, and at times the department has sold as much dollar-wise privately as publicly."
On March 8, on the heels of a record-shattering contemporary art sale in London on March 7, Christie's made the announcement that it is "undertaking a global review to adapt its activities to better serve the evolving art market, a growing international client base, and enable ongoing investment in the company's world leading digital art sales platform."
---
Originally published in the May 2017 issue of Maine Antique Digest. © 2017 Maine Antique Digest