Dealer Sues in Swastika Flour Bag Flap
M.A.D. staff | May 4th, 2017
It was an antique flour bag that made national headlines. Now the case is heading to court. Nicole Guida, owner and operator of Chic & Unique, Littleton, New Hampshire, has filed suit against Katherine M. Ferrier, alleging defamation, false light, emotional distress, and more.
The case centers on a circa 1900 Lucky Flour bag with a swastika on it that Guida had for sale in her shop. (Lucky Flour, made by the Federal Milling Company of Lockport, New York, used a swastika in its marketing. At that time, the swastika had a long history as a symbol of good luck and fortune and suffered no other association.)
According to the suit, on November 26, 2016, Ferrier went into Chic & Unique, walked up to the cash register, and said to Guida, who had smiled at her, "that Trump winning smile, in front of your symbol of hate," referring to the Lucky Flour bag.
Guida, court papers say, explained the history of the antique flour sack and how it was not connected with Nazis or World War II. Ferrier allegedly said that was a "bull***t history lesson" and promised, as she was leaving, that she'd never shop at the store again. Ferrier returned several hours later, the suit claims, and called Guida "racist," "anti-Semite," and "disgusting." Guida alleges that Ferrier promised she would make sure everybody in the community "knew that Mrs. Guida is a racist and make sure no one shops at her store again."
Two days later Ferrier posted on Facebook a photo of Guida and her daughter standing in front of the flour sack, along with a long post that included Guida's name and shop address and invited people to share their thoughts. "Because apparently, this is how it is now: Swastikas on Main Street America," the post read in part.
Facebook users responded by calling Guida a racist and making veiled threats, court papers allege. Guida had to close her store for a few days "due to stress and fear." She became physically sick and was prescribed antidepressants and antianxiety medicine.
Guida posted a defense on Facebook: "Recently I have come under fire for displaying a piece of American industrial history. The item was a rare flour sack from the Federal Milling Company of Lockport, NY. This sack has the brand name of this particular flour, 'Lucky White Flour,' and displays a swastika as part of the branding on its label. This flour sack would've been produced and in use in the early 1900s, well before the Nazi party adopted a version for their heinous use around 1933. This item has absolutely no connection with Nazi Germany or the crimes against humanity they perpetrated. It is an American antique, no more and no less.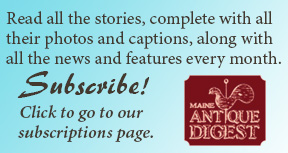 "The backlash of Katherine Ferrier's vicious and unfounded accusations of me being a racist and anti-semetic [sic] have taken a devastating toll on my physical health and mental well being, rendering me unable to work and function as a shop owner and mother. The hate messages and threats have become unbearable for me and I am fearful to return to my shop. The shop will be closed until further notice.
"We here at Chic & Unique are proud of our diverse American heritage and the fact that people have the right to their own opinions and ideas. We DO NOT in any way discriminate against ANYONE in regard to race, religion, heritage, sexual preference, political affiliation, or disability."
According to Guida, after Ferrier's Facebook post went viral, a stranger at a gas station referred to her as "that Nazi woman," and people passing her shop called it "the Nazi shop" and "disgusting."
A December 3, 2016, article in a local newspaper, the Caledonian Record, said that Ferrier had weighed the consequences of sharing her Facebook post and did not do it "without thinking carefully." A letter to the editor, authored by Ferrier, several days later requested a public apology from Guida for offering the flour sack.
Guida's suit says the controversy took its toll. Since November 28, sales at the store have dramatically decreased. In January 2017 sales were down 52% compared to the previous year.
---
Originally published in the May 2017 issue of Maine Antique Digest. © 2017 Maine Antique Digest