Florida Man Files Suit against Antiquorum
M.A.D. staff | July 13th, 2017
On May 19 Andrew Woods of Fort Myers, Florida, filed a lawsuit against auction house Antiquorum, watch specialists, alleging that he had not been paid for a Patek Philippe watch that he consigned to the firm's December 8, 2016, sale.
The watch appears on the price list as being sold for $389,000 (includes buyer's premium), which should have netted Woods $300,000. The consignment contract stated that Antiquorum was to pay the balance due 40 days after the sale, on January 17, 2017.
E-mails between Woods and Saori Omura, an Antiquorum employee, attached as exhibits to the lawsuit, show correspondence beginning in January and continuing until late March. The e-mails show that Woods asked numerous times if the watch had actually been sold. Omura wrote on February 1, "The latest news is that the first client who showed interest did not give us a concrete answer."
On February 8 Omura wrote that it "looks like we may actually sell the piece," and two days later she wrote that "we sold the watch to a client from China, and he is scheduled to make a trip over to Hong Kong to settle the payment next week."
On March 6 a lawyer for Antiquorum e-mailed Woods and stated that the auction house "does not dispute that the sum of $300,000 is owed to you..." but that "internal issues with a contractual investor have made it impossible to tender those funds at this time." The auction house was "determining the best manner to resolve those issues so that the funds can be freed up to make payment to you, with interest."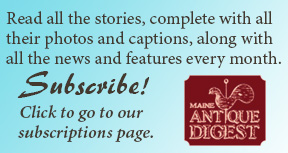 By March 31 Omura wrote that the auction house was resolving a dispute with an investor and would likely have access to funds for Woods's payment by the "end of next week." When no payment had been made by April 21, the attorney for Woods sent a demand letter, noting that if payment was not received within ten days, litigation would begin.
Woods's suit notes that Antiquorum has had two sales since the December 8 event. A sale on February 23 in New York City totaled $3,693,478, and a Hong Kong sale on March 18 brought in approximately $2,186,070.
Woods is suing for breach of contract, detrimental reliance, fraudulent misrepresentation, unjust enrichment, and constructive trust.
---
Originally published in the July 2017 issue of Maine Antique Digest. © 2017 Maine Antique Digest