Lebanon, Tennessee
The third annual Heart of Tennessee opened with a Valentine-themed flourish at the festive preview party on the night of February 14. The crowd of collectors, which filled the parking lot, were obviously devoted to the pursuit of Americana, but they also enjoyed a most generous buffet provided to sustain them—an abundance of food for the modestly priced $20 ticket. The show at the Wilson County Exposition Center in Lebanon, east of Nashville, ran through February 16 and featured 53 dealers this year. As the illustrations show, the walled displays were carefully designed by the exhibitors and filled with eye-catching vignettes. Whether buyers were looking for painted furniture, 19th-century folk paintings, or colorful hooked rugs, the selection on the floor was worthy of a dedicated museum exhibition.
Claude and Sharon Baker of Daytona Beach, Florida, have long been important exhibitors at the Nashville spring shows. At center, they raised a Valentine's flag on a sideboard/hunt board of yellow pine, Piedmont region of Georgia, $7800. The carved presentation ladle on the right was $1800, and the oil painting of New Hampshire's White Mountains, $1550.
Claude and Sharon Baker's wall display of attractive wrought iron included a late 18th-/early 19th-century Pennsylvania utensil rack, lower left, $475; a set of meat skewers, above, $800; and a candle holder with hooks, right, $750.
Nancy Fishelson Antiques, Orchard Park, New York, often puts together pale shades to good effect. The early 19th-century whitework panel, found in New England, was priced at $3400; the pair of shorebirds was $425.
Brenda Daniel-Urbanick and her husband, Joe Urbanick, of Athens, Alabama, shared an expansive pumpkin-papered booth. Hooked rugs ruled at Heart of Tennessee this year. Brenda displayed an exquisite Pennsylvania example with stylized birds for $1250; the southern hunt board in paint, as found, was $6500.
The dealers seem to expend extra effort because they feel promoter Katherine Bovard has put so much of her own energy into establishing the show and getting out the news with extensive advertising. Dealer Tim Chambers of Missouri Plain Folk expressed a view shared by the entire roster: "Kathy is very interested in what other people think about things—she asks and then she listens. She could have twenty more dealers, but she knows you have to grow the gate before you grow the show. The woman feeds us during setup out of her own pocket—what promoter does that?" Thomas Jewett and Butch Berdan, who came down from their base in Newcastle, Maine, were among the exhibitors who did well this year. They emphasized the attractive presentation that Bovard works all year to organize and their strong feeling that the event has great potential.
Frank and Susan Swala from Washington, Pennsylvania, organized their booth around one of the museum-quality furniture offerings—a clothespress from the workshop of Jacob Knagy (1796-1883), a cabinetmaker in southern Somerset County, Pennsylvania, southeast of Pittsburgh. The press has stenciled decorative elements, the date 1855, and the name "Anne Youtze." While Knagy works are similar to Soap Hollow pieces, there are distinctive differences. These are discussed in Made in Pennsylvania: A Folk Art Tradition, the 2007 catalog of an exhibition at the Westmoreland Museum of American Art in Greensburg, in which the Swalas participated. Former editor of the (Ohio) Antique ReviewCharles R. Muller wrote the catalog chapter on "The Decorated Furniture of Somerset County, Pennsylvania" and a 2002 book on Soap Hollow furniture, both of which discuss in depth the history of those traditions.
Over her 18th-century Canadian blanket chest, Cathy Consentino of Timber River Farm Country Antiques Timber River, New Brunswick, displayed a Pennsylvania crib quilt with a printed blue fabric eagle and pinwheels, circa 1820, in perfect condition down to the olive branch and arrows in its claws, $2650.
Libby Wojcik of adLib Antiques, Raleigh, North Carolina, was a last-minute addition to the show. The right-size folk art cupboard with whimsical grain painting out of Virginia was $2200. The bright rug with bear figures, a circa 1930 design that might have been copied from a children's book illustration, had a $1500 tag.
Lisa McAllister of Clear Spring, Maryland, set out this painted Pennsylvania store bin (top), circa 1870, $1450, which she said would be great for display inside or out. She wrote three volumes of the Collector's Guide to Yellow Ware, and she had shelves of excellent examples of yellowware. Next to the molds, the mochaware pitcher (bottom) with good size, color, and very crisp floral seaweed was $1450.
At the booth of adlib Antiques, this tavern sign with a Punch drinking figure—he raises the bottle when you crank the handle—was sold to one of the first people through the door.
Another example of substantial Virginia furniture was the wide blue-painted cupboard that sold at the opening bell from the display of Charles and Judy Warren of Stonecrop Antiques in Mt. Crawford, Virginia. The useful storage unit with two drawers and two doors below came from a house that had been a tavern and stagecoach stop in the Shenandoah Valley. In 1948 it had been purchased and moved a short distance to a women's wash house, where it was used to hold canned goods. The Warrens found it at an auction last spring and now send it on to new owners.
A number of exhibitors brought along furniture of southern origin or regional form to tempt buyers headed to Nashville. Brenda Daniel-Urbanick of Athens, Georgia, had a cherry sugar chest with a lift top revealing three interior sections and a long drawer below; it was $6500. Taylor Thistlethwaite of Alexandria, Virginia, and Glasgow, Kentucky, who had a very successful show, brought along a flat wall cupboard made in Monroe County, Kentucky, priced at $18,000. It had been published in Collecting Kentucky by Genevieve Baird Lacer and Libby Turner Howard. Another dealer who did well was Thurston Nichols from Allentown, Pennsylvania, who set out a lazy Susan table from Virginia for $1300.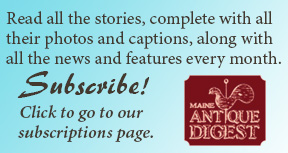 At the end of the show, dealers were already signing up for the fourth annual show, scheduled for Valentine's week in 2019. More information is available online (www.heartoftennesseeantiqueshow.com) or by calling (330) 631-1604. Note the useful dealer directory on the website, which makes follow-up easy even if you've lost that business card.
In the spirit of the times, the captured mermaid hoists her "Don't Even Think About It" flag. On land or at sea, no means no. Though not apparent in this picture, the mermaid grasps in her other hand an anchor rope, which is entangling the man. Offered for $12,500 in John Sylvia's booth, the modern carving in antique style was made by traditional folk artist Will Kautz, who was exhibiting more of his creations over at the Nashville Fairgrounds.
David and Heather Cotton of Wabash, Indiana, quickly sold their big feathered arrow sign. The painted cut-out steam engine vane below it was $2250, and the large French garden urn on the floor was $875.
Bovard obviously has the talent and drive necessary to organize antiques shows. So—no surprise—she will be mounting another event this fall. The Charlotte Antiques & Garden Show is scheduled for November 1-3 at the Park Expo & Conference Center in Charlotte, North Carolina.
Everyone has an opinion, but one prizewinner in its class was this distinctive Pennsylvania hooked rug with two folky roosters, 1880-1910, 3' x 5', for $2800. Dealer Sheridan Loyd of St. Joseph, Missouri, said it had been purchased at Heart of Country from a private folk art collection in California. Underneath, the burl bowl with great form and patina was $2195, and the tavern table with an outstanding surface in original paint was $5495.
American Garage—Diana Douglas and Michael J. Ogle of Los Angeles, California—brought this unusual narrow wall-mounted chimney cupboard, decorated with grain painting, 1870, from Vermont, $6500. Nearby, the 1970s chrome male figure was $995, and a 1920s double-sided "Tourist" accommodations sign, $1095.
Jim and Toni Stoma of Latcham House Antiques, Waterville, Ohio, dedicated a wall to displaying maritime art, including the soulful seafaring lad, $950, the swordfish bill with painted American flags and a lighthouse, $295, and the weathered whale carving, $395.
Michael Whittemore of Punta Gorda, Florida, had organized his well-designed display around a painted apothecary cabinet, with drawers below and shelving above, that was priced at $4900.
---
Originally published in the May 2018 issue of Maine Antique Digest. © 2018 Maine Antique Digest