Heritage vs. Christie's Website Scraping Case Dismissed and Headed to Arbitration
M.A.D. staff | June 13th, 2017
The lawsuit filed by Heritage Auctions, Dallas, Texas, against Christie's and Collectrium, a Christie's company, has been dismissed, and the parties are heading into arbitration on the order of the judge. The judge relied on Heritage's own Website Use Agreement to dismiss the case and move the parties to arbitration.
Heritage has accused Christie's and Collectrium of "scraping" the website of Heritage Auctions to appropriate information and images without permission. Heritage alleged copyright infringement, violation of the Computer Fraud and Abuse Act, violation of the Digital Millennium Copyright Act, harmful access by computer, trespass, breach of contract, civil conspiracy, and unfair competition.
Collectrium (www.collectrium.com), which was acquiredby Christie's in 2015, offers inventory management services for collectors.
"Christie's does not deny that Collectrium posted Heritage listing images and descriptions on its website. Instead, Christie's contends that its use does not violate Heritage's copyright for various reasons, including fair use," the May 1 ruling by U.S. District Judge Sidney A. Fitzwater stated.
"Those who visit and use HA.com for any reason assent to the Website Use Agreement, which prescribes rules and regulations for use and contains an arbitration clause that governs potential disputes," Fitzwater noted.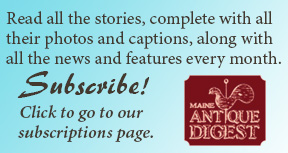 Heritage has contended in court filings that the parties have not agreed to arbitrate "because, according to Heritage, Christie's maintains that it was not a user of the site that is subject to the Website Use Agreement. Heritage thus asserts that Christie's cannot take advantage of the Website Use Agreement unless it fully embraces that it used the website to download Heritage's copyrighted materials."
That argument failed. "The court need not decide whether Heritage is correct in this respect because, even if the court assumes that Christie's is not a user and therefore not a party to the Website Use Agreement, Christie's can still compel arbitration as if it were a party," Fitzwater wrote.
"The court concludes that each plaintiff relies on the Website Use Agreement in this action."
---
Originally published in the June 2017 issue of Maine Antique Digest. © 2017 Maine Antique Digest