Herter Brothers Servers Sell at Farmer Auctions
Walter C. Newman | April 1st, 2017
For more than two years, Farmer Auctions, Salem, Virginia, has been systematically liquidating a large consignment from the estate of W.P. Henritze (d. 1959), a Roanoke, Virginia, entrepreneur and real estate investor, who had moved to the area from West Virginia in the early 1900s. Early on, Henritze purchased the area's tallest natural feature, Mill Mountain, and developed it with various attractions, including a switchback toll road that took sightseers to the top of the mountain. In 1929 Henritze designed and built his home on the side of Mill Mountain. Rockledge, as it was named, was furnished with the finest pieces that Henritze could find, many of which were purchased at auction in New York City and Washington, D.C.
Sold for $135,700. Photo courtesy Farmer Auctions.
Two of Henritze's acquisitions, a pair of one-piece Herter Brothers servers, were offered as one lot at Farmer Auctions' April 1 sale.
Herter Brothers furniture is a standard by which examples of elegance from the late 19th and early 20th centuries are measured. Whether referred to as the Gilded Age, Renaissance Revival, or Aesthetic Movement, Herter Brothers' creations stand out among their contemporaries.
This pair of Herter Brothers servers was the high lot of the Farmer sale. The construction is rather straightforward. The servers are dark-stained rosewood with maple as the secondary wood. There is a molded cornice with a galleried shelf above an open cupboard and serving surface. The base cabinet consists of two drawers over a storage area enclosed by two doors. The skirt is a grillwork pattern, and the feet are turned.
There is nothing straightforward, however, about the decoration. Every area of carving is gilt or gilt-enhanced. The top shelf cornice features a carved and gilt valance. The shelf is lined with burgundy velvet and is supported by elaborately turned urn-form columns, capped with Ionic column scrolls, then finished with acorn finials. Each of the open cupboard backboards features a framed center painting on bright gilt metal foil, flanked by painted panels in a leaf and twig design. The lower cabinet drawer faces are deeply carved and gilt enhanced. The lower door panels are hand-painted woodland scenes on porcelain. The grillwork skirt and feet are also gilt decorated.
The "Herter Bro's" impressed brand on the back of each server notwithstanding, the mystique of these specific pieces is further enhanced by a nearby pencil inscription, "Mr. Astor." Speculation is that these servers may have been originally ordered by John Jacob Astor IV (1864-1912), one of the fashionable elite of that so-called Gilded Age. Since Astor tragically perished with the sinking of the Titanic, and since Rockledge was not built and furnished until 17 years later, it may be presumed that these servers were purchased at auction in New York City. The exact nature of the "Mr. Astor" connection is not as yet established.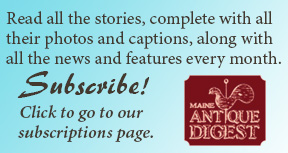 The servers do exhibit some expected wear and tear from age and use. The velvet covering of the top shelves is deteriorating, and there are several chips, scratches, and watermarks to the surfaces. Nevertheless, these Herter Brothers pieces appear to be in untouched, original condition.
Six telephone bidders vied for the servers, which carried an estimate of $60,000/100,000. The winning bid came from Ken Farmer, on the phone with a client, and the price with buyer's premium was $135,700.
A report on the entire Farmer Auctions sale will appear in a future issue of M.A.D.
---
Originally published in the May 2017 issue of Maine Antique Digest. © 2017 Maine Antique Digest