Historian Charged with Stealing Dog Tags
M.A.D. staff | August 7th, 2017
Historian Antonin DeHays, 32, of College Park, Maryland, was charged by federal criminal complaint with theft of government records from the National Archives and Records Administration (NARA).
According to the affidavit filed in court, in October 2015 and June 2017, DeHays visited NARA at College Park, Maryland, and allegedly stole dog tags and other documents belonging to U.S. servicemen whose planes had crashed during World War II. DeHays sold the stolen dog tags on eBay. In addition, on at least one occasion, DeHays gave to a museum in Virginia a stolen dog tag that was assigned to a Tuskegee Airman, in exchange for an opportunity to sit inside a Spitfire airplane.
On June 9 investigators executed a federal search warrant at DeHays's residence and seized six dog tags and other documents that had been stolen from NARA at College Park. If convicted, DeHays faces a maximum sentence of ten years in prison. An initial appearance was held for DeHays in U.S. District Court in Greenbelt, Maryland, on June 13.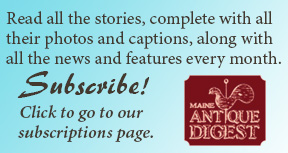 ---
Originally published in the August 2017 issue of Maine Antique Digest. © 2017 Maine Antique Digest