Historic Deerfield Acquires Packard Bed Rug
M.A.D. staff | July 6th, 2017
Historic Deerfield in Deerfield, Massachusetts, has acquired an important sewn woolen New England bed rug marked "1801 / Esther Packard." The rug is one of a group of four similar bed rugs, at least two of which have been attributed to members of the Packard family of Massachusetts. The other three examples include a rug marked "RP [Rachel Packard] / 1805" in the collection of the Henry Ford Museum of American Innovation; a rug marked "PG 1805" in the collection of the Winterthur Museum; and another marked "BNP / 1806" in the collection of the American Folk Art Museum.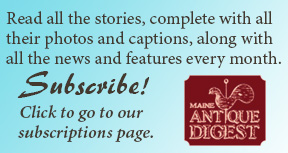 Esther (Porter) Packard was born in Abington, Massachusetts, in 1733 to Jacob Porter and Esther Ford and married Abel Packard in Abington in 1751. The couple appears to have relocated to Cummington, Massachusetts, in the 1770s. Esther survived her husband (who died in 1804) and died in Cummington in 1812. Esther would have been approximately 68 years of age when she finished the bed rug in 1801. Her bed rug is the earliest of the group of four similar bed rugs and may have served as the design source for the "RP / 1805," "PG 1805," and "BNP / 1806" bed rugs.
The museum's recent acquisition of the bed rug coincides with the 52nd anniversary of the Helen Geier Flynt Textile Gallery, which opened to the public as Fabric Hall on June 4, 1965. The Esther Packard bed rug will be on display for public viewing through the end of the 2017 season at Historic Deerfield's Ashley House. Those seeking additional information regarding the bed rug may contact Historic Deerfield's curator of textiles, David E. Lazaro, at <[email protected]>.
Photo courtesy Historic Deerfield.
---
Originally published in the July 2017 issue of Maine Antique Digest. © 2017 Maine Antique Digest