Scott Meherg, 36, of Chicago, Illinois, was sentenced to 24 months in prison and ordered to pay restitution in the amount of $3161 on charges involving his possession and use of counterfeit checks.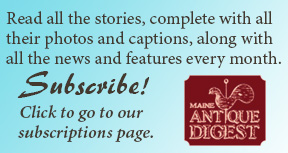 According to court documents, on four occasions in March 2015, Meherg used counterfeit checks to purchase merchandise at several antiques malls located in Creve Coeur, Warson Woods, St. Peters, and south St. Louis County, Missouri. At the time of his arrest, the defendant had numerous active warrants for similar conduct in Illinois, Michigan, Iowa, Kentucky, and Wisconsin.
Meherg pleaded guilty in February to one count of counterfeit securities fraud and appeared on June 14 for sentencing before United States District Judge E. Richard Webber.
---
Originally published in the October 2017 issue of Maine Antique Digest. © 2017 Maine Antique Digest