Jenkins Adds It All Up at the Fairgrounds
Karla Klein Albertson | February 18th, 2017
The Nashville Show, Nashville, Tennessee
The Nashville Show is the largest of three events that bring together hundreds of dealers and collectors for an extended antiques weekend every February in Tennessee. The old Music Valley and Tailgate designations for Jenkins management events have been united under this umbrella title, and, frankly, many folks have always just said, "I'm going to the Nashville show." This year's edition, held from February 16 to 18 at the Tennessee State Fairgrounds complex off Interstate 65, brought together around 145 exhibitors in three connected buildings.
Although the simple name may unify, the offerings remain diverse. The first building, where visitors enter, is devoted to walled room settings by familiar Americana dealers, many of whom have done one or another of the Nashville events for many years; quite a few are veterans of the Kramers' old Heart of Country Show at the Opryland Hotel. The second and third buildings allow more variety in display—simpler booths of smalls, larger booths filled with architecturals and advertising, and more affordable and decorative "vintage" offerings. Dealers from the Southeast and Midwest set up beside colleagues from New England and the mid-Atlantic states. Nashville has long been a meeting place or exchange point, so it was no surprise that many exhibitors talked about good sales during the setup.
David Zabriskie of Lake Placid, New York, offered this superb Oriental carpet, about 9'4" x 7'4", for $8500. He said, "I've had that in my house for thirty-five years. It's an antique Heriz, before World War One, and it's a rare size. If that was in a rug store, it would be twenty thousand dollars. It's what used to be called 'apartment sized.' More people are going to smaller rugs, and this is the hardest size to find."
The specialized items favored by Paul Smith of Over Hill Over Dale, Harlan, Iowa, went quickly. He sold targets, the Standard Gas sign, and the Railway Express sign. The "Target Practice" sign on the wall at center was $995.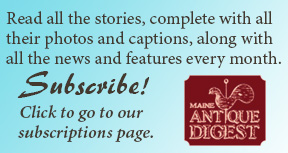 The early-bird buying session on Thursday morning from 9 a.m. to noon was crowded. The energy was there. In the booth of Stephen-Douglas Antiques, Rockingham, Vermont, it was hard to see the objects for the people, but that was a good thing. East Troy, Wisconsin, dealer Tom Good said, "We've done this show three or four years in a row. We were in the same spot last year. We had a great day. I've got six pieces sitting in the back that are sold."
Some exhibitors chose to set up with friends. Colleen Boland Alpers of Cedar Rapids, Iowa, shared a three-bay booth with Debbie Schlichter of Mustard House Antiques, Greenfield, Ohio, and Suzanne Baker of Westville, Indiana. Alpers, who has come to Nashville for 20 years, does much of her business with other dealers. "It was a wonderful show," Alpers said. "Everything I put up on that wall sold, including a beautiful quilt—it was cheddar and brown—and some hanging shelves."
Lynn and Michael Worden of Worden Select Objects, Burr Oak, Michigan, put together displays that not only sell their distinctive finds but offer ideas on how to use them. The large yellow-glazed pouring bowl on the table was $595, and the "Electric-Works" sign, $875.
George Meekins of Country Treasures Antiques, Preston, Maryland, asked $675 for this unusual example of early lighting, a rare wood and metal lantern with burner, found in Pennsylvania.
Overheard on the show floor: "You don't spend five figures on an item on the show floor if you're not comfortable with the state of the business, the state of your business." Therefore, you might say that the show benefited from comfortable customers. Whenever Jon Jenkins was spotted on the show floor, he would just say, "I'm happy; the dealers seem happy."
Later, when he had a chance to think it all over, Jenkins commented, "I felt good coming out of the show. There was clearly a benefit to having three shows going on at the same time, and, for the most part, everybody enjoyed that benefit. Based on contracts returned and dealer feedback, as well as customer feedback, I think it was the best show we've done in years. The early-bird gate was up almost fifty percent over last year. The rest of the weekend was probably up ten to fifteen percent—a pretty solid gate."
Greg Kramer always sets up a very large roomlike booth in the center of the show's first building. One star on view was the carved wooden lion trade figure for shop display. Made by the Herschell-Spillman Company's carousel works in North Tonawanda, New York, 1910-20, it was priced at $14,500.
In the line of sight from the entrance to the second building, the lighted "Thick Malts" neon sign made it easy to spot the packed booth of Architectural Anarchy, Chicago, Illinois.
The buildings at the Tennessee State Fairgrounds remain dated in appearance and amenities. The city has become such a magnetic tourist destination that Jenkins hopes the local government will get around to making improvements. One good sign is that the show promoter said in early March, "I just saw a video this morning online of a bulldozer knocking down some older buildings, and the comment was that this was a first step toward revitalizing the fairgrounds."
As for the future, Jenkins continued, "I'd like to see more vintage dealers, more dealers in the back room. I was up probably five over last year. I don't anticipate a dramatic move either up or down. I'd like to grow, but I don't want to get too big. One of the things I was really happy with was the consolidation of the floor plan into three buildings. Next year, I'd like to run a carpet from the front of the Creative Arts Building to the Ag Building, so I can say, 'Just follow the carpet, and you'll see everything.'"
For more information, the Nashville Show is still using the website (www.tailgateantiqueshow.com), or call Jon Jenkins at (317) 431-0118.
Christopher Warne of Big Creek Antiques, Clay City, Kentucky, was back on the antiques show circuit with some excellent material. The inlaid games table ($1200) was flanked by a pair of paint-decorated side chairs ($300). Hanging above was a portrait of Massachusetts Governor George S. Boutwell (1818-1905) by Joseph G. Chandler (1813-1884), priced at $1500. Boutwell became secretary of the treasury under President Grant.
Fatcat & Magpie, Nashville, Tennessee, belongs to Emily Morrissey and Maggie Parker, local designers who organized a decorative room setting in the vintage section.
---
Originally published in the May 2017 issue of Maine Antique Digest. © 2017 Maine Antique Digest