Kneeland and Adams Cabinet Shop Records Found
M.A.D. staff | April 5th, 2017
A 270-page ledger kept by Hartford, Connecticut, cabinetmaker Lemuel Adams (1769-1850) has been discovered at the University of Miami by Kevin G. Ferrigno, according to a press release from Historic Deerfield. The Adams ledger provides a record of the cabinetmaking business in Hartford during the 1790s.
Historic Deerfield associate curator Christine Ritok and private researcher Ferrigno are spearheading a long-term study of the interrelationships among Hartford-area craftsmen, including Adams, his partner Samuel Kneeland, Aaron Chapin, John Porter, Aaron Colton, John I. Wells, Julius Barnard, Erastus Grant, and Daniel Clay.
The ledger contains the daybook of the prestigious shop of Adams and Kneeland, who were in partnership in downtown Hartford between 1792 and 1795. The ledger details the establishment of their business, the names and tenures of their journeymen and apprentices, the full range of their wares, and their output by form, date, price, and customer. Using the ledger, research is underway to trace a wide variety of objects now known to have been made in the Kneeland and Adams shop.
The ledger also provides insights into the relationships of Kneeland and Adams with their competitors in the Connecticut River valley, such as cabinetmakers Aaron Chapin, Julius Barnard, and John I. Wells and clockmakers Daniel Burnap and Timothy Cheney. For example, the ledger documents the regular dues that Kneeland and Adams paid to the Hartford Society of Cabinetmakers and notes that they purchased—in partnership with other cabinetmakers—the renowned pattern book The Cabinet-maker and Upholsterer's Guide by George Hepplewhite, which suggests that Hartford cabinetmakers collaborated on furniture design to an extent that was previously unknown. The ledger also details the purchases by Kneeland and Adams of large quantities of imported mahogany, which they had milled for their own use and to sell to their competitors.
In addition to business records, the ledger contains personal information about Adams that has been previously unknown. A detailed 1792 genealogy reveals that Adams was born in Milton, Massachusetts, that Kneeland was his first cousin, and that their uncle and possible master was cabinetmaker Stephen Badlam of Dorchester Lower Mills. Ritok and Ferrigno are developing an understanding of these relationships and the impact they had on Hartford furniture making.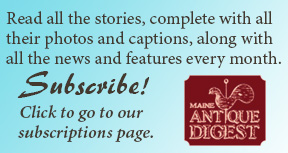 The ledger further devotes several pages to a letter book kept by Adams as a record of his correspondence with family and friends over a 20-year period. The letters describe Adams's move south with his family from Hartford to Norfolk, Virginia, his return to Connecticut, and finally his relocation to his parents' farm in New Hampshire. Previously unknown, the letters document Adams's evolving career as a cabinetmaker, merchant, lawyer, and distiller, which suggests the pressures that influenced all craftsmen during the Federal era.
"The discovery of the Adams ledger equals any manuscript find related to early American craftsmanship over the last generation," said Historic Deerfield president Philip Zea. "The museum fully supports Kevin's and Christine's research and looks forward to the revelations ahead about craftsmanship and business in the Connecticut valley after the American Revolution. This is terrific material!"
Ritok and Ferrigno have assembled a team of researchers, including Christina Keyser Vida, former curator of the Windsor Historical Society in Connecticut, researcher Carol L. Loomis, and Kevin Tulimieri of Nathan Liverant and Son Antiques and Fine Art, Colchester, Connecticut, to work with them as they continue to delve into the information in the ledger. They anticipate publishing a series of articles about their findings, and a large publication and exhibition are in the early planning stages. To assist in this effort, they are seeking to examine privately owned furniture labeled or signed by Adams, Kneeland, or their partnership, as well as other account books, diaries, and letters related to Adams's competitors and customers. Anyone with access to such resources is asked to contact Christine Ritok at <[email protected]>. All responses will remain confidential.
Looking glass labeled by Kneeland and Adams (1792-95), Hartford, Connecticut, mahogany, white pine, gilding, and glass. Gift of Margaret R. Barbour, 1966.43.0. Photo courtesy Connecticut Historical Society.
---
Originally published in the April 2017 issue of Maine Antique Digest. © 2017 Maine Antique Digest