Leslie Hindman of Leslie Hindman Auctioneers, Chicago, Illinois
Karla Klein Albertson | April 26th, 2017
Head of the House
Leslie Hindman always knew that Chicago needed its own auction house. She opened her first salesroom there in 1982. Over 35 years, her company has transformed and grown into a firm of global reach with multiple branches and a schedule of over 60 auctions a year.
How did it all begin?
"When I got out of college, I got a job working for Sotheby's in Chicago. It was 1978, and it was the first branch office Sotheby's ever opened. At the time, John Marion was head of Sotheby's, and he thought it would be smart to open branches. They hired Catherine Hamilton to open the Chicago office, and I was her assistant. I was there for four years. After I had been her assistant for a couple of years, I was made manager of the office. We had two auctions in Chicago in 1980 and 1981 that were very successful, and I fell in love with the industry.
Leslie Hindman at home in her gallery surrounded by furniture, decorative arts, and fine arts.
"In 1981 there was somewhat of a recession, and they decided not to have any more auctions in Chicago but to continue running the office as a branch, which I liked doing. But I thought, you know what, somebody should open a really good auction house in Chicago. I went about getting investors and was very fortunate to find some brilliant business people to back me financially—I was 27. So I opened an auction house and worked like crazy, and we were very successful."
Did you stay in the office or were you on the podium?
"I've always been an auctioneer. The first auction I ever had, which was October 2, 1982, I'll never forget. Joe Keiffer (he's not in the auction business anymore, but he worked for Doyle in paintings then) and Bill Doyle were very, very nice to me. I used to get very frustrated in my business, and I'd get on a plane and go talk to Bill Doyle and say, 'I don't know what to do,' and he'd say, 'Calm down, you'll be OK.' Bob Skinner was also extremely nice.
Leslie Hindman on the podium for the sale of "Property from the Oprah Winfrey Collections" held in Chicago on April 25, 2015.
"Bill Doyle let Joe Keiffer be the auctioneer for the first auction to help me out. There were probably 500 people in the room because it was a big deal that we were opening an auction house in Chicago, so tons of people came to the auction. I never thought of being an auctioneer, but during the auction Joe said, 'And now I'll turn the bidding over to Leslie.' And I thought, I don't know how to do this. I was horrified, I don't remember a thing about it, but I apparently auctioned a few lots. I know that the first lot I ever sold was a pair of Rockingham dogs—they're right here—and Richard 'Buzz' Norton, a Chicago dealer in English and French furniture and longtime friend, bought them. About a year later on my birthday, he gave them to me in a case that hangs on the wall. I still have them. They say, 'First lot ever auctioned by Leslie Hindman.'"
What sort of antiques did you focus on at the beginning?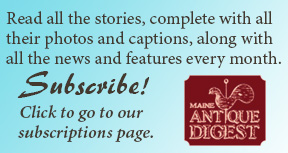 "We did general auctions for a couple of years, then broke into specialties. English furniture was a big deal back then, also 19th-century paintings. I have a copy of every catalog we've ever done. But we did general sales for a long time. We've always been known for having really good single-owner sales and for doing big events. We did the Chicago Stadium auction, which was the last event held at the stadium, where the Bulls and Blackhawks played. [Chicago Stadium indoor arena, built in 1929, was demolished in 1995.] We held the last event ever there; it was an auction of sports memorabilia, signage, everything that was in the stadium. We also did the Comiskey Park baseball stadium [Chicago White Sox, 1910 through 1990, demolished in 1991]; we did the auction of all that memorabilia."
What happened next?
"We started in a smaller space, then we moved around the corner to a building we bought, and then Sotheby's took that over when they bought my company in 1997. They put Sotheby's on the door and under that 'incorporating Leslie Hindman Auctioneers.' A lot of the staff stayed, and it was quite successful as Sotheby's for a couple of years. But later Sotheby's decided to close the business they bought from me."
What were you doing in the interim?
"I hosted two popular television shows on HGTV: At the Auction with Leslie Hindman and The Appraisal Fair, which were on air from 1994 to 2001 and viewed in more than 80 million homes across the United States. I also wrote a weekly syndicated column for the Chicago Tribune called 'What's It Worth?' In February 2001, my book, Adventures at the Auction, was published by Clarkson Potter, a division of Random House. And I owned Salvage One, which was a big architectural artifacts company."
What led you to reestablish your own auction house?
"I had a five year non-compete agreement with Sotheby's. When they closed the auction house they had bought from me, they sold the building we were in and just had a branch office again with a small staff. Then in 2003, a lot of people started saying to me, you should reopen your auction house. Everyone kept saying we need a major auction house in Chicago. I knew it was a lot of work, but I thought, I'll just have five auctions a year. Just run a little auction house, and I'll do some fun auctions. It was originally right across from Oprah Winfrey Studios in the West Loop—that's a hot real-estate market in Chicago. There's great public transportation. A lot of art businesses and chic restaurants started moving over here, and I thought this is the place to be. I bought that building, then we needed more space, so I sold that and bought a 30,000-square-foot building in the West Loop on Lake Street and another building across the street."
Bright initials in red help pick out the Leslie Hindman Auctioneers building against the Chicago skyline. The famous "L" with the CTA Green and Pink Lines runs nearby, and there is an adjacent parking lot as well.
What became your strongest specialties?
"We may have done some general sales at the very beginning but immediately started transitioning to departments. Oddly, the strongest category is jewelry—by far. We have an amazing head of department named Alexander Eblen, who is fantastic. We did about $13 million in jewelry last year. He is absolutely brilliant and really incredible. As you know, we have branches in Palm Beach and Naples, Florida; those are two of our most successful branches. Alex is down there a lot, and we get a great deal of jewelry out of Florida. We sell jewelry to people all over the world, and it's a very robust market."
Hindman's strongest field is jewelry. Auctions are held in Chicago and Palm Beach. This Art Deco platinum, emerald, diamond, onyx, and enamel lapel watch by Cartier brought $473,000 (est. $100,000/150,000) during the September 2015 sale of jewelry from the estate of Rita Dee Hassenfeld.
An Art Deco platinum, onyx, and natural pearl necklace sold in a June 2012 fine jewelry sale for $388,000 (est. $8000/12,000).
How did you start up the branches? Did you buy existing firms?
"No, we opened them. I thought, we've got the Midwest market; we've got Chicago covered; we're well known. So what would it be like to have a representative or two in another city? We opened in Milwaukee [Wisconsin] and Naples, Florida. There's a lot of midwestern people there, and a lot of great property in Florida in general. We were doing very well in Naples; we had some auctions down there. I said, why don't we open in Palm Beach as well? We get tons of business from both places. We had nine auctions last year in Palm Beach.
One lot in the February 2014 sale of property from the estate of Lilly Pulitzer was this printed canvas whimsical map of Palm Beach, which brought $16,250 (est. $40/60).
"Our next-biggest category is paintings and contemporary art. We get a lot of major contemporary art out of Palm Beach. And we also have a branch in St. Louis and get major property from there and from Kansas City—paintings, jewelry, furniture, decorative arts, everything. Kansas City is a fabulous city. Then a couple of years ago we opened in Denver; we will have an 'Art of the American West' sale later this year. We still send the high-end property to Chicago.
Twentieth-century art has become a major department at Hindman's. Discussion, a 1967 painting by Thomas Hart Benton (1889-1975), sold in the May 2015 auction of property from the collection of Carol H. and Richard M. Levin for $1,052,500 (est. $200,000/400,000).
Saul's Guernica, 1974, by Peter Saul (b. 1934) brought $575,000 (est. $250,000/350,000) in the September 2016 sale of modern and contemporary art.
"People do come to the auctions in person, but much of the bidding is from buyers in China or New York or London or Los Angeles or Dubai. We were a founding partner in Bidsquare. The people who own the larger regional auction houses are all friends and always have been. We thought it was important to have a live-bidding platform where all of the auction houses who were conducting sales on that platform were reputable and selling good fresh property and no fakes. We have a vetted platform and we think that's a big deal.
"We do Asian art quite successfully. We still do English furniture, French furniture, decorative arts—those categories still matter to us. We do 'Art of the American West' in Denver. We did a big Hermès collection last year. We have very good silver sales. These days, everything is very global. You'll have people from all over the world bidding. It's very easy to find the buyers."
What do you plan for the future?
"We just opened a branch in Scottsdale, Arizona; we think Scottsdale is underserved. There's a lot of great jewelry and Western art in Scottsdale. People move to Scottsdale and downsize. We'll continue to open branches in different places. We're thinking of opening in New York. We've hired a terrific person to run a modern department; we had a very good modern sale in 2016, and we're actively looking for 20th century.
"With more branches, we now have 97 employees. We're one of the biggest in the country. We're really good at global reach. We pay a lot of attention to Internet marketing; we pride ourselves on that. We're friendly midwestern people selling globally. We're very service oriented. We care about our clients being happy."
To view the auction schedule and catalog, see (www.lesliehindman.com).
"Head of the House" is a feature that explores the founder, forte, and future of major American auction houses. In his or her own words, the current president explains how the business began, which specialties have been most successful, and what new trends are influencing the marketplace. Once, the salesroom was reserved for dealers and wealthy collectors; now auctions permeate the marketplace. Want another Modigliani, a painted chest, or vintage shoes for a wedding? Bidding has never been easier. Whatever collectors demand, auctioneers supply.
---
Originally published in the May 2017 issue of Maine Antique Digest. © 2017 Maine Antique Digest