Lunders Give Another $100 Million-Plus Gift to Colby College
M.A.D. staff | March 1st, 2017
Colby College in Waterville, Maine, has received another gift of more than $100 million from Peter and Paula Lunder in support of the Colby College Museum of Art. The gift will add nearly 1150 artworks to the museum's collection and will launch the Lunder Institute for American Art.
The institute will be dedicated to the practice, study, and exhibition of American art, and will transform Colby's art collection and scholarly activities by bringing together artists, curators, scholars, and students through cross-disciplinary engagement. A residency program will provide increased opportunities for students of all disciplines to interact with scholars and artists.
"The Lunders' generosity has transformed Colby College and the arts landscape in Maine," said David A. Greene, president of Colby College. "Now, with this gift to significantly expand the collection and create the Lunder Institute, the museum will become a global destination for artists, scholars, and visitors."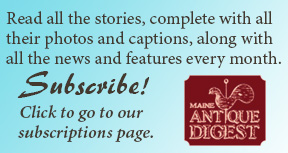 The gift includes paintings, sculptures, photography, and works on paper that date from a 1501 engraving by Albrecht Dürer to a 2014 aquatint by Julie Mehretu. The more than 150 artists include Mary Cassatt, Jasper Johns, Nina Katchadourian, Jacob Lawrence, Maya Lin, Joan Mitchell, Claes Oldenburg, Betye Saar, Vincent van Gogh, Rembrandt van Rijn, Ai Weiwei, Fred Wilson, and James Abbott McNeill Whistler.
The gift brings the total number of works given by the Lunders, who are longtime benefactors to the college and the museum, to more than 1500. The latest gifts join hundreds of pieces previously promised and given in 2007, valued at more than $100 million.
Admission to the Colby College Museum of Art is free. Hours are Tuesday through Saturday, 10 a.m. to 5 p.m., and Sunday, noon to 5 p.m. The museum also is open Thursdays until 9 p.m. during the academic year. For additional information, visit the website (www.colby.edu/museum).
---
Originally published in the March 2017 issue of Maine Antique Digest. © 2017 Maine Antique Digest