Maryland Man Sentenced to 12 Months for Stealing Art and Selling It
M.A.D. staff | August 2nd, 2017
A Rock Hall, Maryland, man was sentenced on June 26 to 12 months in prison for stealing at least 40 pieces of art and taking them to New Jersey to sell them. William C. Reed III, 42, previously pleaded guilty to an information charging him with one count of interstate transportation of stolen property.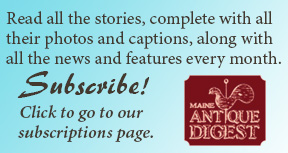 Starting in June 2013, Reed worked as a caretaker for an individual in Rock Hall. Reed's client was an art collector and dealer who collected and maintained an eclectic collection of fine art by American and European artists. The collection included paintings, sculptures, and etchings.
Between June 2014 and November 2014, Reed took various works of art from his client's Rock Hall property without permission and sold the art at various locations, including a pawn shop in Salem, New Jersey, and to an individual in Chestertown, Maryland.
In addition to the prison term, Judge Robert B. Kugler sentenced Reed to three years of supervised release and ordered him to pay restitution of $92,240.
---
Originally published in the August 2017 issue of Maine Antique Digest. © 2017 Maine Antique Digest