Niven Becomes Chairman of Athena Art Finance Board of Directors
M.A.D. staff | August 3rd, 2017
Jamie Niven has been elected as chairman of the board of Athena Art Finance Corp., after serving as its first independent director for the past year. Athena offers collectors and galleries the ability to borrow funds using their works of fine art as collateral and seeks to professionalize and provide transparency to art-based financing overall.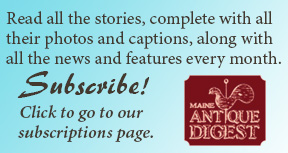 "Jamie's ambassadorship and guidance for the past year has strengthened Athena's brand recognition and strategic partnerships with collectors, gallerists, and other constituents," said Athena's CEO and president, Andrea Danese.
Niven joined Sotheby's New York City office in 1996 and was chairman of the Americas at Sotheby's from 2006 to 2015. Before joining Sotheby's, he was chairman of Global Natural Resources. He started his career in the corporate finance division of Lehman Brothers.
Launched in October 2015 with $280 million of equity capital led by the Carlyle Group and investors of the private equity unit of the Pictet Group, Athena is an independent specialty finance company dedicated to serving the financing needs of the global art market.
---
Originally published in the August 2017 issue of Maine Antique Digest. © 2017 Maine Antique Digest