Decoys Unlimited, West Barnstable, Massachusetts
Photos courtesy Decoys Unlimited
Decoys Unlimited's online auction September 17 featured objects from collections from all over. Judy and Ted Harmon, principals of Decoys Unlimited of West Barnstable, Massachusetts, gathered nearly 300 lots of decoys and decorative bird and fish carvings for every taste. Buying by collectors assures the transfer of decoys from one estimable collection to another. The auction highlight was a black-bellied plover mounted on a quahog that was carved by the master Anthony Elmer Crowell (1862-1952) of East Harwich on Cape Cod. It sold for $36,900 (includes buyer's premium).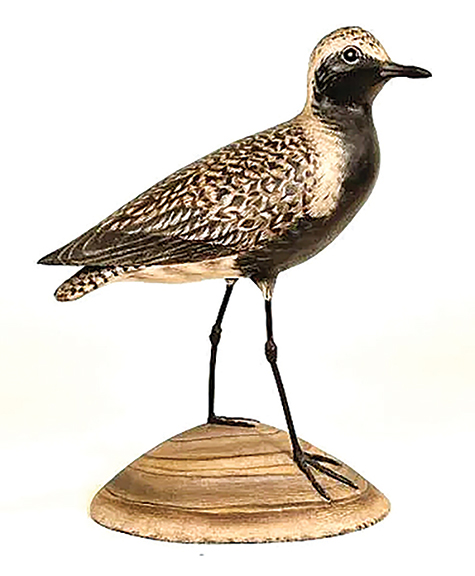 Anthony Elmer Crowell (1862-1952) of East Harwich, Massachusetts, created this 9¾" tall exceptional "mantel" carving of a black-bellied plover mounted on a quahog shell that sold for $36,900 (est. $30,000/45,000). The bird bears Crowell's rectangular brand stamp and retains a label reading "Black Bill Plover." At the time it was carved, such birds were described locally as a Crowell black-bill. Asked about that, Harmon reported, "Elmer had different names for birds."
Ted Harmon has an affinity for Crowell—he was instrumental in the reconstruction of the carver's barn at The Harwich Historical Society and Brooks Academy Museum. He is also president of the A.E. Crowell American Bird Decoy Foundation. It wasn't until age 50, in 1912, that Crowell begin to carve full time. Before that he worked in various pursuits, as a hunting guide, a camp manager, a market gunner, a cranberry farmer, and an exterminator, all the while he carved and sold his decoys and decorative carvings.
For more information, call (508) 362-2766 or see (www.decoysunlimitedinc.net).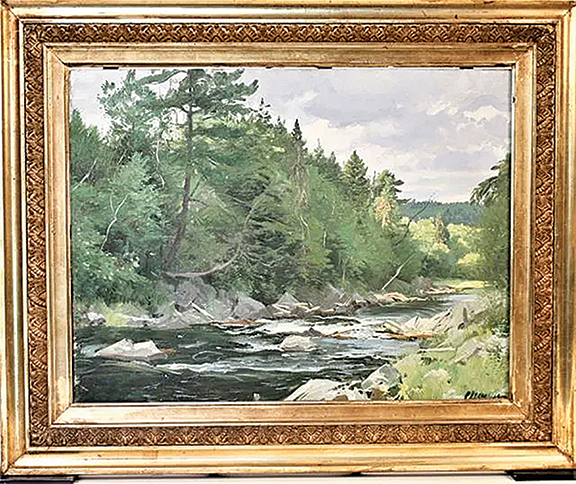 By Ogden Minton Pleissner (1905-1983), this 12" x 15½" oil on board, Canadian Salmon Stream, is signed "Pleissner" and retains the label reading "Paintings by American Artists / William Macbeth Incorporated / 11 East 57th Street New York / Canadian Salmon Stream / Ogden Pleissner." The Macbeth gallery opened in 1892. It was one of the first to specialize in American artists, including Andrew Wyeth, and in 1908 it mounted a show of "The Eight." The gallery closed in 1953. The painting realized $8302.50 (est. $5000/15,000).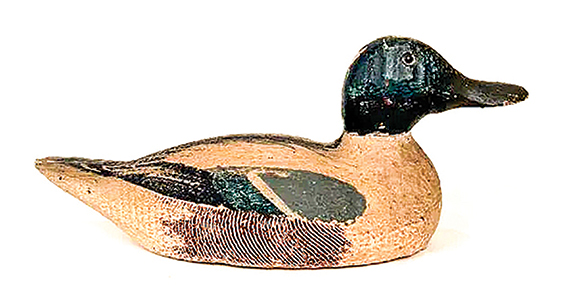 From the collection of William J. Mackey Jr. and bearing his stamp, this 15½" long shoveler drake in original paint made at the Gundelfinger factory in Jefferson City, Missouri, sold for $1353 (est. $100/300).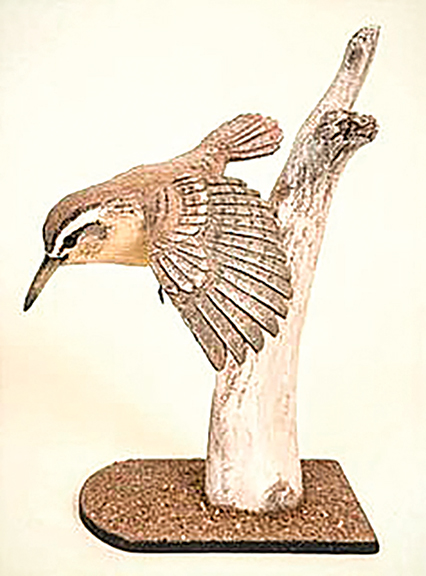 Cape Codder Stanley G. Sparre's 5" long life-size Carolina wren in flight was a highlight when it sold for $369 (est. $100/200).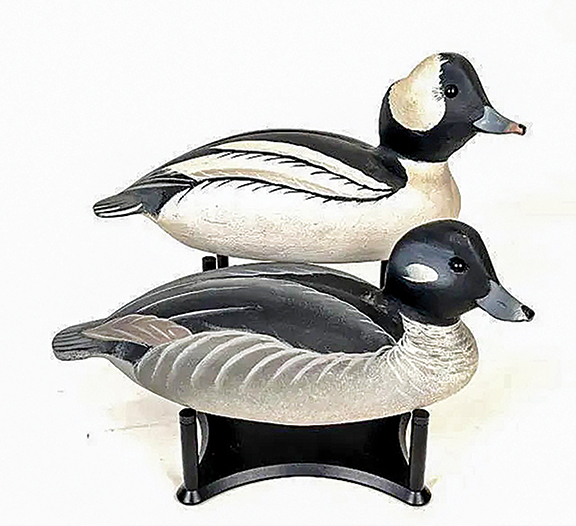 The Ward brothers, Steve (1895-1976) and Lem (1896-1984), from Crisfield, Maryland, created this pair of buffleheads from cedar. The hen is 11" long, and the drake is 12". They are in original paint and are signed "Made by Steve, Painted by Lem, Ward Bro.—1966." The client's name, Dr. Morton D. Kramer, is also on the bottoms, as is Kramer's collection brand. The birds sold for $4920 (est. $4000/8000). The Ward brothers and Kramer had a long friendship.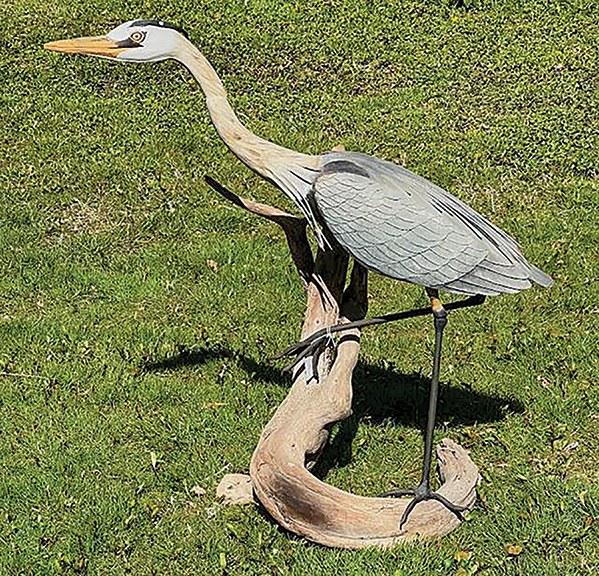 Douglas F. Hopkins (1942-2000) of Osterville, Massachusetts, carved this 42" tall life-size great blue heron with detailed eyes and bill, feathered wings and tail, inserted metal feathering, and metal feet and legs. It brought $1599 (est. $1500/2500). The heron was accompanied by a letter from the artist describing the heron and the inspiration he drew from observing a Crowell heron at the Heritage Museums and Garden Plantation in 1974. This heron was exhibited with the Society of Animal Artists at the Salmagundi Club in New York City in 1975. Hopkins, who was a friend of Ted Harmon of Decoys Unlimited, told Harmon that he loved this carving more than any others he had made.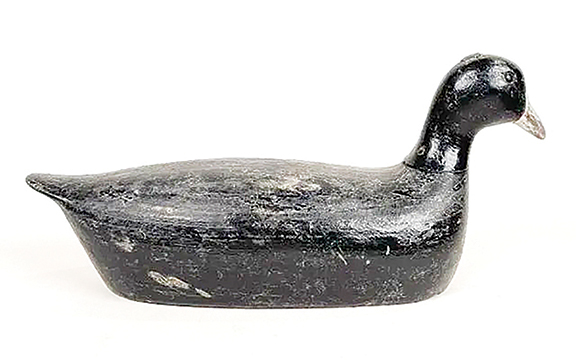 An unknown Louisiana maker carved two (one shown) 11¾" long rigmate American coots in the forward swimming position. They brought $799.50 (est. $200/400). The birds demonstrate good form and craftsmanship.

George Henry Boyd (1873-1941) made this pair of 4" long miniature wood ducks. They retain the original paint and have only slight wear from a century of gentle handling. Estimated at $2000/3000, the pair sold for $1476. Each has a label, with one reading "Wood Duck Drake / Geo. Boyd 1873-1941 / Seabrook NH c 1930s EX Coll R Odell" and the other "Wood Duck Hen / Geo. Boyd 1873-1941 / Seabrook NH c 1930s EX Coll R Odell." Later birds made by the Seabrook, New Hampshire, carver and shoemaker are illustrated in the 2009 book Finely Carved & Nicely Painted: The Life, Art and Decoys of George H. Boyd, Seabrook, New Hampshire, 1873-1941 by James Cullen with photography by Andrew Davis.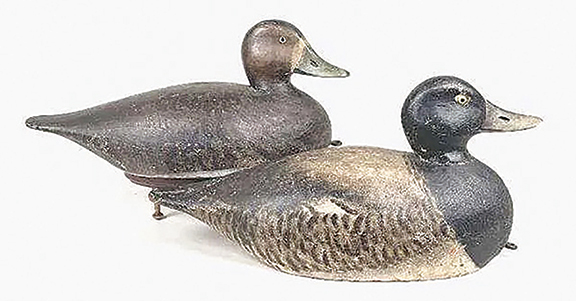 Made around 1900 for Lombard C. Jones, M.D. (1865-1944), of Sandwich, Massachusetts, by A. Elmer Crowell before he began stamping his birds, this early pair of bluebill decoys is rare. Both birds exhibit very light gunning, both are signed "Dr. L.C. Jones" on the bottom, and both bear the collector's label "TMH." The pair realized $7687.50 (est. $9000/11,000). Jones owned a rig of Crowell's redheads and bluebills. The birds were on view in spring 2022 at the Sandwich Glass Museum in An Intimate View: Sandwich Through a Lens, an exhibit on several generations of the Jones family.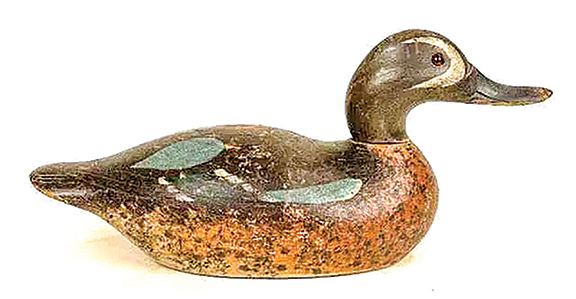 This Mason Decoy Factory decoy, an early and rare hollow-bodied Premier-grade blue-winged teal, is 12" long and has a snakey head. The form and the style of paint was from the late 1890s to 1900. The paint is original, and the gunning wear is even. The bird sold for $2767.50 (est. $2000/4000). A similar example is illustrated in the 1993 book Mason Decoys: A Complete Pictorial Guide by Russ J. Goldberger and Alan G. Haid. This bird came from a Texas collection.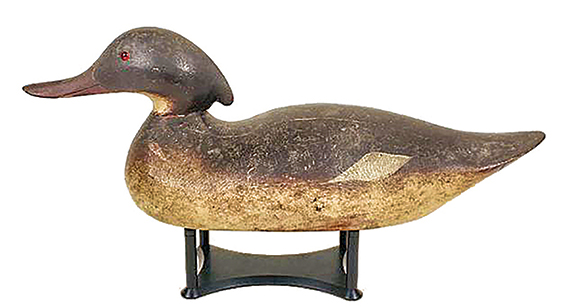 From the Mason Decoy Factory, which operated in Detroit, Michigan, between 1896 and 1924, this Challenge-grade merganser hen, 17¼" long, brought $4920 (est. $4000/6000). The bird is early and in original paint with minor gunning wear. Catalog notes observed that it is rare to find the species in such good condition.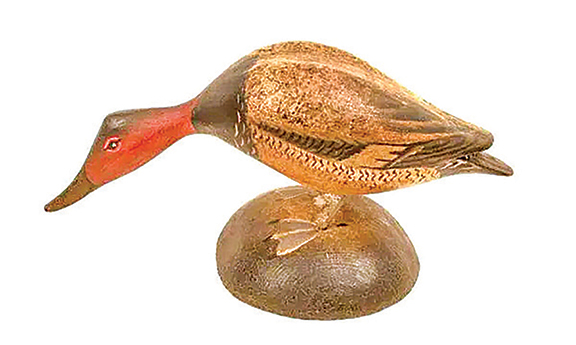 Miniature carvings by the master carver A. Elmer Crowell are dependably desirable. This miniature carved feeding canvasback drake, 5" long, in original paint and fine condition, brought $1230 (est. $1000/2000). It came from the Mills collection and had descended through the Borden family collection.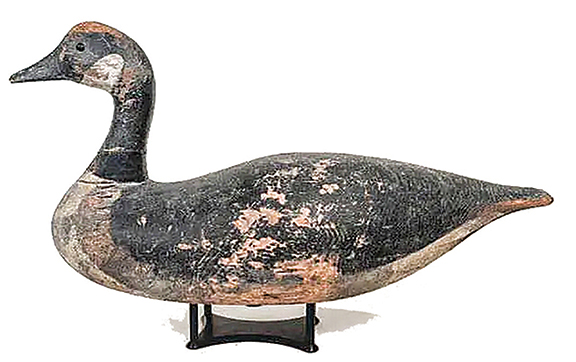 Weathered and worn, Joseph W. Lincoln's 24" long Canada goose has glass shoe-button eyes, original paint with gunning wear, and a cracked neck. It sold for $1722 (est. $300/600).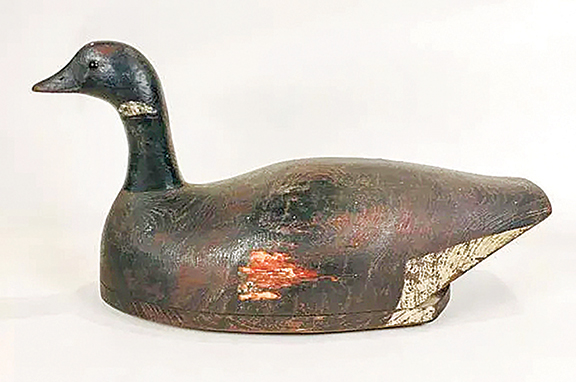 This 19" long brant by Joseph W. Lincoln, with an open back, bottom board, glass eyes, and a detailed bill, is unsigned, as were most of Lincoln's decoys, excepting some of his miniatures. It retains the original evenly worn paint, a scrape on one side, and an old neck repair, and it sold for $1045.50 (est. $1000/2000).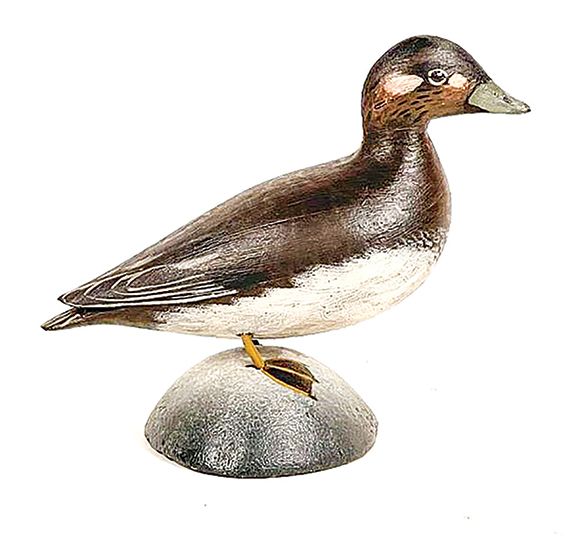 Early and rare, this slightly oversize white-winged scoter hen by A. Elmer Crowell, in original paint and condition, is signed faintly on the bottom with Crowell's early round ink stamp and handwritten "Scoter F." Estimated at $3000/6000, it sold for $3382.50.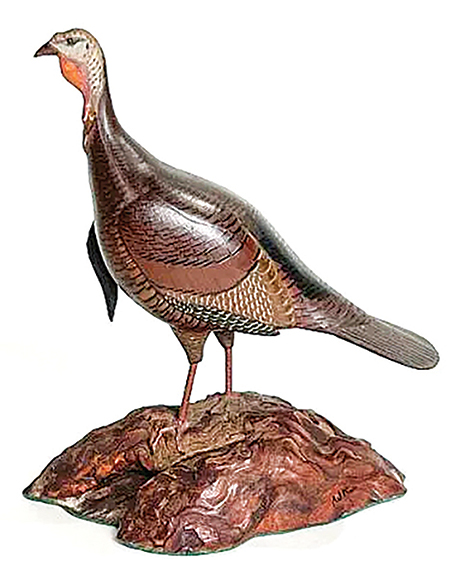 Miniature master Allen J. King (1881-1963) of Scituate, Rhode Island, was hailed by many for his precise carvings. The miniature turkey, 6¼" tall, signed on the side of the base, sold for $4612.50 (est. $4500/6500). A tiny ding on the tip of one wing has been restored by Cape Cod carver and restorer Steven A. Weaver.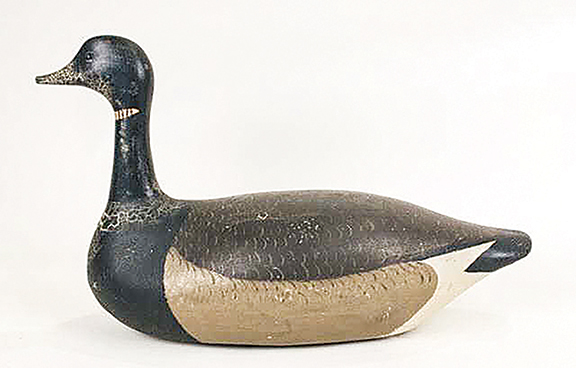 Seabrook, New Hampshire, carver George Boyd made this rare 19" long brant that sold for $5842.50 (est. $4000/6000). Only three decoys from the rig are known. Boyd's paint is meticulous, and craquelure, found on many Boyd decoys, is present on this decoy.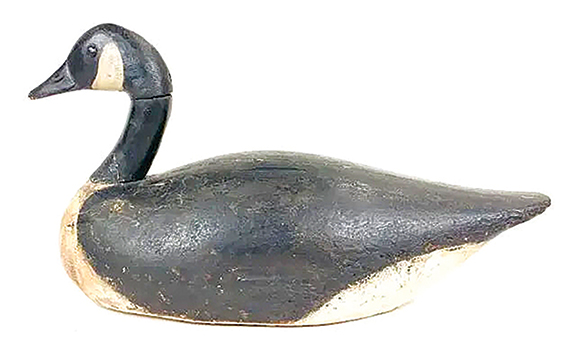 The Pequaw Honk Club, the shooting club on Quicksand Pond in Little Compton, Rhode Island, was popular among hunters, including A. Elmer Crowell, who likely used his own decoys. This 22½" long goose decoy Crowell made for the club brought $3075 (est. $1000/2000). It has some in-use repaint with gunning wear, and one tack eye may have been replaced, but it is one of the better examples of decoys used at the club that survive. The club owned a rig of Crowell geese and a large rig of Crowell black ducks. ---
Originally published in the February 2023 issue of Maine Antique Digest. © 2023 Maine Antique Digest