Painting by Theus Breaks Record at Brunk Auctions
M.A.D. staff | May 20th, 2017
A portrait of William Branford (1753-1776) by Jeremiah Theus (1716-1774) of Charleston, South Carolina, sold for $180,000 (includes buyer's premium) at Brunk Auctions' May 19 and 20 sale in Asheville, North Carolina. According to Brunk, this is a new record for Jeremiah Theus at auction, surpassing the previous record of $123,900, set at Brunk Auctions in May 2012 for a portrait of Elizabeth Allen Deas, a relative of William Branford.
Photo courtesy Brunk Auctions.
In 2010 Brunk sold a portrait of Amarinthia Elliott (1740/41-1822) by Theus to the Detroit Institute of Arts for $94,400.
William Branford was the only son of William Branford and his second wife, Elizabeth Savage. According to the catalog, he grew up with a sister, Elizabeth, and a half-sister, Ann, on Hampton Plantation in South Carolina. Both of his sisters married into the Horry family. The description of the painting in Margaret Simmons Middleton's Jeremiah Theus: Colonial Artist of Charles Towne gives the title Young William Branford. She states that "the portrait represents a young boy with a battledore and shuttlecock in his hands and was probably painted just before he was sent to England to be educated. ...William Branford never returned home, but died in England as the result of a fall out of a window." It's not known whether it was suicide or an accident.
Swiss-born Theus was Charleston's premier portrait painter during the mid-18th century. According to the Johnson Collection website, "The Theus family immigrated and settled on a land grant located on the Edisto River in Orangeburgh Township (now known as Orangeburg County). In 1740 a notice appeared in the South-Carolina Gazette advertising the newly arrived artist. It was noted that, '…all Gentlemen and Ladies may have their Pictures drawn, likewise Landskips [sic] of all Sizes, Crests, and Coats of Arms for Coaches or Chaises. Likewise for the Conveniency [sic] of those who live in the Country, he is willing to wait on them at their respective Plantations.' Theus opened a small studio at the intersection of Broad and Meeting Streets, a central location in the city.
"...A year after moving to Charleston, Theus married a girl also from Orangeburgh Township. His first wife died during the birth of their sixth child, and Theus remarried shortly afterward fathering four more children. By the time of his death in 1774, he had acquired a house in Charleston, 200 acres in Orangeburgh Township, a town lot in Orangeburgh, and seven slaves.... His paintings are now included in the permanent collections of the National Gallery of Art, the Smithsonian Institute [sic], the Metropolitan Museum of Art, and the Gibbes Museum of Art in Charleston."
The painting of William Branford in its original frame descended in the family.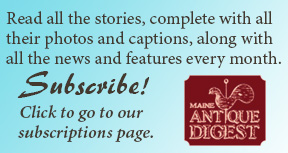 There were other winners in the approximately 1300 lots offered by Brunk. Jewelry from the estate of June Montague Ficklen of Greenville, North Carolina, was topped by a Cartier platinum and diamond bracelet with 143 round, pear, and marquise diamonds; the 60- to 70-carat vintage bracelet sold for $204,000 to a phone bidder. Ficklen served on several boards of directors, including the North Carolina Art Museum, North Carolina School of the Arts, Greenville Art Museum, and Kenmore. In 2005 she founded Women for Women, an organization dedicated to promoting women and girls near Greenville. A 2.32-carat diamond and platinum Cartier ring, D color, sold for $26,400; a pair of platinum, sapphire, and diamond ear clips, each with a central 6-carat natural sapphire, sold for $31,200; and a platinum and diamond brooch with a total diamond weight of 14 to 20 carats sold for $22,800.
Le Jardin des Tuileries et l'Arc de Triomphe du Carrousel by Jean Dufy (French, 1888-1964) brought $36,000, and a bust of Daphne by Harriet Goodhue Hosmer (1830-1908), who was born in Massachusetts and later lived in Italy, sold for $43,200. The painting Running for Cover, 1999, by Jack Saylor (b. 1960) of Beaufort, North Carolina, sold for $16,800, a new record for Saylor at auction.
For more information, call (828) 254-6846 or e-mail <[email protected]>.
---
Originally published in the July 2017 issue of Maine Antique Digest. © 2017 Maine Antique Digest