Police Raid Antiques Shop in Worcester, Massachusetts
M.A.D. staff | March 10th, 2017
On March 10 members of the Worcester Police Vice Squad executed a search warrant at Unique Finds, an antiques shop located at 1329 Main Street in Worcester, Massachusetts.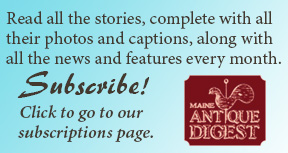 According to police, a search of the premises produced 100 acetaminophen pills, 71 Suboxone strips, 23 individually knotted bags of heroin, eight Concerta pills, 26 methadone pills, 39 lorazepam pills, 82½ Suboxone pills, 32 tramadol pills, one Adderall pill, three dextroamphetamine pills, and ten clonazepam pills. Also found were four shotgun shells, $40 in cash, a digital scale, a .50-caliber black powder rifle, and surveillance equipment.
Surveillance and the raid resulted in the arrest of four men: Brad Coughlin, 39, of Charlton, Massachusetts; Max Churchill, 37, of Worcester; Patrick Hassett, 34, of Auburn, Massachusetts; and Kenn Allain, 57, of South Grafton, Massachusetts.
All four men were scheduled to be arraigned on March 13 at the Worcester County District Courthouse.
---
Originally published in the May 2017 issue of Maine Antique Digest. © 2017 Maine Antique Digest