Retail Analytics and a New Service from the USPS
John P. Reid | July 10th, 2017
Computer Column #343
John P. Reid, e-mail: <[email protected]>
Big retailers have been gathering personal information on each of us for a decade or more. Amazon may know as much about me as I do. Walmart processes more than two million gigabytes of data from one million customer transactions every hour. Some of these practices may appear in the future in antiques auctions and malls. They will be discussed this month. A new offering by the U.S. Postal Service will also be reviewed.
Retail Analytics
The retail world is deep into gathering data on customers to increase sales. Little of this has trickled down to small antiques businesses.
I had a small antiques shop for some years. Not being good at names, I kept notes on customers to help recall their names for their next visit. What they bought was easier to remember, so a quick-search sales database was on the counter desktop computer.
Most big retail chains go many orders of magnitude further with methods called "Retail Analytics." First attempts used video cameras and facial recognition software to tag customers with identities. Multiple cameras followed visitors from department to department and recorded at which displays they paused or handled merchandise. Cash register transactions were especially noted because a credit card could be related to the facial recognition identity.
Facial recognition software works amazingly well, but a cheaper and easier method soon replaced or augmented it. Virtually all retail customers carry a cell phone, and the phone is usually on. Cell phones are constantly identifying themselves by searching for Wi-Fi hotspots, interacting with cell phone towers, and using the phone's GPS navigation powers. The identification is a unique code called the MAC (Media Access Control) address. A credit card purchase tied to the MAC address may supply a real name.
The in-store monitoring and database searches build detailed profiles of customers—how often they visit, what they buy, and how much they regularly spend. Chains share this information among all their stores. Some try to guess what bargain offers might tempt a customer. Many also use external databases that further aggregate customer data.
A book by Joseph Turow, The Aisles Have Eyes (New Haven & London: Yale University Press, 2017), has a great deal of information on retail analytics. It may leave you fuming. "How dare they?" But, despite legal challenges on privacy rights, that is the way it is. The book is available in hardback, paperback, and e-book format.
One partial protection against retail analytics is to turn off the cell phone when leaving home. However, that will eliminate the cell phone supplying its location during an emergency. Do not supply your postal ZIP code if asked at checkout. It is not just to see if you are a local. A credit card does not pin down your identity, because tens of thousands of people probably have the same full name. A ZIP code narrows it down to a few. Using the store's or mall's Wi-Fi or installing its app may expose more personal information.
Antiques Trade
Retail analytics is not much used yet by antiques businesses. The tablet-based Bindo POS app, available for Android and for Apple iOS, supplies a few of the features but not customer in-store tracking.
Restaurants use firms such as the OpenTable to track and serve customers around the world. For example, OpenTable has a page (www.opentable.com/landmark/restaurants-near-greater-columbus-antique-mall-shopping-center) that links 48 restaurants near the Greater Columbus (Ohio) Antique Mall shopping center.
Antiques malls are a natural for retail analytics. Owners are not often found making friends with customers among the displays. The possibility of finding out which booths are most interesting to visitors and reporting to booth holders what customers look at in their booths is attractive. However, the dollar volume and profits of many malls are not enough to support a high-level data system. Look for beginnings in the future.
Promoters of antiques shows work hard at identifying customers so they can send publicity on future shows. Individual show dealers know their regular customers and help spread the news of coming shows. More detailed information gathering may be in the future.
Antiques shops are even less likely to use high-powered retail analytics. The owner schmoozes with customers and files useful facts in a mental database. However, computers, cell phones, and the Internet can offer help. Have you ever turned on your phone in a restaurant and been greeted by a screen inviting you to send a photo of your visit? This is part of Google Maps and Google Merchant Center. (www.google.com/retail/merchant-center). Also see Google's Local Inventory (www.google.com/retail/local-inventory-ads/#?modal_active=none).
Clicking on an antiques shop found in Google Maps, such as Wiswall House Antiques in Durham, New Hampshire, brings up photos and a button for driving directions.
Google's object is to supply online tools for the small brick-and-mortar stores. For a fee, Google will put your store on its online maps. Driving instructions from any point are available. Many additional features are available, including pictures of the store and merchandise or inviting customers to submit pictures.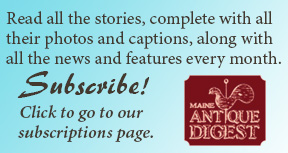 Many antiquers buy and sell on eBay. The cloud database run by eBay is one of the largest in the retail analytics industry. Amazon makes extensive provisions for offline retailers to have an online presence with "Sponsored Links," advertisements by third-party sellers related to a recent Amazon online search.
Finally, a small antiques shop can do well with its own website publicized through social media.
New from USPS
Here is something on a different subject. The U.S. Postal Service (USPS) announced a new service in April called "Informed Delivery." After signing up, those receiving mail at a given address will get a daily e-mail showing photos of the mail or packages that will be delivered that day. There is no cost. The information will allow the recipient to watch for important material. An additional selectable feature is regular progress reports on any letter or package sent to you or sent by you with a USPS tracking number.
To sign up, get a My USPS online account. Many antiquers have one for looking up ZIP codes, ordering stamps, or printing prepaid shipping labels. A name and password are required. A credit card is needed for purchases and prepaid shipping labels.
Next, go to Informed Delivery (https://informeddelivery.usps.com). Here you will have to prove your identity. A visit to a listed nearby large post office may be needed. Take a variety of identification. I did not want to drive ten miles to the nearest big post office and elected to verify identity online. A multiple-choice list of possible identifying items was offered. Items and their multiple-choice questions and answers were the kind of facts available from a credit monitoring firm. My identity was quickly "verified." The first Informed Delivery e-mail arrived before breakfast the next day. It is easy to view on a computer but a bit difficult on mobile devices.
---
Originally published in the July 2017 issue of Maine Antique Digest. © 2017 Maine Antique Digest