Seven Days in August
Clayton Pennington | August 1st, 2017
Editorial
With apologies to Virginia, but New Hampshire is for lovers…of antiques.
In this issue of Maine Antique Digest, you'll find a special advertising section for Antiques Week in New Hampshire, the annual August pilgrimage to the Granite State. Thumbing through it, we were struck with what a remarkable event it has become. This annual barometer for the market was all birthed from the New Hampshire Antiques Dealers Association show, which will be celebrating its 60th year this time around.
Lasting 60 years should be accomplishment enough for any antiques show. How many shows that started in 1957 are not only still around but thriving?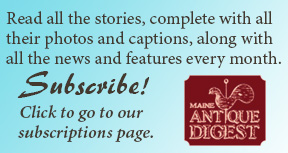 A quick check of the archives revealed that M.A.D. first covered the NHADA show in the October 1980 issue, utilizing six photos in a short article that emphatically stated the event was "very successful for people dealing in 18th- and 19th-century antiques."
Over the years, other shows have joined the early August happening, growing the number of shows to eight. The "tailgate" model has clearly worked, as it has in other parts of the country including Nashville; Round Top, Texas; and New York City. Add in all the open shops, and Antiques Week in New Hampshire is an Americana super store.
Many have complained about the state of the market, but the 2017 Antiques Week in New Hampshire hopes to prove, yet again, that there's plenty of life left.
Is it Americana's most important week? We think so.
S.C.P.
---
Originally published in the August 2017 issue of Maine Antique Digest. © 2017 Maine Antique Digest