StuffSavvy Launches
M.A.D. staff | May 12th, 2017
In 1999 auctioneer Leslie Hindman launched Eppraisals.com, a company that offered low-cost and quick appraisals over the Internet. The company had hundreds of specialists in 300 collecting categories to provide information and valuation of art, antiques, and collectibles. Eppraisals raised millions of dollars in venture capital and signed a deal with eBay.
It wasn't enough. The company ceased operations in 2001.
Lindsay Gaskins of Chicago thinks technology has advanced enough that online appraisals are now possible. Gaskins has launched StuffSavvy (https://stuffsavvy.com), a website and mobile app that will give direction to people seeking information and valuation for objects. "StuffSavvy is the quickest way to determine if stuff you own or find is trash or treasure," the website boasts.
It's bargain priced; it costs only $4.95 for each object evaluation. The website and mobile app are not complicated—upload a photo or two, a description, an e-mail address, and pay with your credit card. StuffSavvy promises it'll get an answer back to you in 24 hours.
"We've put together a group of experts who can identify items through photos and give descriptions of what the items are and also a valuation or ranges of valuations. We've been doing it directly through our site or our mobile-friendly app for iPhones," Gaskins said. Currently there are only five experts: three in Europe and two in the United States. StuffSavvy is seeking more experts.
"Technology has improved in terms of being able to trace information from the Internet, and visual technology to identify items has also improved," said Gaskins.
Gaskins said the company can use plug-ins on dealers' websites that will generate commissions for the website owners. "There are a variety of ways our affiliates are paid," said Gaskins, who noted that the commission for the host websites could be as high as 80%.
The plug-in is active on Peter Holland's website (www.figurines-sculpture.com). According to Gaskins, Holland was offering evaluations via his website before, but since adding the StuffSavvy plug-in, he's doing four times as many evaluations.
Affiliates who offer the plug-in on their site will not only get commissions but will also capture the e-mail address of the sender, boosting e-mail lists and customer databases.
"We're seeing that the average item submitted is over $250. We're not seeing million-dollar items submitted yet, but we are seeing things that have some value from a resale perspective. The $4.95 fee is blocking items from coming in that are like coffee cups," Gaskins said.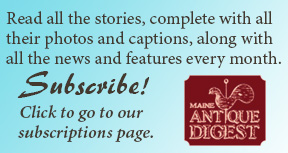 Gaskins has no background in decorative arts; her background is in business start-ups. Before StuffSavvy she was involved in Marbles: The Brain Store, a game and puzzle store in Chicago. "We're in this business from more a tech and retail perspective," she said.
"We're trying to solve an everyday problem. We all have too much stuff…. Sometimes it's not worth an appraiser to come to your home. A quick evaluation might help you make a decision."
Gaskins believes the service could be even quicker than 24 hours. "Visual and mobile technology has improved so drastically in the last few years, there's an opportunity to instantly evaluate items. The fast version is in 24 hours, but you could see it become more instant. People could take the mobile app around their house to see what everything is worth."
"When an item is worth $1 million or $100,000, then an in-person appraisal/authenticator makes sense. But when the item is worth $125, it doesn't make a whole lot of sense to have someone come to your home. Most goods are worth less than $500, and there is still trouble identifying and pricing them. If you're going to become an eBay seller, a garage seller, or an estate seller, that's when less information necessarily isn't bad. We think we complement the appraisal market," said Gaskins. She added that a bulk plan might be made available for professionals.
"Authentication is still hard from a photo, but we can be an entry point for people who are novices or people who just have a few items to find out more about, and they don't have a background in that category.
"The business could eventually be geo-located, so if users are in one area of the country, they could find a local shop that is seeking those types of objects."
---
Originally published in the May 2017 issue of Maine Antique Digest. © 2017 Maine Antique Digest