The New Hampshire Antiques Show, Manchester, New Hampshire
It was 65 years ago when the New Hampshire Antiques Dealers Association (NHADA) held its first annual show. According to the organization, it was held in an upstairs room at the Highway Hotel in Concord. From that humble beginning, the Dealers' Show, as it is informally called, has become a must-not-miss event. It has the right combination of fresh goods, diversity of dealers, and timing. For those hungry for Americana, this show offers a sumptuous buffet.
The August 11-13 New Hampshire Antiques Show was held at the DoubleTree by Hilton, smack dab in the center of Manchester. Fifty-six dealers set up and offered things that many had held out of public view, waiting for the objects to make their debut. For dealers, that's a lot of capital to have tied up in goods, but fresh merchandise is this show's main calling card.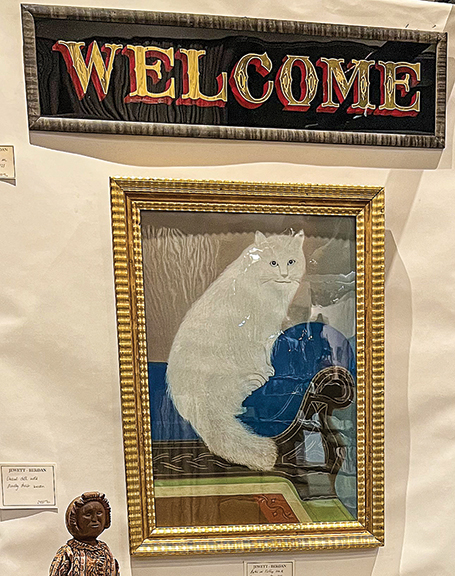 Jewett-Berdan Antiques, Newcastle, Maine, asked $1350 for the 10" x 38" "Welcome" sign, reverse painted on glass, dated 1923, and signed by Frank A. Both. The pastel of the fluffy white cat, ex-Peter Tillou and ex-Hirschl & Adler, 1870-1900, 32" x 24", was $16,500.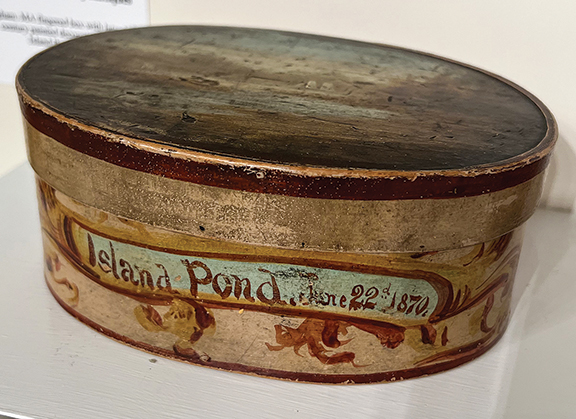 The fingered box from Hingham, Massachusetts, with later 19th-century painted decoration, "Island Pond [Vermont], June 22d, 1870," was $6500 from Jeff and Holly Noordsy Antiques, Cornwall, Vermont.
For a juggernaut of a show, it's surprisingly casual and laid-back, and that comes from the dealers themselves. They produce the show, handling every detail, and they get high marks from the exhibitors. Pat Garthoeffner said, "The show is put together by the dealers, and they know what we are looking for—they do the best things for us. Every little detail is taken care of before you get in there."
Liz McElroy of JK Nevin Antiques, a new exhibitor this year, said, "I think one thing that sets this show apart, aside from the stellar quality of the offerings, is the dedication of both the NHADA volunteers who run this show like clockwork and the customer base that is willing to wait in line for hours, knowing they will see the absolute best of Americana."
Beverly Weir-Longacre of Thomas R. Longacre Antiques is a cochair of the show. "One exemplary component is that this show is run by antique dealers for antique dealers," she said. "The show volunteers donate countless hours of their time to produce this very special show every year. Exhibitors save wonderful items just for the NHADA show." Weir-Longacre expressed her gratitude for "our award-winning staff, the DoubleTree Hotel, Stacy Exposition, and many others" and added that the show "is a must-attend event for collectors and dealers alike."
At 65, the show remains a phenomenon in the marketplace, and shows no signs of slowing down.
For more information, check the NHADA website (www.nhada.org).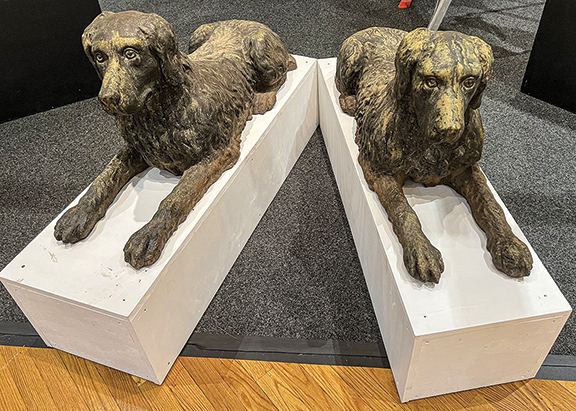 The pair of cast-iron Labradors by J.W. Fiske & Co., New York City, circa 1880, obviously a pair, was $16,500 from Judith and James Milne of Kingston, New York. "Best original surface," read the price tag.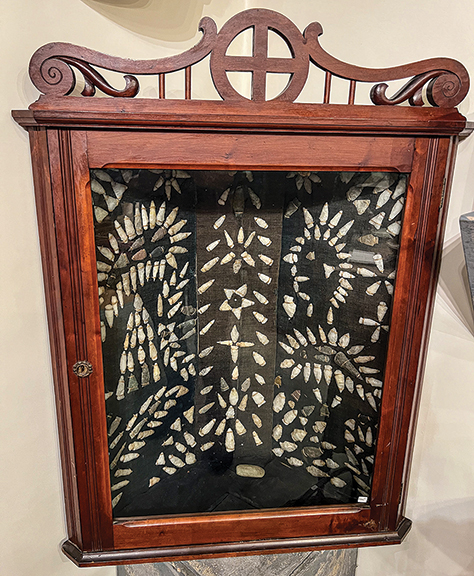 The turn-of-the-century arrowhead display cabinet, with 320 arrowheads artfully arranged, including a figure and other Indian symbolism, was tagged $3200 by Village Braider. Most were quartz, but one was pyrite, or fool's gold. "I had my best Dealers' show ever," said Bruce Emond. "I sold seven pieces of furniture."

Cast-iron great white owl doorstop by Bradley & Hubbard, Meriden, Connecticut, $1750 from David Thompson Antiques & Art, South Dennis, Massachusetts. From the early 20th century, it sports its original paint decoration and is marked on the back "B & H 7797." It sold.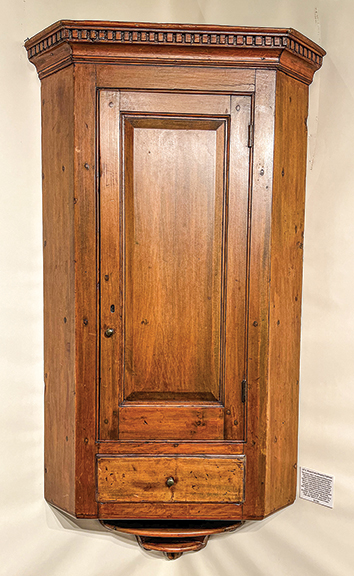 The 18th-century Pennsylvania hanging corner cupboard of poplar and pine, 54½" x 26" x 18", from Berks or Lancaster County, was $5700 from Sheridan Loyd of St. Joseph, Missouri. It features dentil molding and a raised-panel door that opens to two shelves. Below is a single thumb-molded drawer with a brass pull, and below that a second pair of bow-shaped shelves. "It went very well," Loyd said. "I thought the crowd was up, and it was more intense than it was the year before." She attributed that to a more manageable COVID-19 pandemic. "It wasn't as good as last year, but there's no rhyme or reason to this. It depends on what you have to sell, and who wants to buy it. I was very pleased."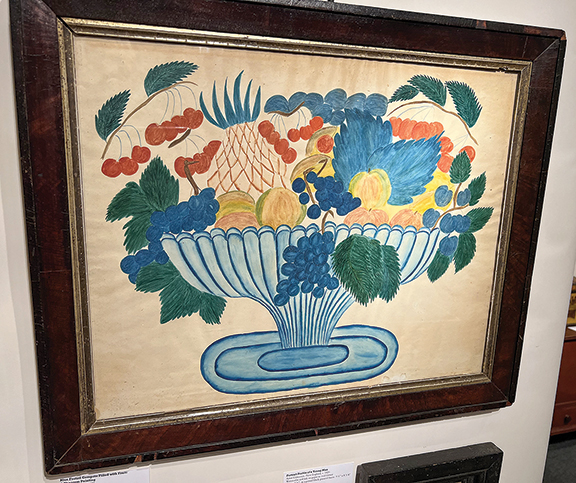 This theorem painting of a blue footed compote full of fruit, watercolor on paper, 1825-35, 16½" x 20½" (sight size), was $38,000 from Olde Hope. It has extensive provenance according to the tag—Mary Allis, Stewart Gregory, Stephen Score, and Daphne Farago—and an exhibition history; it was in An Eye on America at the Museum of American Folk Art in 1972 and at Rhode Island School of Design's The Farago Americana Collection.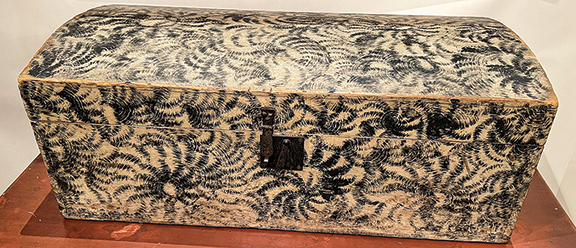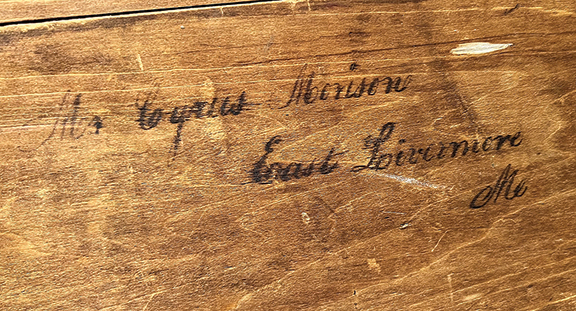 This Maine dome-top chest with pinwheel designs, 1820-40, with black decoration on a white ground and its original hardware, is signed on the back "Mr. Cyrus Morison / East Livermore / Me." Measuring 11 1/8" x 28¾" x 13½", it was $4500 from Olde Hope, New Hope, Pennsylvania, and New York City.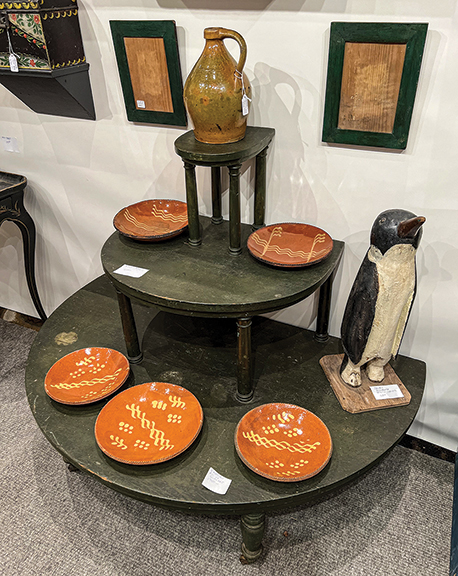 A redware jug, probably from Gonic, New Hampshire, was $650 and sat atop a three-tier plant stand that was also $650 from Jef and Terri Steingrebe of New London, New Hampshire. The two redware slip-decorated plates on the second tier were $650 each; the set of three matched redware plates on the lower level was $1750; and the carved and painted penguin was $2800.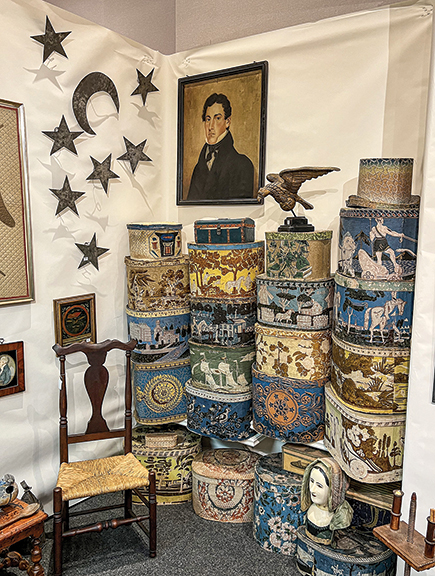 "You can have your own Shelburne," Douglas Jackman joked about all the decorated hatboxes stacked in the booth of Stephen-Douglas Antiques, Walpole, New Hampshire, and Rockingham, Vermont, referring to Electra Havemeyer Webb's collection of rare hatboxes at the Shelburne Museum in Shelburne, Vermont.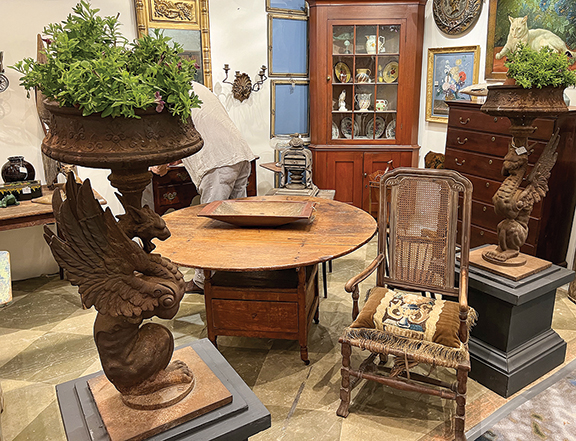 Withington & Co. Antiques, Cape Neddick, Maine, had a pair of circa 1880 J.W. Fiske cast-iron griffin urns for $7250.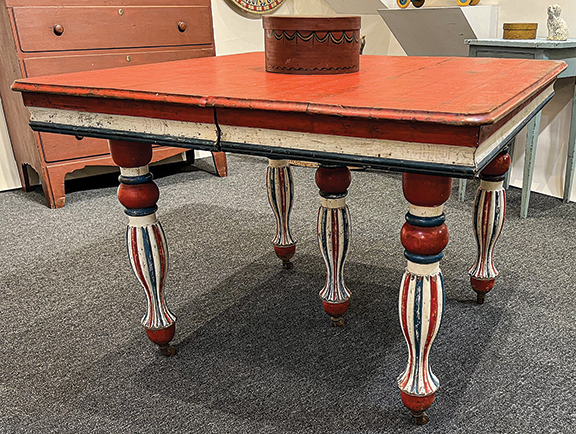 A red, white, and blue table, $1450 from Michael Whittemore Antiques & Folk Art, Punta Gorda, Florida. It has two additional leaves.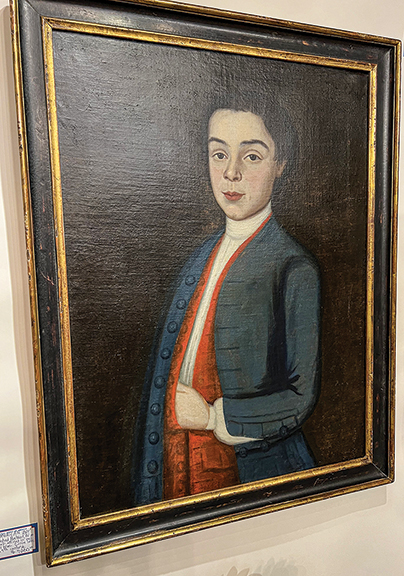 "I call him my all-American boy," said Bev Norwood of The Norwoods' Spirit of America, Timonium, Maryland. The oil on canvas portrait of a boy attired in red, white, and blue, late 18th/early 19th century, was $7600.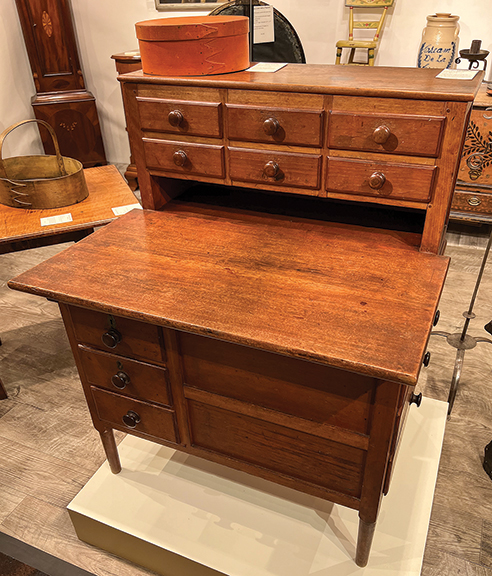 The 12-drawer sister's sewing desk from the Shaker community in Enfield, New Hampshire, 1860-70, of birch and pine, in original red paint, 39" x 32" x 27½", was $79,000 from Kelly Kinzle of New Oxford, Pennsylvania. The mid-19th-century pine and maple Shaker oval lidded pantry box in original bittersweet paint and with four fingers, 4" x 7½" x 10¼", was $7500.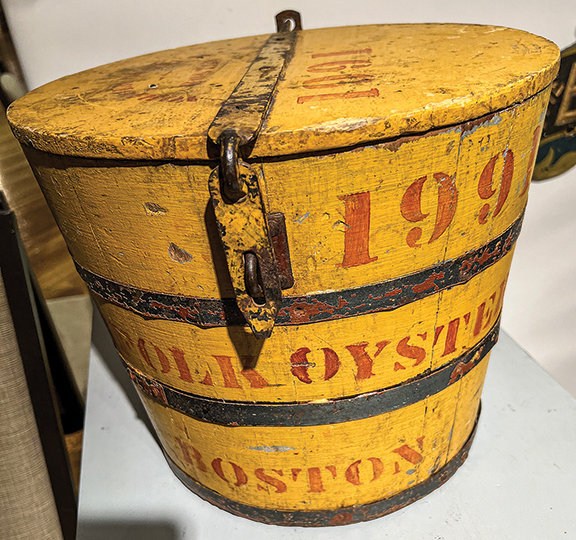 The Boston oyster bucket in red and yellow paint, in original condition, was $1500 from Ken and Robin Pike of Nashua, New Hampshire.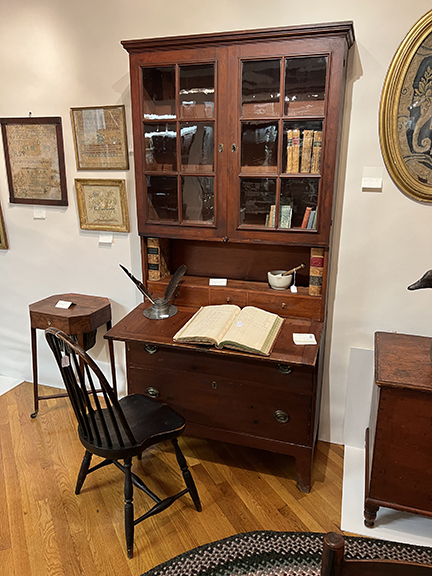 The mid-19th-century two-piece red secretary from Woodstock, Vermont, has original old glass (some damaged) and was $3250 from Pewter & Wood Antiques, Enfield, New Hampshire, and Cave Creek, Arizona. On it were an 1840s leather-bound ledger, Salisbury, New Hampshire, or Massachusetts, $95; a 19th-century mortar and pestle, $95; and a New England 19th-century pewter inkwell with a porcelain insert, $289. The Windsor chair in black paint was $375.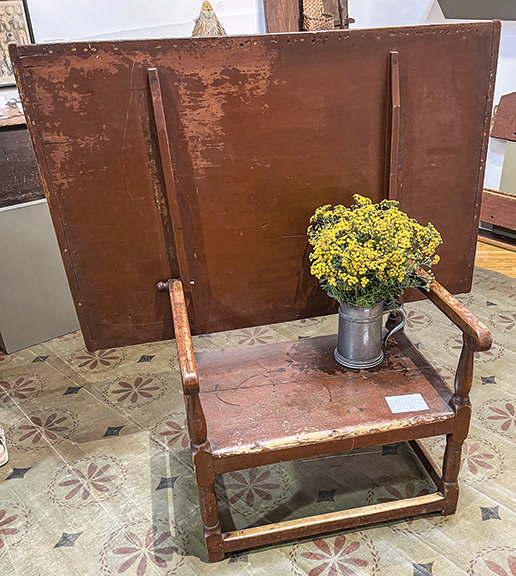 Early 18th-century William and Mary pine and maple lift-top tavern table, with a one-board top with breadboard ends, turned legs, a scrubbed top, and a dry red-painted surface, $6500 from Sharon Platt Antiques, New Castle, New Hampshire.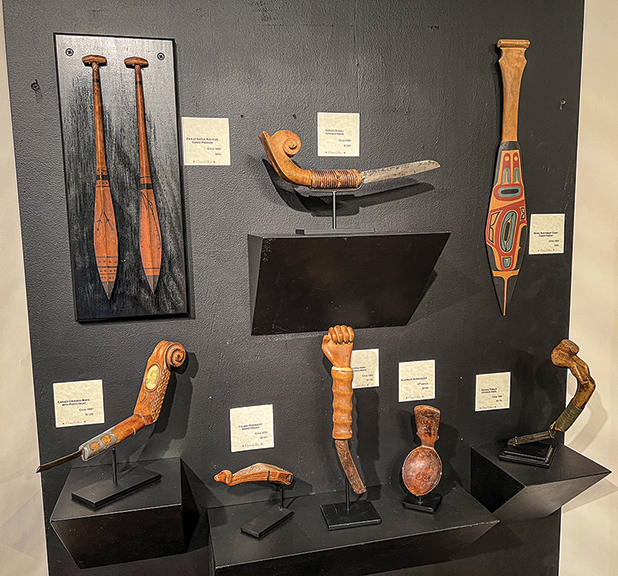 Cherry Gallery, Damariscotta, Maine, offered an enticing display of crooked knives and Native American objects. Top, from left: a pair of Native Aleutian canoe paddles, circa 1880, was $950; a carved scroll crooked knife, circa 1900, $1500; and a model Northwest Coast canoe paddle, circa 1900, $450. Bottom, from left: a carved crooked knife with a photo inlay, circa 1880, was $2200; a figural Penobscot basket gauge, circa 1870, $4500; a figural hand crooked knife, circa 1890, $1750; an incised Algonquin ladle, 18th century, $9500; and a figural female crooked knife, circa 1860, $3750.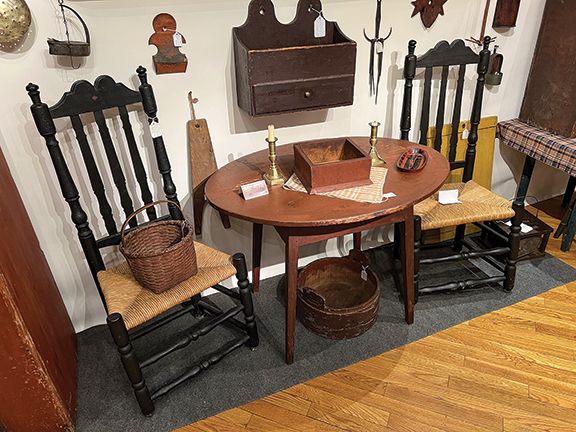 The 1780-1800 country tea table, 26" x 36" x 26", with an oval single-board top and splayed and tapered legs, in old salmon color over the red original, was $4200; the pair of banister-back side chairs, New England, 1700-40, in old black paint, $1350; the painted apple tray, 8½" x 8½", New England, late 18th/early 19th century, $395; the pair of 6" brass candlesticks, first half of the 19th century, $5500; the circa 1785 hanging wall box with a single drawer and a double tombstone arched backboard, in old brown paint, 14½" x 16" x 7", was $7500, all from Bob Jessen and Jim Hohnwald of Fitzwilliam, New Hampshire.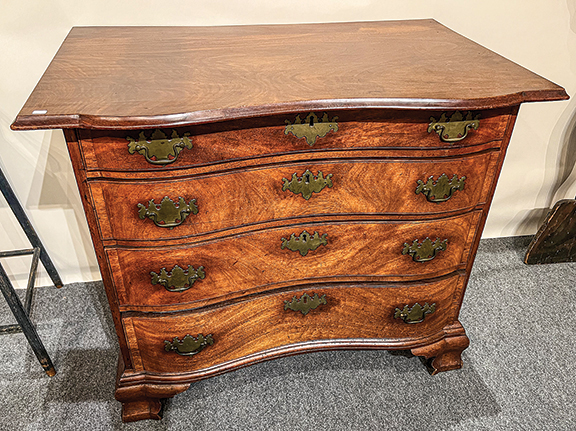 Boston chest with original brasses and a one-board top, circa 1770, $17,500 from John Chaski of Camden, Delaware. "I thought the show was better attended than last year, as it should have been," said Chaski. "I think the business done at the shows reflected the increase in attendance. My results were in line with my expectations. I sold about twenty-five percent of what I brought. In the past, selling a quarter of the booth would have given me a personal show record, but it has been very difficult to buy, and I simply did not have enough of the right stuff."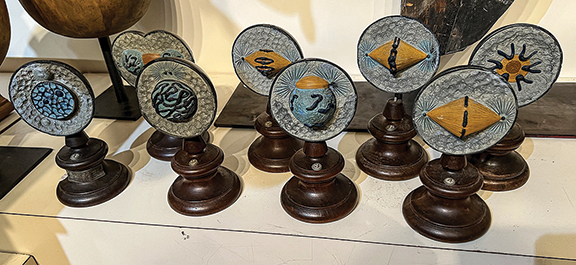 The Jewell Models for Biology by the General Biology Supply House of Chicago, tagged as "set of germs" by Douglas R. Wyant Antiques, Cassopolis, Michigan, were $450 and sold.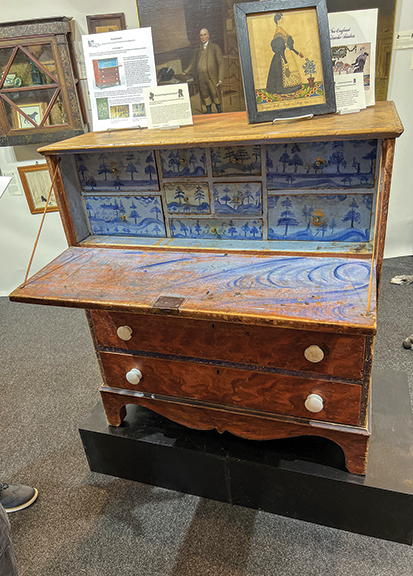 The highly unusual desk has monochromatic scenes painted on the interior drawers attributed by Linda Carter Lefko of the Center for Painted Wall Preservation to self-taught wall muralist John Avery Sr. (1790-1871). It was $25,000 from McClard Segotta Antiques, Weare, New Hampshire. The Joseph H. Davis (1811-1865) portrait of 24-year-old Abigail Hall, dated May 1836, ex-Dudley and Constance Godfrey collection, was $9500. Peggy McClard said, "The show has always been exemplary, and we continue to be honored to be part of it. The crowd on opening day was huge, and the floor was bustling with savvy customers from New England and beyond. Shoppers and visitors had good questions, demonstrating they are either seasoned collectors or beginning collectors who want to learn about what they are looking at. We were pleased to have sales at a wide variety of price points and met many interesting people with interesting stories—even a couple of first-time shoppers who were surprised there were so many antiques here! That's a tribute to the pull of the show." ---
Originally published in the October 2022 issue of Maine Antique Digest. © 2022 Maine Antique Digest