Hartford, Connecticut
Dealers and collectors have traditionally looked forward to the Connecticut Spring Antiques Show. The very name is suggestive of freshness. The show opened in 1974 at the massive granite Connecticut State Armory and Arsenal in Hartford. It has moved around some but has been back at the armory since 2013. The cavernous space of the drill shed was bright and sunny thanks to the huge (152' x 64') skylight. Colorful spring flowers only enhanced the buoyancy in the air. Particularly noticeable was the artful arrangement of nearly every booth. The building afforded dealers an opportunity to spread out, and none appeared cramped.
The Connecticut Spring Antiques Show has traditionally been an exceptionally pretty one, and the 2018 edition held on March 24 and 25 was no exception. Dealers were uniformly complimentary about the efforts by show manager Karen DiSaia, who in turn spoke highly of the work of executive director Lisa Malloy and the volunteers of the sponsoring Haddam Historical Society. The event turned out to be a more than pleasant way to pass a day or two.
For more information, visit the website (www.ctspringantiquesshow.com) or call (860) 345-2400.


This "Hickory, Dickory, Dock" clock was $2950 from Kirtland H. Crump of Madison, Connecticut. The clock, a rare model with an eight-day brass movement, was patented by Elmer Ellsworth Dungan in February 1909 and produced by Dungan and Klump of Philadelphia. The mouse edges up the clock as the hours pass and falls back down when the clock strikes 12. The nursery rhyme is printed in gold lettering across the front. On a more serious note, Crump also showed a mahogany cross-banded timepiece by William Cummens of Roxbury, Massachusetts, who trained with Simon Willard, priced at $12,500. The clock, with an eight-day brass movement, retains the original tablets.
Saltbox Antiques, Sugarloaf, Pennsylvania, brought examples of the early American furniture and accessories for which the gallery is known. An early Pennsylvania pine dry sink/bench in the original soldier-blue paint with compass-designed sides was made in northern Lancaster County, Pennsylvania, and was priced at $14,500. The sink was occupied by an early 19th-century poplar "heart and angel wing" dovetailed cutlery carrier from Lancaster County tagged $585 and a stack of 19th-century pantry boxes, all made by the same hand and marked "M.F. Hammond Albion [Maine]," priced at $2950. Not shown are a rare sawbuck table with a single-board top, rosehead nails, and original red paint from a Massachusetts collection that was made in the second half of the 18th century and priced at $7200 and an 18th-century wrought-iron free-form serpentine extension-arm lighting spike tagged $950.
This large parade flag with 45 stars was made for the Union League for the 1900 presidential campaign of William McKinley and Theodore Roosevelt and is one of only five known examples. Flags with notations of an organization or business were made by the Wide Awakes for the 1860 Abraham Lincoln campaign, but the form is otherwise unknown. The flag was for sale for $46,500. Jeff Bridgman of York County, Pennsylvania, also offered (not pictured) a 13-star jack with a superellipse variant of a diamond pattern dating from between 1880 and 1895 that was likely made for a Hudson River paddle-wheeler.
A nice early 20th-century Man at the Mill whirligig (not shown) with a banner tail was $525. The dainty measure was filled with pristine emery strawberries and priced at $275.
The booth of Old Lyme, Connecticut's Cooley Gallery had an array of sunny spring pictures by artists of the Old Lyme art colony. Allen Butler Talcott (1867-1908) was an early member, and his 1894 oil on canvas The French Garden is signed and dated and was tagged $45,000. Ohio-born artist Edward Charles Volkert (1871-1935) was represented by Grazing by the River (not shown), which was unsigned but dated May 9, 1922. The 20" x 24" oil on canvas was priced at $15,000. Cooley Gallery hung three floral watercolors by 20th-century artist Jean Swan Gordon (1922-2013) on the exterior wall, which greeted visitors to the show and set a spring-like tone.
W.M. Schwind Jr. of Yarmouth, Maine, showed a Massachusetts oxbow slant-front desk dating from between 1760 and 1780, which descended in the family of Captain Joshua Spalding. A set of six plank-seat thumb-back chairs made in Maine between 1825 and 1835 and retaining the original paint and stencil decoration was tagged $2200. The Schwinds also provided a blast from the past with an "I NEED IKE" sign (not shown) from 1952 that was tagged $550. A large six-panel mid-19th-century Japanese painting on gold-leaf paper with silk borders depicting a battle dominated one wall.
Killingworth, Connecticut, dealer Lewis Scranton busied himself greeting friends and making sales. This 18th-century Stratford, Connecticut, armchair is turned beautifully and tagged $8500. A Cairo, New York, tall-case clock is signed J. Curtis and priced at $7000. One Joel Curtis worked first in Wolcott, Connecticut, and later in Cairo.
Scranton brandished a laurel wood cane his uncle gave him some 60 years ago. He reminded his audience that mountain laurel is the Connecticut state flower. Scranton put the word out that the Connecticut show was his last indoor show.
The booth of Durham, Maine, gallery Port 'N Starboard had the chromolithograph Now girls, pull away…Don't be idle! signed by John Leech (1817-1864) and published in London in 1865 by Thos. Agnew & Sons. Tagged $4000, it depicts a man shading himself in the stern of a boat while encouraging two women to row in choppy water. Not shown, Ship "James Littlefield" in a Squall, a 24" x 36" oil on canvas, was attributed to Liverpool, England, artist Samuel Walters (1811-1882) and priced at $12,500. The ship was built in 1852 in Brewer, Maine.
Scott Bassoff, Sandy Jacobs Antiques, Swampscott, Massachusetts, showed a handsome blanket chest priced at $5500.
Stephen Still came from Manheim, Pennsylvania, with a New England table mat priced at $75,000 that was made using a variety of needlework techniques. It came from a Connecticut collection and was related to a mat from the Dinah and Stephen Lefkowitz collection that was sold at Northeast Auctions in 2007. Still also had a brass parade torch (not shown) owned by the Resolution Hose Company in Philadelphia that was tagged $3500.
Stephen and Carol Huber of Old Saybrook, Connecticut, had a Wethersfield family record that was worked around 1818 by Celia Talcott (1804-1886) at the Misses Butlers' School. It was decorated skillfully with floral garlands, an eagle, and bowknots above the record. Beneath the record is a scene along a river, with a steamer, a horse and carriage on a bridge, a townscape, and figures. It was priced at $28,000. The Hubers also had a circle of chairs (not shown) for sale.
It was standing room only for Arthur Liverant's discussion of one of his favorite collecting areas, "Tiny Seats for Tiny Bums."
The booth of Oriental Rugs, Ltd., Old Lyme, Connecticut.


Nathan Liverant and Son, Colchester, Connecticut, showed this folk art oil on white pine overmantel with an allegorical landscape. Tagged $185,000, it came from the Robert Buswell/Palmer House in Canterbury, Connecticut, and was created between 1785 and 1820. Liverant also offered (not shown) a Connecticut Valley Chippendale cherry chest-on-chest carved with a sunburst and simulated double drawers. Dating from 1770 to 1795, it was available for $32,500. Encountered days after the show, Arthur Liverant said he was well pleased with his results.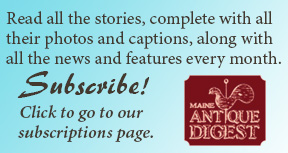 ---
Originally published in the May 2018 issue of Maine Antique Digest. © 2018 Maine Antique Digest