Arcola, Illinois
"Four shows, three towns, two days, one heck of a good time." That's how Jill Mattingly summed up the fall edition of Antiques Week in Central Illinois. As promoter of Country Spirit Antique Show, Mattingly manages one of those shows at three of those locations in one of those towns on two of those days. Her three venues are a hat trick of sorts. (For those unfamiliar with hockey, that's three goals by one player in one game.)
It's a numbers thing. Antiques shows. Sports. Life.
Those numbers? At Country Spirit, which held its fall edition November 11 and 12 in Arcola, Illinois, there was also this: 48 dealers from 19 states.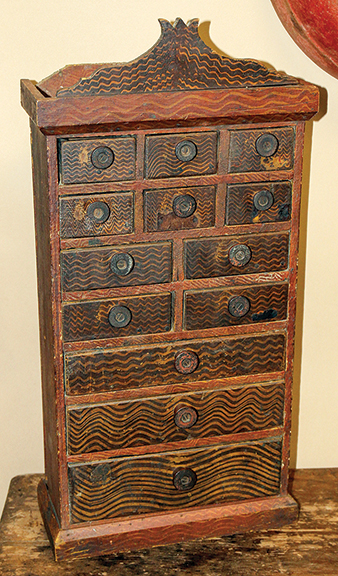 Grain-painted spice cabinet made from shipping crates, late 19th century, spool pulls, 25½" high x 12¾" wide, $2895 from Jerry and Melanie Kenyon of Kenyons Country Antiques Inc., Wymore, Nebraska.
There was something else, something unquantifiable: sales. No one can give an exact count of the number of items sold over the weekend at Country Spirit, nor a dollar value for those objects. But Mattingly did find rhyme and reason as to what was selling. It had more to do with quality than the number of zeros at the end of a price tag.
Customers wanted the spectacular. "That's what people are buying: the show-stoppers and the jaw-droppers," Mattingly said. "People are not passing on this stuff because it's too high. They're passing because it's not cool enough."
She wasn't done. "High quality is what people are gravitating to more and more. Our customer base knows the unique, and they know quality when they see it. The more pedestrian items are getting passed over. When you stood and watched, it was an amazing display walking by, the cool stuff, the really wonderful pieces. It was great that this was coming out of this show. I believe, in part, it's because our dealers are smart business people, and they know what sells here."
Then she launched into a pronoun-heavy sentence. It's worth including here, because it speaks to the sales at Country Spirit, as well as to the buyers and sellers. Here it goes, with a bit of clarification. "They [the dealers] are holding them [the merchandise] back, bringing them [again, merchandise], and they're [yup, merchandise] going out the door. When they [dealers] keep pleasing them [customers], they [dealers] keep seeing them [customers]."
Phew! In short: yeah, great stuff is selling because knowledgeable dealers at Country Spirit know what to dangle in front of their clients.
From her space near the entrance of the Best Western Plus venue, Mattingly was in the right place to see what had sold. "Furniture was rolling out of the hotel on Saturday," she said.
"Did it sell Friday and people came back to get it Saturday? Was it fresh buyers?" she asked. Mattingly couldn't say. But there was a lot of furniture leaving the building.
And about those shoppers. Country Spirit maintained its reputation as a show worth looking forward to. This time around, that involved standing in the cold while waiting for the doors to open. The show's three venues have staggered starting times, which allows potential buyers to essentially move en masse from one site to another. At the second venue, which opened at 11 a.m., the temperature was 45 degrees, a 25-degree drop from the previous afternoon, and the mercury continued to fall all day, but the crowd wasn't fazed.
The line that formed at the Arcola Center was impressive. "It went all the way across the parking lot, across the street, and across the Casey's [gas station] parking lot and around there," said Mattingly. Casey's customers were reportedly none too pleased they had to run the gauntlet to get into the convenience store to pay for their gas, buy a Coke, or grab some lottery tickets. And yet, for them it was a short walk from the pump to the store. It's not as if they were waiting outside in the cold for 10 minutes, 30 minutes, an hour or more to get into an antiques show.
When the gate opened and the line started to move, it was like watching circus clowns exit a Volkswagen. One by one, 215 potential buyers passed through the doors in the initial surge. The same sort of thing happened earlier that morning at Country Spirit's opening at the Masonic Lodge, and even more so in the evening at the Best Western Plus, which draws the most anticipation of the three venues. At the hotel, some customers stood in the near-freezing cold for hours in order to be the first to put eyes on merchandise.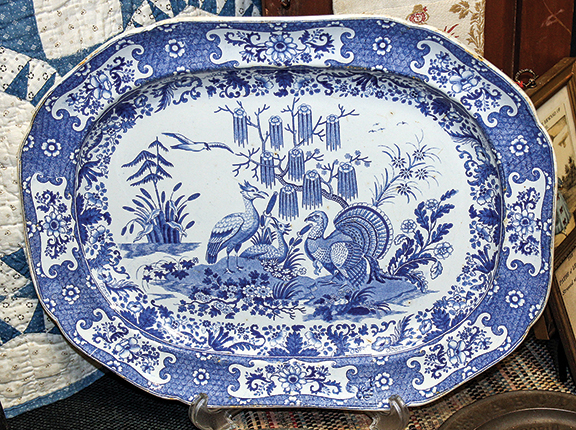 Transferware turkey platter with an Asian influence, 12¾" x 16¾", $75 from Sheryl Brock of Vintage House Antiques, Greenfield, Indiana.
Country Spirit's staggered openings are unique during Antiques Week in Central Illinois. Of the other events, one show had two locations that opened simultaneously, while two shows had single sites. Mattingly (like most of her customers, it's safe to say) is convinced the multi-facility staggered start works. And without a large site to put all her dealers under one roof, the three locations remain a necessity.
"I just want to make sure that everybody who wants to shop has all the time to do the things they want to do," she said.
As for the venues, she offered this: "I've had people say they like the break, a visual break, a mental break, as opposed to a giant convention center with booth after booth, with one running into another. I don't have a giant building, and I won't have a giant building, so I have to deal with what I've got."
In the "If It Ain't Broke, Don't Fix It" department, Mattingly uses end-of-show assessments from her dealers as one yardstick for measuring the success of the event. "I always have one or two who come to me and report they've had their best Country Spirit ever or their best show ever," she noted. "And once again, I've had one or two who came and said it was over the top."
That's what she wants to hear. The show works. It really, really works. To put it another way: score!
The spring edition of Country Spirit is scheduled for Friday and Saturday, March 3 and 4. For more information, phone Mattingly at (312) 957-1065 or visit the website (www.countryspiritshow.com).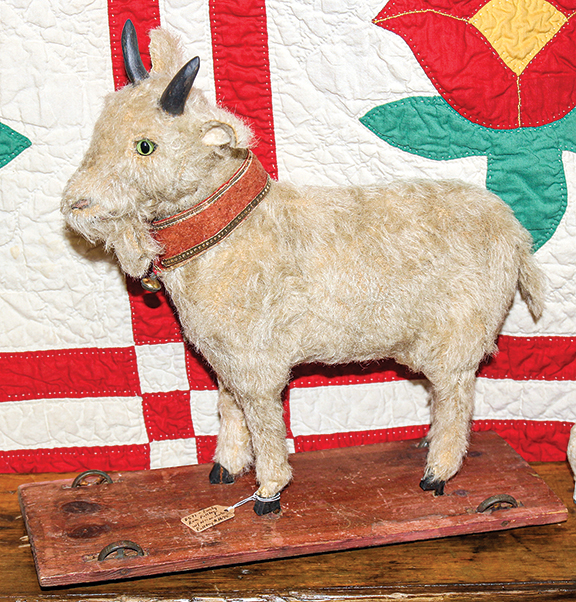 Goat pull toy with noisemaker, 12" high x 12½" wide, $1695 from Russ and Rhonda Blank of Sparrow's Nest Antiques, Lincoln, Nebraska.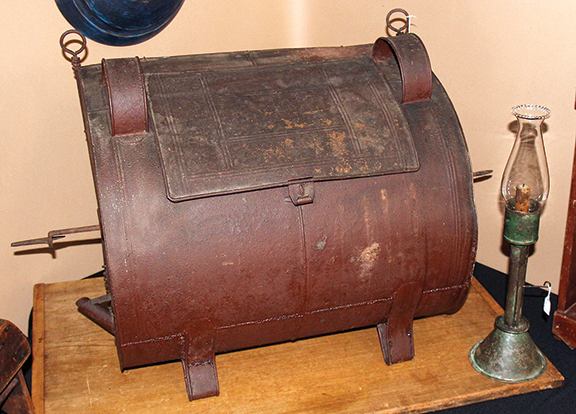 Fireplace reflector oven with spit, 19¾" high x 21" wide (excluding spit), $450; pushup candle lamp with weighted base, $225 from Glen and Joann Smiley of Homestead Antiques, Washington, Illinois.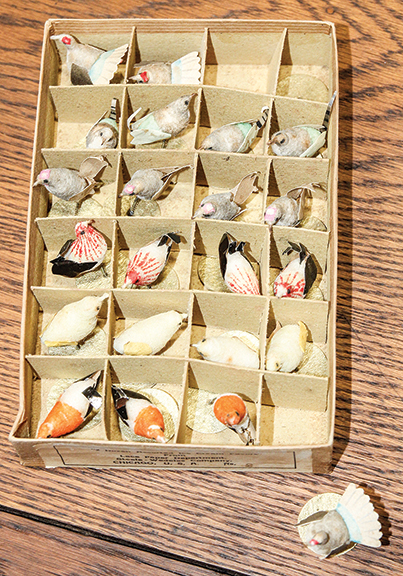 Ice cream favors in the form of birds on springs, 22 (two missing) in the original box, by the Steele-Wedeles Co. of Chicago, each bird about 13/8" high, $65 the set from Dallas and Jana Stafford of Churnfolks Antiques, Sparta, Missouri.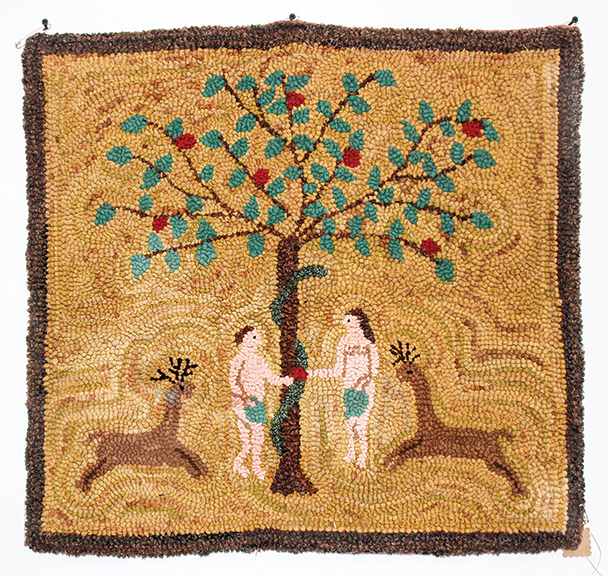 Adam and Eve hooked rug, with the Biblical couple standing near two deer and the serpent encircling the trunk of the tree, 25" x 26½", $395 from Jerrilyn Mayhew of Woodsview, Sandwich Village, Massachusetts.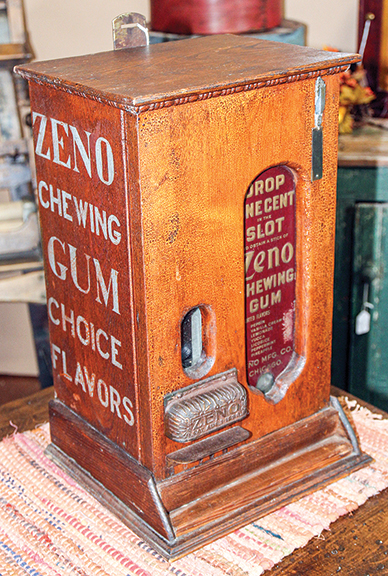 One-cent Zeno Chewing Gum dispenser, 16½" high x 10" wide, $1450 from Rick and Becky Coffin of Country Folks Antiques, Ludington, Michigan, and Destin, Florida.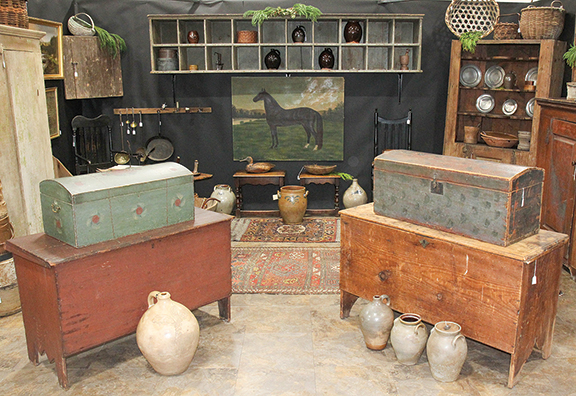 Paint-decorated dome-top box (left), $1650; six-board blanket chest in red paint, New England, 18th century, $395; jug with incised plumes, probably New Jersey, early 19th century, $2400; paint-decorated dome-top box (right), $750; pine chest with boot box and till, found in an early home in Exeter, New Hampshire, $825; "Boston" jug, $350; one-gallon "Boston" jar, $495; "Charlestown" one-gallon jar with treen cover, $185; cubby unit (back wall), found in New York state, gray paint, 23" high x 9'½" wide, $1395; horse painting, oil on canvas, possibly Vermont or New Jersey, 36" x 47½", $5200 from Kris and Paul Casucci of Walker Homestead, Brookfield, Massachusetts.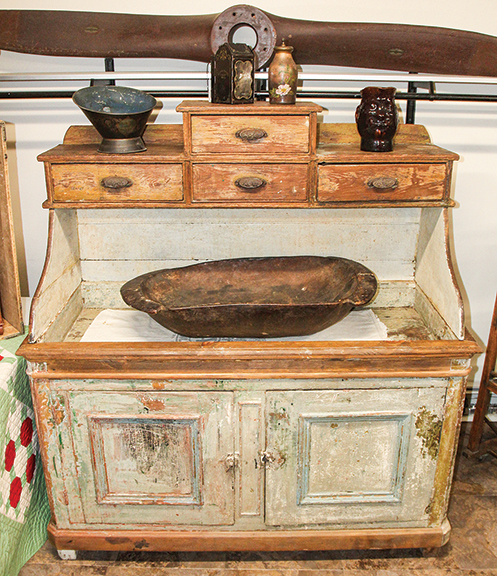 Dry sink in multiple layers of paint, the removable top having stepped upper drawers, with two paneled doors, some restoration, $895; salesman's sample tin bathtub in blue paint with a landscape, $285; Minor's Patent lamp, marked with patent date January 24, 1865, decorated tin, one pane with damage, 7½" high, $395; decorated crock with homemade lid, $85; pitcher, $110; trencher, repaired with door hardware, $345 from Faith Lukianenko of Lukianenko Antiques, South Haven, Michigan.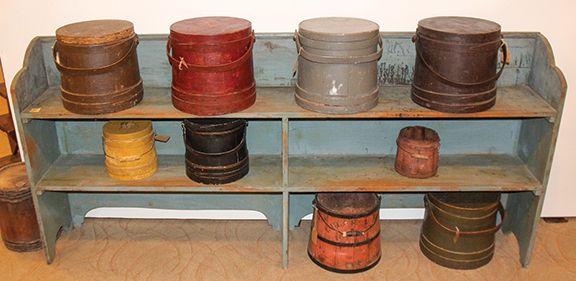 Bucket bench in blue paint, $950; firkins on the upper shelf, from left: brown, $265; red, $275; gray, $295; and brown, $225; firkins on the lower shelf, from left: mustard, $295; black, $255; and red, $130; on the floor: kerosene container, $175; and green firkin, $285 from Eric D. Nichols of Tavern Creek Antiques, Portland, Missouri.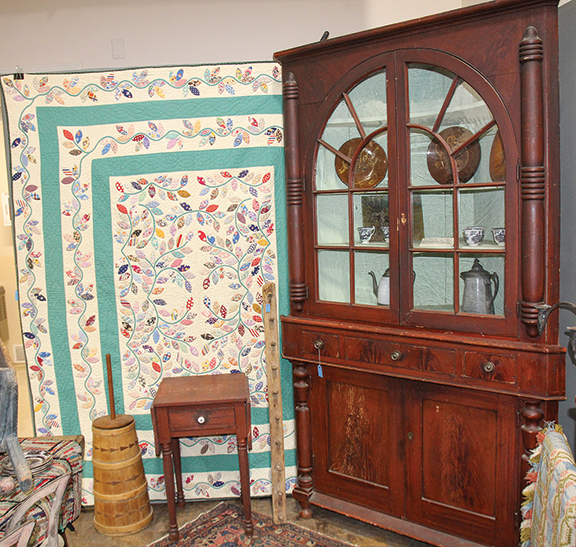 Quilt with a foliage design and double borders, 1930s or 1940s, $1925; wooden churn, $225; one-drawer drop-leaf stand in red paint, $275; peg rack, $215; two-piece architectural corner cupboard in grain paint, with bun feet, 50" high, $3200 from Jacob Gredy of Seymour, Indiana.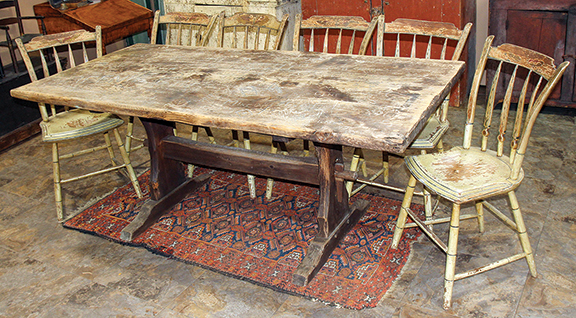 Trestle table in pine, the rectangular top carved with multiple names, numbers, and symbols, the base said to be from the late 18th or early 19th century, $1100; six paint-decorated step-down Windsor side chairs with arrow backs, light green paint, $1200 the set from Carl S. Peterson of Sherman Alden Antiques, East Falmouth, Massachusetts.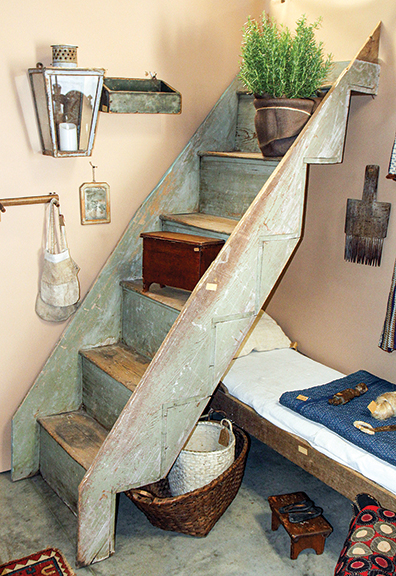 Staircase in green paint, said to be out of a log cabin in Tennessee or Kentucky, $650 from Sherry Baggett of Humble & Worn, Springfield, Tennessee. The miniature blanket chest on the steps, pine with strap hinges, was $295; the candle lantern, $425; and the hanging candle box in blue-green paint, $265.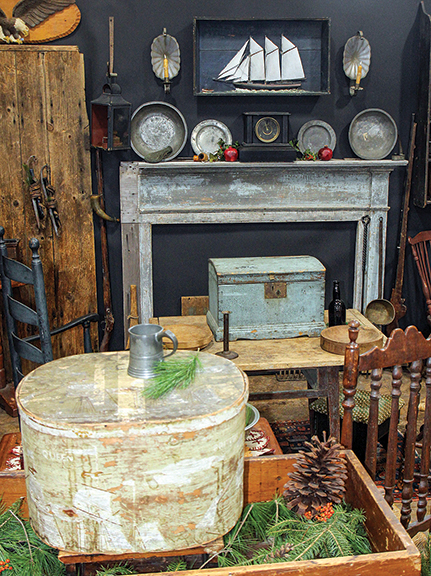 British Queen hatbox, the design including sails and rigging, $295; dome-top box in blue paint, mid-18th century, bracket base, rosehead nails, mouse hole in top, $875; shadow box diorama with ship, $675; mantel in blue paint, $275 from John Melby of Eastport, Maine.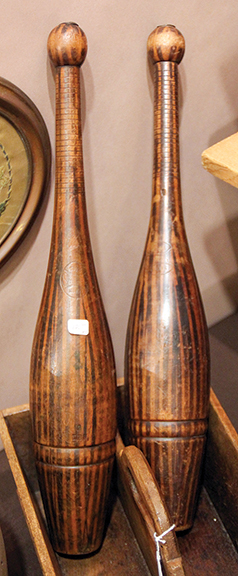 Paint-decorated Spalding juggling clubs, 18" high, $120 the pair from Charles Bone of Fort Wayne, Indiana.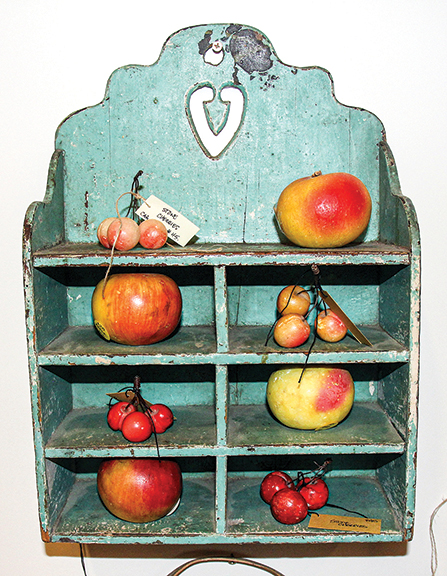 Hanging shelf with a stylized heart cutout, blue paint, 15" high x 11½" wide, $195; stone cherries, $45 per group; stone apples, $20 to $25 each from Dawn Alley and Betsy Heck of Central Avenue Antiques, St. Louis, Missouri.
Farmstead painting, oil on board, the James Eades farm, Manheim, New York, 18" x 24", $1400; tin candle sconces, 13½" high, $450 the pair from Neil and Barb Finbloom of Schoolhouse Antiques, Kirkwood, Missouri.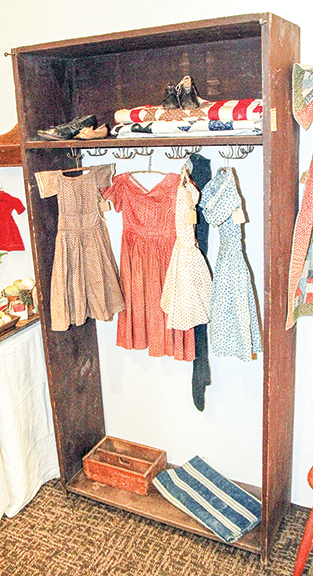 Wardrobe from the Amana Colonies in Iowa, having hardware for a homespun curtain, $695; dresses, from left: cotton, 1840s-50s, 23", $495; Turkey red print, 1830s-40s, well worn, $295; cotton, 1840s-50s, 20", $325; wool challis, 1850, with fading and mending, $225 from Jacque Bradford of Indianapolis, Indiana.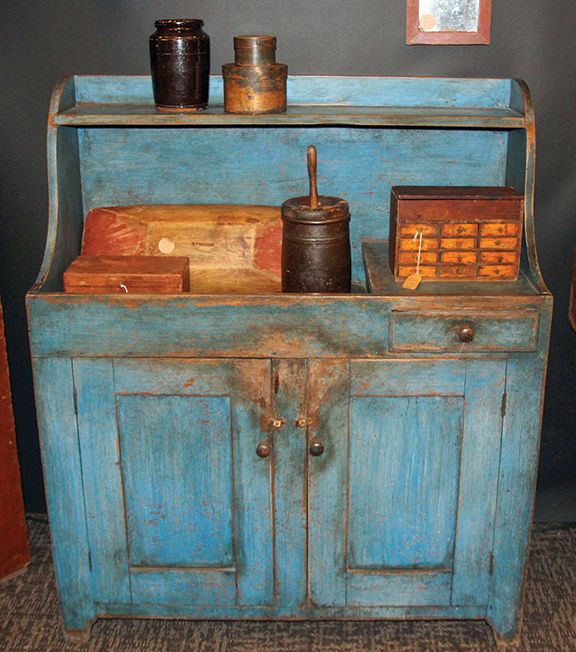 Dry sink in blue paint, 19th century, 50½" high x 43¼" wide, $2750; on shelf: redware jar, $145; and pantry boxes in black paint, 3 7/8" diameter at $595 and 6" diameter at $350; trencher in red paint, with an impressed name, $375; small red box, $275; one-gallon stoneware churn in an Albany glaze, $375; set of pine drawers, $425 from Tim and Michele Steinman of Brick Farmhouse Antiques, Georgetown, Ohio. ---
Originally published in the February 2023 issue of Maine Antique Digest. © 2023 Maine Antique Digest