Head of the House
Photos courtesy Crocker Farm
Two catalysts were involved in the creation of the Crocker Farm specialty auctions in Sparks, Maryland: the long-held desire of Anthony Zipp to run his own business, and the family's passionate interest in American stoneware and redware. Tony describes how he, his wife, Barbara, and their three sons, Brandt, Luke, and Mark, traveled the path from collectors to dealers to successful auctioneers.
Anthony Zipp, his wife, Barbara, and their three sons (from left to right), Brandt, Luke, and Mark, are the founders and only full-time employees of Crocker Farm in Sparks, Maryland, which specializes in American stoneware and redware.
What was your original career?
"When I graduated from college, I started working for the state of Maryland, with the Department of Health and Mental Hygiene. I was a hospital administrator until 1990; in fact, I was the acting director of a rehabilitation hospital for a year. But I knew that it just wasn't for me; it didn't click. Someone once asked me, young man, what do you want to do with your life? And I answered, I want to have my own business. A year before my wife and I married, I opened a tropical fish store. She would run the store during the day, and at night I would come there. We were engaged—I thought that would be my way out of health administration. It wasn't."
What was your introduction to American stoneware?
"In 1977 we bought a crock for $8 at an auction. I was just fascinated with it. I thought, these things are really cool. So we started collecting, and I ran an ad in the Baltimore Sun for years. I bought a lot of good things, a lot of not so good things. Pretty soon we probably had 150 or so surplus pieces in our basement. Then I said, let's do an antiques show. In 1983 we did Renninger's Extravaganza, and we just sold like crazy. We did really well, so I went out and bought more. We started doing antiques shows part time, and I was still working full time.
"But in 1990 I quit my job, and we began selling antiques full time. It's not a good idea, but somehow it worked out. Our sons—Brandt, Luke, and Mark—were in private school; we had that facing us. Then they graduated and went to Johns Hopkins University, and we had to pay tuition for that. We started out just selling stoneware and redware—that's all we sold. We were selling collections and individual pieces from collectors, and we went to auctions. Then we decided to sell quilts as well and eventually added country furniture. In the early 1990s stoneware was getting kind of soft, so we were selling all this other stuff because we weren't selling as much stoneware—we became general dealers."
After you became dealers, how did you transition to selling online?
"Since they were little kids, our sons had been helping us set up at antiques shows. They were into this stuff. They knew stoneware really well—what we were buying, what we were selling. Then in the summer of 2001, our oldest son, Brandt, who is very electronically inclined and computer savvy, said, 'Look, you're doing so many shows. Some make money, some lose money—they're hard work. What if I set up a website? You can sell stoneware through a website.' I thought, what is he talking about? People have to handle this stuff, they have to see it—you can't sell stuff like that online. He said, 'Give it a shot.'"
How did that new approach turn out?
"So the whole summer of 2001 we tried to buy as much stoneware as we could. We didn't do any shows; we didn't have any money coming in. Then October 1, 2001—right after 9/11—we launched Crocker Farm dot com. We had always been Barbara and Anthony Zipp Antiques, so we decided to come up with another name for the online business. We did have a dog named Crocker, and I had an antique sign I'd bought at an antiques show that said 'Crocker Farm' because of my dog. So, at 7 o'clock, we launched the website.
"Barbara and I and my oldest son, Brandt, were in our living room with our computer, and his brothers Luke and Mark went down to Hopkins, and they called from there to say the website was up. Right away, we began hearing, 'I'll buy that right now.' The phone was ringing, and I was thinking, what the heck? We sold a ton of stuff that very first night, and I said, aha, no more shows—we're going to do a website!"
Featuring lavish three-color slip decoration and the date "1810," this Bucks County, Pennsylvania, redware jar sold for $57,500 (est. $6000/10,000) in Crocker Farm's July 16, 2016, auction.
This four-gallon jug typifies the New York state stoneware aesthetic in its exuberant cobalt figural decoration of a frog. Bearing the stamp "NEW YORK STONEWARE CO. / FT. EDWARD, N.Y.," the jug is also inscribed with the name of the potter's son, Frank Prouty. Estimated at $30,000/50,000, it leapt all the way to $74,750 in Crocker Farm's October 22, 2016, auction.
Why did you start having auctions?
"We printed up cards and put them around in all the co-ops. We advertised in the Maine Antique Digest and the Bee. It was a huge success. My sons all graduated from Johns Hopkins Phi Beta Kappa. They're very smart, but they wanted to be part of the antiques business. I said, you've got to be kidding—it is really, really hard. You're smart boys; you've got to get jobs. But they wanted to sell antiques, so we all did this together. After we launched the website, it did really well. Then I said, if you want to get married and have families, we've got to take this to the next level—live auctions. For years I'd been telling my wife, if we have a live auction, I think we could succeed.
"Finally in late 2003—after two years of running the website—I wore them down, and everyone said, 'Let's have a live auction.' We started running ads for it, and customers started calling to say that it was a great idea. At last, in July 2004, we had our first live auction—with much trepidation—and it was overwhelmingly successful. We rented a building in western Maryland at the intersection of I-81 and I-70. We didn't even know if anybody was going to come."
Crocker Farm's gallery, Gorsuch Barn, was built by wheat farmer Edward Gorsuch in Verona, Baltimore County, Maryland, in 1841. The photograph at left was taken by the well-known photographer Frances Benjamin Johnston (1864-1952) while the barn was still in use during the 1930s. In a recent photo (right) Gorsuch Barn presents a historic setting with modern amenities for auction-goers interested in 19th-century American ceramics. Tony Zipp added, "We're so blessed to have this building. The barn is a beautiful structure with all this original architecture, so it's perfect for our auctions."
How did it turn out?
"The market for stoneware and redware had firmed up. That first sale in a building at the Washington County Agricultural Center was packed. The building was not air-conditioned; people were standing in the doorways. I was shocked. We had a piece of stoneware—it was an early Baltimore water cooler. A furniture dealer had just bought it out of a house—he didn't pay much—and he called to ask if I'd sell it for him. And it brought $72,000. We knew this stuff really well because we had been collecting for a long time. My sons were always studying and researching to learn more about it. So when we wrote the catalog entries, we could include all the details, all the little nuances."
Setting a world auction record for American stoneware, this Baltimore, Maryland, eagle-decorated water cooler brought $483,000 (with buyer's premium) against a $75,000/125,000 estimate in Crocker Farm's October 17, 2015, auction.
The Zipps recognized the importance of the form and decoration on this miniature stoneware jug and were able to trace it to mid-18th-century potter Adam States Sr. during his tenure in Manhattan. Estimated at $5000/8000, the 4¼" high piece sold for $36,580 in Crocker Farm's March 25, 2017, auction.
How did you arrive at three auctions a year?
"After we had the first auction, friends of mine asked, 'When will you have the next one?' I thought, how can we have more than one a year? We had gathered around 230 lots. I didn't know how we could do two a year; there's not enough good stuff out there. Then I realized we had to do two a year, because we couldn't go a whole year without having any income, and we added a sale in October. Eventually, we decided to hold them in March, July, and October."
What were you looking for to fill these sales?
"The rarer pieces—the rarer, the better. And we could look at a piece and know what it was worth. When we first started out, we were getting primarily mid-Atlantic with a little bit of Ohio. We didn't get many pieces from the North and hardly anything from the South. Northern stoneware was where the money was—pieces decorated with animals, birds, and figures. When we started out there was an online-only auction in New York state and another auction in Pennsylvania twice a year, so we were competing with them for consignments. Mid-Atlantic did have good things from Pennsylvania, Maryland, New Jersey, but we wanted pieces from places like Bennington, Vermont. Then we had the spring auction, and we got a collection with a lot of northern stoneware—we got more examples from then on."
You're getting more money in some cases for stoneware than people are paying for antique furniture. Who's paying these prices for the best pieces?
"Collectors, museums, dealers. A lot of auctions have very brief descriptions of the stoneware pieces—decoration, approximate age, and dimensions. My son Mark, who is a good writer, has run with these catalog descriptions for our sales. We do hours of research on who might have made the object, when it was made, where it came from, a condition report. We sold a water cooler with an incised eagle decoration for $483,000 in October 2015. Folk art collector Jerry Lauren bought it, underbid by a Pennsylvania dealer who does the New York [Winter Antiques] Show. That was a world auction record for American stoneware. When we have our auctions, we have about 150 people in the room. Fortunately for us, we have a lot of young collectors who are serious buyers of this stuff."
What would you like to sell more of in the future?
"Southern stoneware is where it's at now. We always got some material from the Shenandoah Valley in Virginia, but we never got that many southern pieces until July 2015 when a nice woman called and said she had found a face jug at a yard sale. She had a business buying things and selling them on eBay, but she called Crocker Farm and sent us a picture. We went out and picked it up, and that jug brought $92,000; she and her husband came to the auction. After we sold that Edgefield, South Carolina, face jug, we started getting all kinds of e-mails offering collections. A lot of the other markets are very thin; there are just a few people collecting certain things. But the southern market is really strong now—there are more people getting into southern stoneware."
This Edgefield, South Carolina, stoneware face jug was discovered at a New Jersey yard sale shortly before it was consigned to the Zipps' July 18, 2015, auction. It set a world auction record for an American face vessel, bringing $92,000 against a $15,000/25,000 estimate.
This Texarkana stoneware temperance keg was featured on a Little Rock, Arkansas, edition of the Antiques Roadshow that aired in January 2016. Estimated at $15,000/25,000, the rare snake-decorated piece brought $37,950 in Crocker Farm's March 19, 2016, auction.
How do you run the sales?
"Our customer service is awesome; we bend over backwards. People know us personally. We treat the consignors right and the customers right. When we have an auction here my wife gets all these trays of food. Free food and beer and wine, so people can sit there and eat a sandwich while they watch the auction. The very first auction we had, I said, we have to make this a special event. It can't just be like a fire hall auction where you can only buy a piece of pie and a hot dog.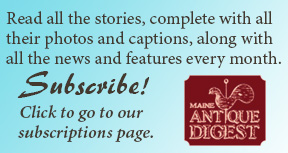 "I always tell people you're much better off at a specialty auction, because people who have specialty auctions know their material so well. General auctions—they might get something really good and not even know it. You have to give collectors good information about what these things really are. Then they'll come in person or set up phone bidding—last time we had ten phones going on one piece in addition to people in the room. We had people from New England and New York bidding on southern stoneware.
This seven-gallon jar with horse decoration by Samuel Bell of Winchester, Virginia, set a world auction record for Virginia pottery, bringing $92,000 against a $30,000/50,000 estimate in Crocker Farm's October 25, 2014, auction. The extremely rare four-sided figural decoration makes the jar an outstanding example of Shenandoah Valley stoneware.
"We have five permanent employees—my wife and I and our three sons—but when we have a sale, we hire about ten people to help us. My son Luke and I split the podium time so we can go at our own pace. He does the first hour, and I do the second; we just keep alternating. The last professional auctioneer we had was so fast, I started doing it myself. Then my son Luke said, let me try, and he's a natural. So, we didn't need the professional auctioneer anymore. We can keep it moving quickly, or if it's something important, we can give people more information."
Are you optimistic about the future?
"You hear this all the time in this business: 'Nothing's coming out; everything's in collections or museums. You can't find anything good anymore.' That's not true. Every sale we get a call from someone who has turned up a good piece—maybe a $100,000 piece—in a family collection. Last July [2016] we had a call from someone whose father-in-law had passed away. He said that they were cleaning out his barn and found a crock up on the second floor. They were going to have a yard sale and try to get $20 for it. I said send us a picture, and I'll let you know. I told him it was worth $10,000 to $15,000, and he got in his car and drove it over—it brought $21,000. Great pieces keep emerging for every sale."
---
"Head of the House" explores the founder, forte, and future of major American auction houses. In his or her own words, the current president explains how the business began, which specialties have been most successful, and what new trends are influencing the marketplace.
---
Originally published in the September 2017 issue of Maine Antique Digest. © 2017 Maine Antique Digest