Weschler's Announces Relocation
Walter C. Newman | August 4th, 2017
Weschler's Auctioneers & Appraisers, LLC has been a Washington, D.C., landmark for as long as anyone can remember. Founded by Adam Weschler in 1890, it is more than a quarter-century older than the Lincoln Memorial and only two years younger than the Washington Monument. Long located at 905 East Street NW, the firm has enjoyed its proximity to the hustle and bustle and history of the nation's capital. Its location was directly across the street from the Federal Bureau of Investigation headquarters and just around the corner from the historic Ford's Theatre.
Weschler's relationship with downtown Washington, D.C., came to an end on May 23 when the firm held its final sale at the downtown location. Weschler's has now moved outside the district, beyond the Capital Beltway, to a new location at 40 West Gude Drive in nearby Rockville, Maryland.
In a telephone interview, Mark Weschler, Weschler's vice president, was asked about the move and how it may change the way that the firm conducts business. He stated that at this time the plans are to continue with the business plan that has worked successfully, maintaining the principles set forward by Adam Weschler. Specifically, Weschler's acts solely as the representative of the consignor. The firm neither buys nor owns any of the items sold at its auctions. It will continue the format of weekly Metro auctions, its schedule of cataloged Capital Collections estate auctions, and a relatively new addition—online-only sales.
When asked about the decision to move, Weschler reiterated a recurring theme voiced by many auction houses. "We are in a different market today. The Internet has changed things." He explained that the majority of Weschler's consignors are from Virginia and Maryland. They are not necessarily concerned about the location of the sale of their consignments. That, coupled with the fact that a "majority of buyers at our Capital Collections estate auctions are out of state," means they are not traveling to the auction location in order to bid in person.
Weschler went on to state that every move has its pluses and minuses. The downtown location certainly had appeal. It was a regular destination for many longtime patrons who live nearby, and a constant flow of government workers and contractors regularly browsed the showrooms. Following the move, those groups may be less likely to attend previews and sales. But despite its advantages, the downtown location also had drawbacks. High on that list were issues related to parking and to the logistics of loading and unloading consigned items. The Rockville location offers relief in those categories. There are 140 parking spaces (unheard of in downtown D.C.) and unencumbered loading and unloading areas.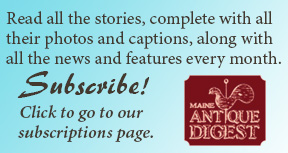 It may be too early to draw conclusions from anecdotal evidence, but Weschler allowed that Weschler's has already seen "an uptick in attendance" at the weekly sales. He stated that may be attributed to the new location's proximity to Maryland and Pennsylvania dealers who may have been reluctant to venture regularly into downtown D.C. traffic.
Asked if there may be changes coming, Weschler was not specific. He did say that Weschler's is now "amping up" its advertising and adding emphasis to its existing social media presence.
The first catalog sale at the new location is scheduled for September 15. For further information, check out Weschler's on Facebook or visit the website (www.weschlers.com).
---
Originally published in the August 2017 issue of Maine Antique Digest. © 2017 Maine Antique Digest